Whether you're a big family or a couple, there's no better time to go on a day trip than during the upcoming Easter weekend from Friday 14th-Monday 17th.
So, little stuck for ideas? If you're based in the North West (like me) and after nature and/or animals (if you can't tell, my favourite things to do revolve around those) then here's a few good ideas for what to do and where to go (in no particular order)! As a bonus, they're great places to take photos also!
1. Chester Zoo, Chester
I'm a big fan of Chester Zoo, and for good reason. Recently voted the most visited attraction outside of London, they seem to have a new baby animal born each month, at least! And let's face it, it's hard to beat a baby elephant in terms of something new and exciting to see. The below image was taken there and is a golden headed lion tamarin.
2. Jumbles Country Park, Bolton
Jumbles is a pretty neat place, and I will never hide the fact that I absolutely love walking around the reservoir! There's lots of nature here and when it comes to visiting a place for how pretty it is, it's quite special. The walk around will only take an hour or so but if you stop off at the cafe, or have a picnic at one of the many benches, then you can easily make it a half day trip. Add to that the fact it's very close to Entwistle Reservoir and you can make it a real day out!
3. The Lakes, Lake District National Park
A little bit further, but if you're after some of the most spectacular views then the Lake District is the place to visit. Grasmere is pretty great if you're a fan of gingerbread too! It's full of cute little restaurants too if you want to go just for a relaxing break.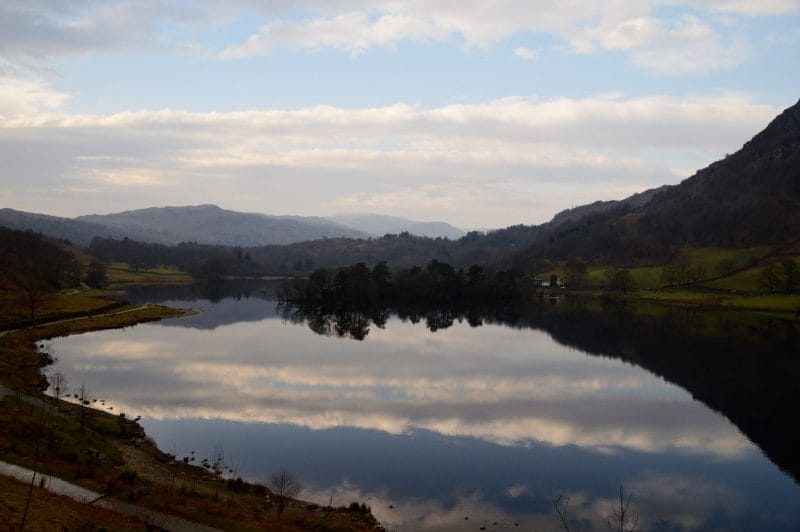 4. Blackpool Zoo, Blackpool
I wouldn't choose Blackpool Zoo over Chester Zoo, but there are some gems there. In one enclosure, it's open and this means you have a chance that a cute little spider monkey will climb on you (of course, this ended up happening to me last time, a strange experience for being in the UK). This part alone makes it pretty neat, so even though it might not be as popular it would definitely be good, especially if you intend to visit the Pleasure Beach after!
5. Blue Planet Aquarium, Chester
In terms of sea life, it's difficult to beat Blue Planet Aquarium. They have seahorses, sharks, fish, a caiman, and otters just outside too! A little bigger than SeaLife Manchester at the Trafford Centre, though either are pretty good aquariums to visit for the little ones if you have any.
6. Rivington Pike, Bolton
If you're in the mood for a long walk and some epic views, Rivington Pike is an easy to visit place for that! There's a cute hall for food/ice cream you can visit too – making it perfect for a day out in the sun (I'm being optimistic for the North West with that though, I know!). One thing to bear in mind though is that the walk up is no easy feat. It's very steep in places but as you can see in the below photo, half way up is impressive enough to see!
7. Dovestone Reservoir, Oldham
I haven't been here for a while now, but it's on my list to get back to soon! Like the majority of reservoirs, it's surrounded by beautiful scenery. Perfect for a day out if you want to be around nature.
8. Smithills Open Farm, Bolton
Smithills is a really great place to visit at this time of the year, although you're guaranteed to see baby animals there at pretty much any time of the year, there's something far more appealing to seeing tiny lambs in Spring there. Right now, they have baby llamas, lambs, calfs… and of course there's a petting area for chicks and baby rabbits, which is great for little ones! My personal favourite thing about Smithills Open Farm however… is the meerkats! They're an adorable, playful bunch and it's pretty difficult to find them in any place closer to Manchester.
If you're reading this and you have a family, I know it can be tempting to just take your kids for a trip to the cinema and/or bowling (and don't get me wrong, the new Power Rangers movie is awesome and definitely worth a watch!) but never underestimate the benefits of some good old fashioned fresh air. Regardless of whether or not you can get to a big zoo, there's always places to visit where they can learn to appreciate nature.
Follow me on my social media pages to keep up to date with further posts!
500px — Bloglovin' — Facebook — Instagram — Twitter