As a definitive Potterhead (Ravenclaw, by the way), I wanted to share some gift ideas for the Potterheads in your life.
This guide is for buying for fellow hardcore fans, it's the best things hidden on Etsy and other places that will make their Potter-fan friends jealous to a Riddikulus amount.
But I haven't left out some obvious places too, because sometimes our mind goes blank and we just need a little reminder!
1. Tickets to the Warner Bros Studio Tour
This one is number one as it is unequivocally the big one when it comes to Harry Potter gifts. If you aren't from London or close to the studios then it works out fairly expensive after tickets to get there are back but… I am so jealous of the photos people have been able to take by visiting, it definitely seems worth it. It's on my list to visit one day, and when I have be expecting probably the biggest, raving, most excited blog post you've ever seen from me. I've been to the Wizarding World of Harry Potter in Orlando (see below) and I was like a kid in a candy shop then… I'd be no different at the tour. One day.
2. Book Sleeves
If you're searching for a present for someone who loves Harry Potter and reading in general, a book sleeve would be a cute idea. It could protect their books and show off their love for Harry Potter at the same time! Such as the one below, from StoryHero on Etsy.
3. Book Candles
This is becoming a massive craze lately on Instagram due to 'Bookstagram', and I for one am very very happy about that. I love candles, and I love books… and I'm a sucker for pretty packaging (Yankee Candle have me hooked). Back to the point though! For Harry Potter and more book related candles, one of the coolest Etsy shops is BookAndNook. I love how they put glitter in like with this Ravenclaw inspired book candle!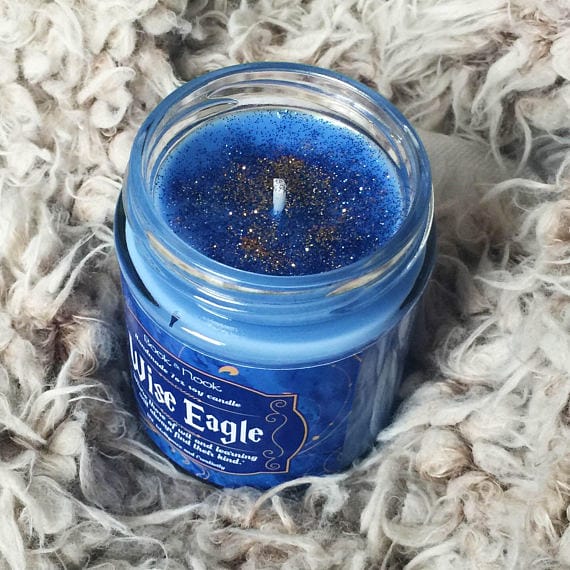 4. Potion Bottles
No, I haven't gone crazy (I think), and yes this is a totally legitimate entry. Why? Because of one Etsy shop called GrimSweetness which makes very pretty potion bottles like the ones below. If you're from the UK like me then they are USA based however… worth it for how cool it would be to own a little Felix Felicis.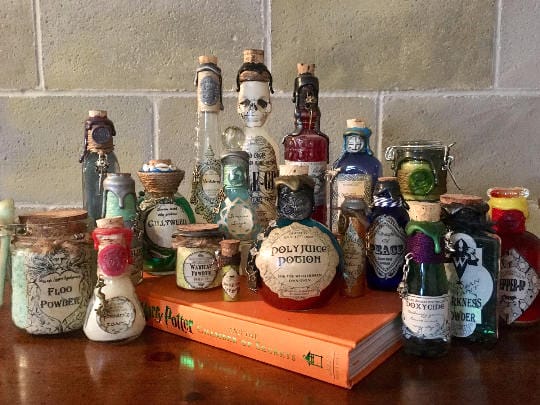 5. Harry Potter Shop at Platform 9 and 3/4
Cute things for the home, Pop! Vinyls, pins, clothing… even personalised Hogwarts acceptance letters. This shop has a great variety of cool things for any fan and let's face it, who wouldn't be happy to finally receive that lost letter from Hogwarts? A couple of items are on the pricey side, but there are also a fair few bargains or just cool little things available.
6. Pottermore Mounted Art Prints
If you're looking for official and gorgeous pieces of art, then head straight to the Pottermore store! My personal favourites are the mounted art prints as they're just gorgeous. At £34.95 too they aren't too expensive either (and, more importantly, they have dragons on a couple)…
7. Noble Collection Items
The Noble Collection sell Harry Potter merchandise such as jewellery, wands, plushies and even prop replicas like all the horcruxes (one day I will own the Diadem, one day…). Their range is spectacular and you find some affordable yet fairly fancy items, such as metal house bookmarks. Take a look here at their range (and drool over the Diadem below – how accurate is it?!).
8. EMP Clothing
EMP have some amazing clothing items for Harry Potter fans, from the trademark house cardigans to items that don't scream Harry Potter until you get up close. They also sell Funko Pop! Vinyls and wands, jewellery, stationery… Just take a look here, the variety is great to search through! They also sell a lot of Noble Collection stock. Below are my personal favourites for sale (I can attest – the kimono is great!).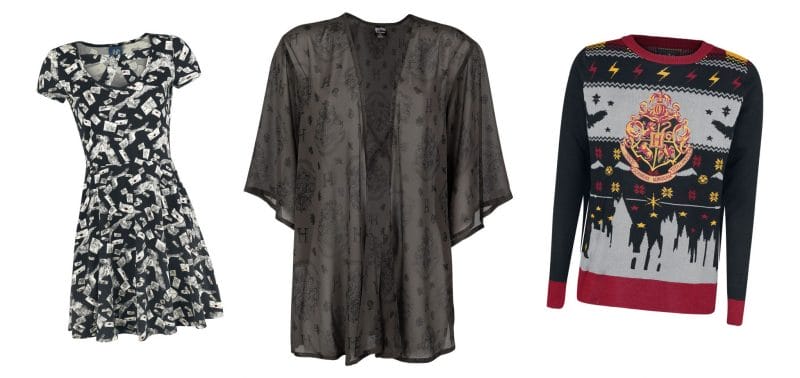 9. Alex and Ani Harry Potter Jewellery Collection
Swoon. This collection is beautiful! Perfect for your other half, some of the items are pricey (ranging from £29-£81) and I haven't actually got any of the collection myself but it's on my list!
If you're in the UK, here are a few places it's available to purchase from:
I'd be quick though, as a lot of the products are quickly selling out!
10. A Primark Gift Card
If all else fails, if you have no idea what they own already, one of the best things you can do if there's a Primark nearby is to go and get a Harry Potter Primark Gift Card for them. The amount of Harry Potter things that Primark are getting in lately is really amazing and they have some adorable things. My personal favourite is actually the bag below (I have it in brown and black owing to this). Hopefully they'll keep bringing out more and more products, the dedicated Harry Potter section in Manchester's Primark seems to hint that they will!
Well, those are my ideas for the Potter lovers in your lives.
If you have any other ideas feel free to leave a comment with it!
Follow me on my social media pages to keep up to date with further posts!
Bloglovin' — Facebook — Instagram — Twitter