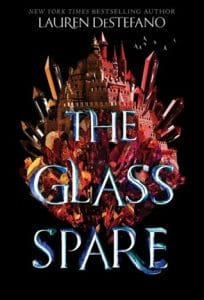 Title: The Glass Spare
Series: The Glass Spare #1
Author: Lauren DeStefano
Publisher: Balzer + Bray
Release Date: 24th October 2017
Pages: 402
Source: OwlCrate Subscription
Rating: ★★★★
Goodreads Synopsis:
'A banished princess.
A deadly curse.
A kingdom at war.
Wil Heidle, the only daughter of the king of the world's wealthiest nation, has grown up in the shadows. Kept hidden from the world in order to serve as a spy for her father—whose obsession with building his empire is causing a war—Wil wants nothing more than to explore the world beyond her kingdom, if only her father would give her the chance.
Until one night Wil is attacked, and she discovers a dangerous secret. Her touch turns people into gemstone. At first Wil is horrified—but as she tests its limits, she's drawn more and more to the strange and volatile ability. When it leads to tragedy, Wil is forced to face the destructive power within her and finally leave her home to seek the truth and a cure.
But finding the key to her redemption puts her in the path of a cursed prince who has his own ideas for what to do with her power.
With a world on the brink of war and a power of ultimate destruction, can Wil find a way to help the kingdom that's turned its back on her, or will she betray her past and her family forever?'
Review
"You're wind… You're everywhere."
It took me a while to read The Glass Spare, and I kept reading other things in between. That is until I got about 100 pages and then I couldn't stop reading. It was a slow start up for me but basically as soon as Wil's power starts showing it gets a lot more fast paced. Her power, or rather curse, is that she can turn living things into gemstones from emeralds to diamonds. If it only worked on plants, it would be a power I'd personally love to have. But she first discovers the curse by turning a human who's attacking her into a ruby.
To make matters worse, she then gets exiled from her own kingdom following a disaster that takes place. This is the point where I got hooked. Prior to these events it was nice to read about Wil and her brothers but it hadn't gripped me, I think all of the action though and uncertainty in what will happen next for her though was a perfect way to make me keep reading.
The world itself is unique, a mix of medieval things and alchemy with new technologies such as 'data goggles'. It's a mix which works out very well to create an interesting fantasy world. Not only is there this cool steampunk vibe to the world but it's mixed in further with superstitions and magic. It's a medley which probably shouldn't work but DeStefano has created a believable world through it.
In terms of characters, even after I've finished the book I'm not sure if I like or dislike Loom, who's one of the main characters. He's intriguing but his take on regicide for political reasons just seemed a little too extreme I suppose. It took me a while to feel connected enough to Wil to really want to get sucked in, as I've mentioned, but when it becomes apparent just how much she has to put herself through to just try and gain the King's recognition it makes it so much easier to understand her character.
I'll definitely be reading the next book in the series; I need to know what happens next for Wil and I'm also very curious about her brothers! I feel like there was a lot left to be discussed and I have a feeling that something might have happened but wasn't explained by the end of the book.
Follow me on my social media pages to keep up to date with further posts!
Bloglovin' — Facebook — Instagram — Twitter