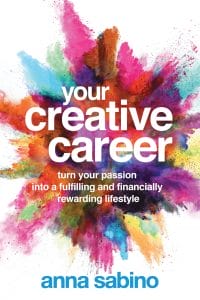 Title: Your Creative Career: Turn Your Passion Into a Fulfilling and Financially Rewarding Lifestyle
Series: N/a
Author: Anna Sabino
Publisher: Career Press
Release Date: 22nd January 2018
Pages: 192
Source: NetGalley
Rating: ★★★★★
Goodreads Synopsis:
'Anna Sabino is an artist, but certainly not a starving one. She wasn't born into a wealthy family, didn't inherit money from a distant relative, and doesn't have a rich husband. But she made it as an entrepreneur, as a single woman, and most important, as an artist.
In Your Creative Career, she shows her fellow artists and creatives how to build a business that reflects their talent and true calling while generating serious cash. Whether the goal is to build an empire and be financially free, create a lifestyle business, or just to have more time, Your Creative Career guides you through every aspect of creative entrepreneurship.
If you want to start your creative career, transition into it, or give it a boost, this book is a must read that features:
Proven systems and strategies to create ideally priced products that keep selling.
The importance of going through all the steps of making it from idea inception and execution to branding and distribution.
The importance of transitioning from artistic solitude to collaborative, creative entrepreneurship.
The most effective marketing and PR methods adjusted to the new reality of short attention spans and information overload.'
Review
Background information for why I wanted to read this book so badly first! As those who know me will be aware I have an Etsy store which I started midway through last year, and since I've only had 10 sales I've felt a little demotivated lately with it. I wanted to read this book partly to get my motivation working again for the store and to flame up my creativity a little – and it definitely helped with regards to that! After my first reading session, only about 20% in, I felt motivated enough to spend the whole of the next day working on my crafts.
The book is an excellent resource for those wanting a creative career, it is full of prompts to really consider your current position and what the next steps could be for you. On a personal level, having read this I feel like I've been taking the wrong direction with my Etsy store. I started off with a product I knew people liked and then started putting the emphasis on things which, in all honesty, aren't selling as great as my original products.
I guess I needed to read something that gave me a way to fix and spot my errors. Not only that but there's a lot of advice for how to market your brand included – something which I'll be following 100% when I feel ready to restart that element of my creative career. As well as this, there are so many motivational quotes throughout that it really helps you to feel positive whilst reading.
The amount of research which has clearly gone into this book is spectacular, the whole book is backed up consistently by either real life case studies or references to other texts. What makes it such an interesting read also is who has written it – it definitely makes a difference to see the journey of a creative entrepreneur and I can't emphasise how much this book will help you if you aspire to start your own creative career, or if you need a little advice after starting!
Anna – thank you for writing this. It's exactly what I needed to read right now.
Follow me on my social media pages to keep up to date with further posts!
Bloglovin' — Facebook — Instagram — Twitter