Okay, so this was most definitely a hidden gem in my NetGalley list and I'm so glad I was able to read it! Essentially it has a teenage Valkyrie main character who's pretty sassy and kickass but it's riddled with lots of other mythological creatures and has sci fi elements and basically it was a really fun read!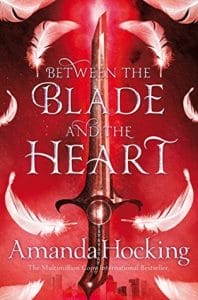 Title: Between the Blade and the Heart
Series: Valkyrie #1
Author: Amanda Hocking
Publisher: Pan Macmillan
Release Date: 22nd February 2018
Pages: 287
Source: eARC provided through NetGalley by Pan Macmillan (this in no way affects my review which is honest and unbiased)
Rating:

Goodreads Synopsis:
'Between the Blade and the Heart is the first book in a brilliant new young adult fantasy duology inspired by Norse mythology by New York Times bestselling author Amanda Hocking.
As one of Odin's Valkyries, Malin's greatest responsibility is to slay immortals and return them to the underworld. The balance of the world rests on her ability to carry out orders. But when Malin discovers that her mother spared the life of an immortal who was destined to die, her world is thrown into chaos.
As Malin wrestles with the knowledge that her mother might not be who she thought, she's also thrust into the path of a gorgeous blue-eyed guy named Asher who needs her help slaying the rogue immortal who destroyed his family. Malin, along with her best friend and her ex-girlfriend, must decide where her loyalties lie…and whether helping Asher enact his revenge is worth the risk—to the world and to her heart.'
Review
Okay so basically I pretty much love this world that Amanda has created. First off, don't be lead into thinking that this will be full of Valkyries and Norse mythology – it also has Greek mythology, Sumerian mythology, and basically any mythology all mashed up and placed in the real world but a futuristic real world with both hovercrafts and ancient weaponry… It's like if Men In Black were Valkyrie women and dealt with demons that humans were 100% aware of and mixed with.
Now that might sound a little confusing, but as long as you don't read this book expecting it to be something it isn't then you'll enjoy it. It's not a historical story, and even though I enjoy reading them it was essentially a lot more fun than that. There are so many different mythological elements in which I really loved reading about. Malin even has a little Wolpertinger called Bowie – described as a huge rabbit with wings and horns and he just sounds adorable!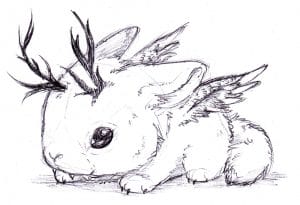 Why am I only giving it 4.5 stars and not 5 stars? There was only one tiny thing I didn't enjoy about the book and that was the love triangle, I felt sorry for the two Malin liked – Quinn (her ex girlfriend) and Asher (new guy) – because it was obvious that Malin didn't even know what or who she wanted. It makes sense as her mother essentially tried to tell her that she wasn't capable of loving (slight element of mistreatment from her mother there too). But really I loved the character of Quinn and Asher so I just felt too bad for them – even though that's another advantage to the book in the sense I enjoyed the characters!
In terms of other characters, Malin's best friend Oona is just adorable. She acts in a sense as a mother to Malin, and it's obvious she cares a lot more about her than Marlow was capable of doing. I did like Malin's character in general – she was a strong female main character and the only thing I disliked really was her love triangle. Other than that she was quick to protect those she cared about and you really do gain a sense of understanding about why she acts the way she does about love.
One of the biggest themes in the story is one of free will, there's a lot of discussion about it throughout and it was interesting to see different characters opinions on the matter which had clearly been the result of different upbringings. It was largely thought provoking at times thanks to this! The ending was fantastic, I won't give anything away but it is both a cliffhanger and great wrap up to parts of the story also. I already have the sequel in the duology thanks to NetGalley and Wednesday Books, trust me I'll be reading it as soon as possible!
Purchase Links*:
Amazon
 | Book Depository
About the Author
'I live in Minnesota with my two dogs Isley and Sawyer, my three cats Sophie, Nikki, and Squeak, my hamster Mulberry, my husband Mike and my stepson Gavin. I do many things, most of them lame and boring, but the thing I get paid to do is write young adult books.
I enjoy Red Bull, Jim Henson, Batman, dinosaurs, sharks, Lego sets, and I absolutely hate long walks on the beach out of my intense fear/hatred of wet sand.
I have published five different series, with a total of 20 different published works. Two of my series and one standalone novel are self-published, and three of my series are with a traditional publisher, St. Martin's. My zombie series, The Hollows, has been adapted into a graphic novel by Dynamite.'

Source: Amanda Hocking's website
Have you read this yet?
What did you think?
Feel free to leave a comment or Tweet @LuchiaHoughton!
Follow me on my social media pages to keep up to date with further posts!
Bloglovin' — Facebook — Instagram — Twitter
*These are affiliate links, I earn a small commission if a purchase is made.