I officially adore this book having finally been able to read it! I saw this come up on Bookbridgr and jumped at the chance to request it and ohhh boy I am so disappointed in myself for having left it this long! It was released in paperback yesterday (March 8th) with a gorgeous new cover and I'm so excited for the sequel (Smoke in the Sun) due to be released in June!
Title: Flame in the Mist
Series: Flame in the Mist #1
Author: Renée Ahdieh
Publisher: Hodder and Stoughton
Release Date: 8th March 2018
Pages: 416
Source: Paperback provided by Hodder and Stoughton through Bookbridgr (this in no way affects my review which is honest and unbiased)
Rating:


Goodreads Synopsis:
'The daughter of a prominent samurai, Mariko has long known her place—she may be an accomplished alchemist, whose cunning rivals that of her brother Kenshin, but because she is not a boy, her future has always been out of her hands. At just seventeen years old, Mariko is promised to Minamoto Raiden, the son of the emperor's favorite consort—a political marriage that will elevate her family's standing. But en route to the imperial city of Inako, Mariko narrowly escapes a bloody ambush by a dangerous gang of bandits known as the Black Clan, who she learns has been hired to kill her before she reaches the palace.
Dressed as a peasant boy, Mariko sets out to infiltrate the ranks of the Black Clan, determined to track down the person responsible for the target on her back. But she's quickly captured and taken to the Black Clan's secret hideout, where she meets their leader, the rebel ronin Takeda Ranmaru, and his second-in-command, his best friend Okami. Still believing her to be a boy, Ranmaru and Okami eventually warm to Mariko, impressed by her intellect and ingenuity. As Mariko gets closer to the Black Clan, she uncovers a dark history of secrets, of betrayal and murder, which will force her to question everything she's ever known.'
Review
In terms of the plot, we largely follow a girl called Mariko following an attack where people had attempted to murder her. She suspects this to be the work of the Black Clan (as she's heard they're notorious thieves and murderers) and so cuts off her hair (cue Mulan vibes) and attempts to infiltrate them. Her twin brother, Kenshi, is one of the few who doesn't believe that Mariko is dead and so is trying to track her down at the same time. Simultaneously, the nature of the emperor and how he keeps his power is revealed throughout the story.
Since the setting is in Japan, I found it to be almost educational as I haven't read much about Japanese culture before this book. It was a fun way to learn about Japan, and there's even a glossary you can refer to at the back of the book if you're a little confused about what's being described. The fantasy element is from Japanese mythology with vampiric trees (jubokko) and forest demons.
"Be as swift as the wind. As silent as the forest. As fierce as the fire. As unshakable as the mountain."
Character wise we have Mariko, Kenshi, members of the Black Clan (including Okami who is probably my favourite character alongside Mariko), the emperor, his sons and family. Mariko is such a strong and smart female lead that I fell in love with her character almost instantly. She's been essentially molly coddled her entire life but we see her learn and grow so much throughout the story. Okami is intriguing from his first introduction and only becomes more and more admirable throughout. The Black Clan as a whole are comparable to Robin Hood's band of merry men and the parts of the story focused on them were by far my favourites. 
Structurally, I'm usually not a fan of many changes of POVs but Ahdieh has written Flame in the Mist in such a way that it only enhances the story even more. We see multiple POVs used including Mariko, Kenshin, Okami, the emperor, even the empress. The majority of the story however remains to be told in Mariko's POV which serves to show us most of the story from that of the main character. Originally I found the pace slow but after about a third of the way through it really picks up
There is an element of romance to the story too, three of which are important for the characters' progressions. The main romantic subplot is the kind of romance that starts with witty challenges and ends in something utterly adorable. I loved seeing it progress and build up along with the characters' own growths.
"To me, you are magic."
I honestly hadn't expected that I'd love this book quite as much as I did. And the ending… so full of twists that I'm begging for the sequel as soon as possible!
Rating:

Purchase Link*:
Amazon
About the Author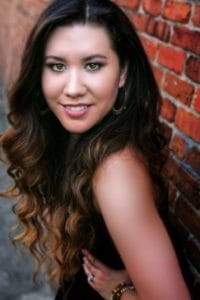 'Renée Ahdieh is the #1 New York Times bestselling author of The Wrath and the Dawn and The Rose and the Dagger. She is a graduate of the University of North Carolina at Chapel Hill. In her spare time, she likes to dance salsa and collect shoes. She is passionate about all kinds of curry, rescue dogs, and college basketball. The first few years of her life were spent in a high-rise in South Korea; consequently, Renée enjoys having her head in the clouds. She lives in Charlotte, North Carolina, with her husband and their tiny overlord of a dog. Her most recent novel is The Flame in the Mist.'
Source: Hodder and Stoughton's website
Have you read this yet?
What did you think?
Feel free to leave a comment or Tweet @LuchiaHoughton!
Follow me on my social media pages to keep up to date with further posts!
Bloglovin' — Facebook — Instagram — Twitter
*This is an affiliate link, I earn a small commission if a purchase is made.