Today's post is my part of the blog tour for The Art of Prophecy by Wesley Chu, run by Black Crow PR.
I saw this book a lot on Instagram last year with the US release, and everyone was giving it glowing reviews that made me so excited for it; so, I was pretty happy when it was announced that Daphne Press would be publishing the book in the UK! Very happy to report that the glowing reviews are extremely well-deserved, this was an entertaining read from start to finish.
Read on for my full review!
About the Book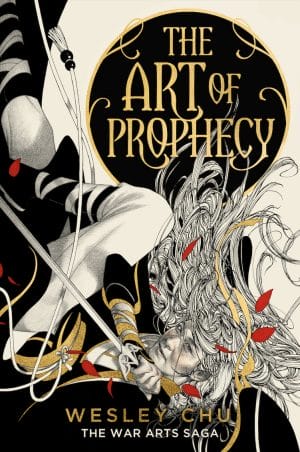 Title: The Art of Prophecy
Series: The War Arts Saga #1
Author: Wesley Chu
Publisher: Daphne Press
Pages: 512
Source: Physical copy from the publisher (this in no way affects my review which is honest and unbiased)
Release Date: April 4th 2023
Rating: ★★★★★
Synopsis
Bestselling author Wesley Chu is back with a thrilling wuxia-inspired fantasy that questions what happens when a prophecy goes badly wrong.
Prophecies don't make heroes: they only choose them. When Chosen One Jian falls short of his prophesied quest, he must find his own path to greatness.
The prophecy is clear: Wen Jian is the Chosen One, born to defeat the immortal Eternal Khan and save the kingdom. The only problem is that the prophecy is wrong.
Jian has been raised in splendor, trained by the best warriors, and celebrated before a single battle has been won. After all, he's the chosen one, selected by prophecy to defeat the immortal god-king and free the kingdom for good. But when the prophecy is proven to be incorrect, Jian still has to find a way to succeed—and maybe even become a hero in his own right.
To save the kingdom, an unlikely band of heroes rise: Taishi, an old grandmaster who swore her days of battle were over; Sali, a warrior re-evaluating her allegiances; and Qisami, an assassin with questionable values. Together, the four embark on a journey more wondrous than any prophecy could foresee.
Review
I'm going to start today's review by saying that I was destined to love this book from the beginning, because it was fairly clear we'd be getting at least a little found family early on! Towards the end, there's rather a lot of it though, if you love found family in stories then absolutely pick this up.
"Love and respect is what makes family, not blood."
The Art of Prophecy is centred around a war that has been happening for centuries, and one of the best things about the story is that we don't just have a focus on the chosen one's side in the war but also the rival clan. This gave a fantastic all-round view of the two sides, which Chu continues to fully illustrate with excellent world-building.
The story starts off with one of our four main perspectives, Ling Taishi, viewing the prophesied hero of Zhuun people in action to see how great of a fighter he is… and she's utterly disappointed to the point where she starts to interfere. As a Master of the War Arts herself, Taishi can see that the hero, Jian, is in severe need of interference from his fighting "techniques" alone (taught by several "Masters"). It's an incredibly entertaining start, and the way that Taishi and Jian bounce off each other is fantastic and hilarious.
Jian starts off as a spoilt brat who basically thinks he's better than everyone else, but… it's sadly a product of how he's been treated growing up. Having been born centuries after the prophecy was made, it makes sense that those who believe in the religion it's linked to will then worship Jian. They believe he will end the war and finally the Zhuun will be able to win against the Katuia… but things go a little bit differently when, actually, the Eternal Khan is instead killed by others… who have not been raised in a palace with many servants and treated like royalty.
That's just some of the events that happen a mere 35 pages into this 500+ page book, and fairly quickly the news then reaches Taishi and Jian. It's also when the action kind of picks up, because how could the Dukes of the land let Jian live when he hasn't lived up to his prophecy? But Taishi being a soft-centred yet harsh mentor means she'll do whatever she can to help keep him safe; she refuses to accept that there isn't more to the prophecy.
'Sali' (Salminde) is the third perspective that we're introduced to. She's of the Katuia clan and an esteemed Viperstrike, amongst other titles. She's highly skilled and prepared to do whatever it takes for her people, though she misses her family dearly. Added to that, after the death of the Eternal Khan she finds many of her people have been forced to become indentured servants, living in ways that go against their long-standing traditions.
Qisami is the last we meet of the four main perspectives, and though she's a Zhuun shadowkill assassin, her main allegiance is towards whoever can pay her the most. If you somehow manage to choose a side in the war, even if you pick the Zhuun side you'll likely struggle to see Sali as a villainous character, Qisami though… she's a fantastic character, but there's definitely an evil quality to her.
From the very beginning, Taishi was my favourite character. She's straight to the point and we find out a lot about her and Sali's different upbringings throughout the story, which is probably why I couldn't help but warm to both of them. Jian may start off as a brat but has the most character development (thankfully), but you can still tell from the beginning that he has a kind and caring nature. And Qisami, she might not be a "good" person, but she's certainly an entertaining character! Alongside the side characters we meet along the way, Chu has written a story filled with a fantastic cast in general.
Choice is a recurring theme throughout the story, what happens if you have no choice? What if you make a choice you end up regretting? Alongside there being drama at every twist and turn, once you start reading The Art of Prophecy then you'll definitely struggle to put it down; I can't wait for the next book!
(To the left of the standard edition is the edges of the Waterstones edition, the Broken Binding special edition edges are to the right)



If you enjoy my content please consider supporting me through any of the following:
♥ Ko-Fi — Bloglovin' — Facebook — Instagram — Twitter — Wishlist ♥