Okay so I got my OwlCrate for the month of January halfway through and I LOVE IT SO MUCH. I blew the surprise as soon as I could on Instagram (I'm very, very bad with surprises) and I was most excited for the pillowcase and book (keep on reading) but the rest of it? Yep, love it all!
The theme for this month was 'Fearsome Fairy Tales' and so the items were themed around fairy tales. Little fun fact – I've loved fairy tales for as long as I can remember. I'm also currently catching up on Once Upon a Time whilst writing this blog post! So, naturally, I guess I was always going to love this box.
The Book
Okay, okay… I have been wanting to read this book since it came out and EVERYONE started to rave about it so… this is me now:
For one, the book, The Cruel Prince, is actually signed, it's not just a signed book plate this time! The cover is an OwlCrate exclusive too, I'm not sure if I prefer it to the original or not but I do think it's also a very pretty cover! There's a sticker and a letter from Holly Black also, and the back of the letter will look so nice framed! And last but not least… underneath the gorgeous cover is a pretty design in gold!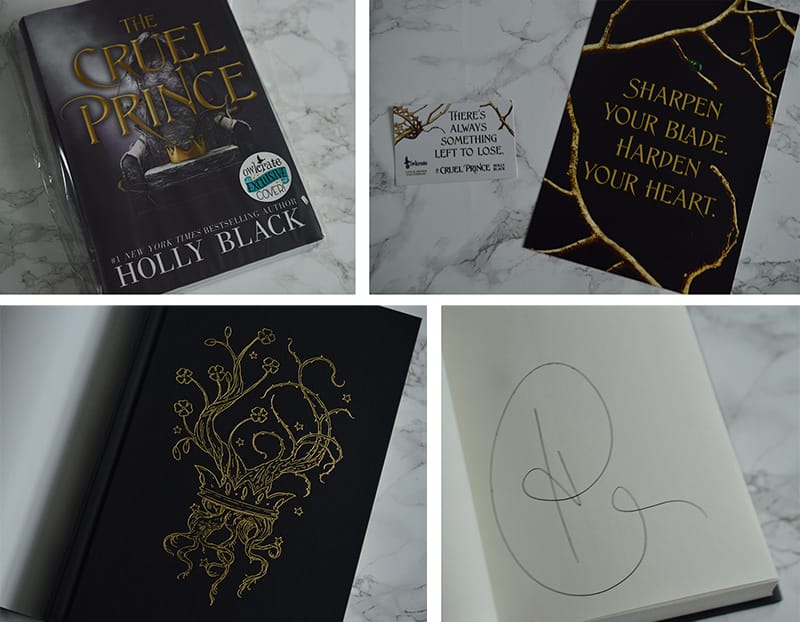 And then to top it all off… look at this gorgeous map!
Wax Melts and Ceramic Burner
Gingerbread scented purple wax melts from Spireside Candles, these smell so good! I can't wait to get some more tea lights for the exclusive ceramic burner specially made for OwlCrate, which looks so cute. I had one and I've been burning it in my room at night, most of the house smells of gingerbread!
Handmade Bracelet
This bracelet is made by Authored Adornments and is, of course, featuring a quote from Rapunzel. I really like the products that Authored Adornments makes so I'm definitely happy to have one!
Art Print
This Little Red Riding Hood inspired art print is another exclusive by Anne Lambelet. I really love her style, it's quite unique. I love her Hogwarts print too!
Pillowcase
Okay so I'm completely in love with this pillowcase! How beautiful is it? It's an exclusive from Stella's Bookish Art and inspired by Sleeping Beauty, on a related note – has anyone read Twisted Tale Once Upon a Dream? I'm intrigued and they're so cheap in HMV right now! Back to the pillowcase though… this is one of the prettiest pillowcase I've ever seen.
Overall
As a fan of fairy tales, this box was great for me! I adore everything and the quality of the items is just so good! Of course the pillowcase is already in use. I'm so excited to read the book too so stay tuned for a review!
Next Month – Hidden Worlds
From OwlCrate themselves:
'The February box is inspired by stories that feature characters stumbling upon secret magical lands!
Our book pick is a very highly anticipated story about a girl who has to venture deep into a sinister land of fairy tales in an effort to rescue her mother. It's deliciously dark and twisted! We will be including a special exclusive OwlCrate edition of the book which will be signed by the author!
We have packed this box absolutely FULL of some of the biggest high quality items we've ever included. Every single item was 100% exclusively made just for this box!
Items will be inspired by stories such as The Chronicles of Narnia, Coraline, Daughter of Smoke and Bone, Alice in Wonderland and more!'
So, yet another signed book! I have a pretty good idea what the book will be too, it's definitely one of the most anticipated books of the year!
Do you subscribe to any book boxes?
If you'd like to get an OwlCrate subscription check out this link!
Follow me on my social media pages to keep up to date with further posts!
Bloglovin' — Facebook — Instagram — Twitter