I got my first ever FairyLoot box last month as a one off special – it was my birthday in December so I ordered it then! The theme was 'Talk Faerie To Me' and it was announced that there'd be a lot of products inspired by Sarah J. Maas books included – which was basically why I needed this box!
I love the box spoiler card art work – it's also on the bookmark included, its by taratjah if you're interested in looking for more work by her!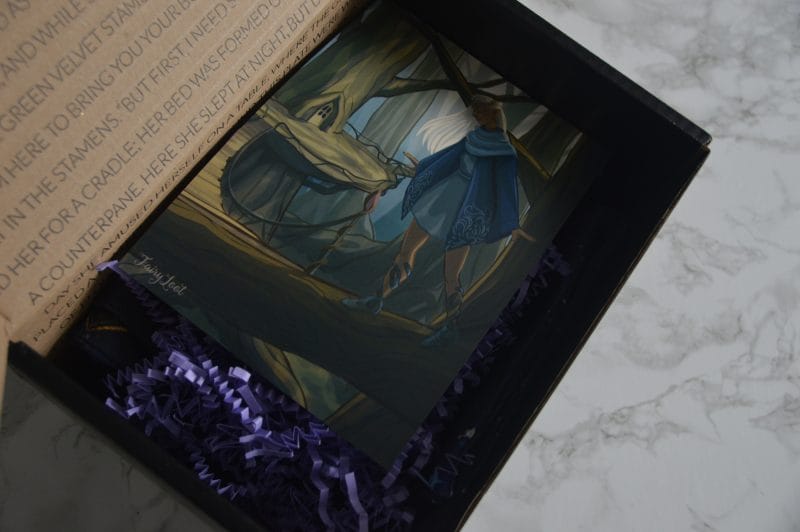 The Book
Well this one looks familiar… yep, the same book came in my OwlCrate and FairyLoot! I love that my OwlCrate copy is actually signed but I do have a weakness for the standard cover also, I'm heading to the Northern YA Literary Festival in March also which Holly Black is attending so I might be able to get my FairyLoot copy actually signed too!
I've heard amazing things about this book and I love what I've started to read already of it – so I'm okay about having two different copies! (Except there's one more with a black cover, but as that's a US Barnes and Noble exclusive I doubt I'll get to complete it)
*Checks eBay frantically…*
As an added bonus, there's a signed bookplate, an author letter and an exclusive Prince Cardan character print too illustrated by Merwild!
'Prince Cardan' Candle
This is an exclusive candle created by Meraki Candles based on what I assume is The Cruel Prince himself (I'm not quite far enough into the book yet, though he doesn't seem like the nicest person so far!). The shop itself has sadly closed now, but I'm happy to have been able to get this candle in this month's box.
Lip Balm
Well, personally I'm a huge fan of lip balms in winter because my lips seem to start to break at any temperature below 10 celsius! So this lip balm by Geeky Clean will definitely come in handy.
There were two variations of these – Seelie and Unseelie. The Unseelie Court is seen as the 'dark' side which I guess fits in with Pottermore insisting I'm a Slytherin lately (I would absolutely make the sorting hat place me in Ravenclaw though, always).
The lip balm itself is a honey flavoured vegan one, it's lovely and moisturising also.
Art Prints
So the art prints included are actually reversible ones – the Throne of Glass Aelin and Rowan artwork being by Diana Worak, and the quotes by Stella's Bookish Art. Personally, Aelin and Rowan are two of my favourite Throne of Glass characters so I'd definitely be keeping them on the displayed side, but both sides are very pretty of course!
Faerieland Colouring Book
This is an exclusive colouring book designed by Michael O'Mara for the month's box. It's full of beautiful drawings of mythical creatures ready to be coloured in – with my favourites being the unicorn and European dragon!
Magnetic Bookmarks
Another exclusive, these were designed by Dreamy and Co. and are the characters Feyre and Rhysand from the A Court of Thorn and Roses trilogy. I'm sure I'll love these even more after I've got round to reading the books but they're certainly adorable regardless!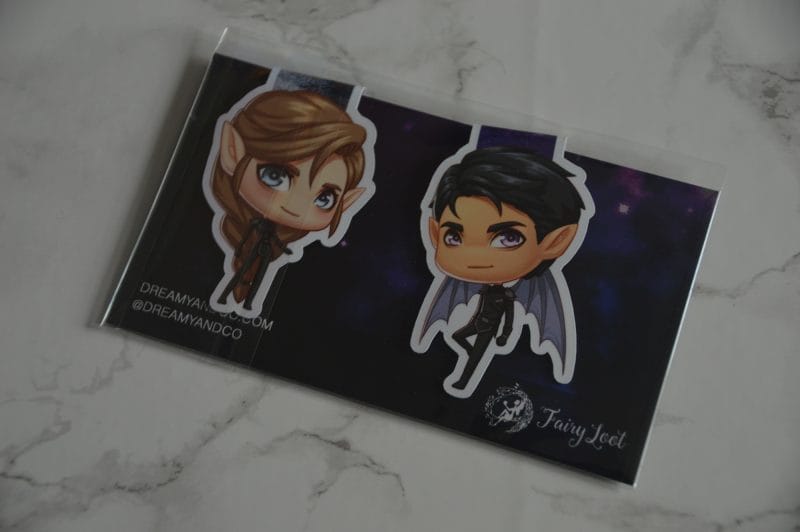 Pillowcase
Yep, another pillowcase. This I think is more of a cushion but I'm pretty happy as it looks awesome next to my OwlCrate pillowcase too! It's designed exclusively by Evie Bookish and the quote is from A Court of Wings and Ruin (Sarah J. Maas). I've yet to read the series but I absolutely love this quote and the design! Evie has products available on both Society6 and RedBubble.
Overall
Honestly I love Fae so much I'd probably have liked this with half the contents in, but I'm definitely happy that I got this box! I'm glad I have the standard cover for the book, and the additional pieces inspired by The Cruel Prince will surely be amazing if I love the book as much as I'm expecting too!
I adore the pillowcase too as I've been eyeing up the work of Evie Bookish for a while now.
One thing I will say though is I wish there was more of an emphasis on Throne of Glass instead of A Court of Thorns and Roses, but then again once I've finally got round to reading that trilogy I might have a different opinion!
Next Month – Twisted Tales
From FairyLoot themselves:
'The February 'Twisted Tales' box is perfect for fans of dark fairytales and The Grimm Fairytales! You can expect items themed on Little Red Riding Hood, Snow White, Hansel and Gretel, and Rapunzel.
The book we are featuring is a very highly anticipated new release that has magic, dark fairytales, and mystery. It's a completely mesmerising read that you are sure to love! What's more, the edition we will include is an exclusive hardcover edition made just for FairyLoot that you won't be able to get anywhere else (it's stunning!) and it will also be signed by the author – that's right, it's actually signed!'
As I mentioned this box was a one-off for me, partly because I knew that the same book would be included for February as the OwlCrate box again. But I definitely would consider a FairyLoot subscription in the future!
Do you subscribe to any book boxes?
If you'd like to get an FairyLoot subscription check out this link!
Follow me on my social media pages to keep up to date with further posts!
Bloglovin' — Facebook — Instagram — Twitter