Review time! I'm going to try my best to post at least a review each week on Sundays.
This week's is a NetGalley book – From the Earth to the Shadows – which is the second in Amanda Hocking's Valkyrie series. I enjoyed it, as I had liked the first, though unfortunately parts of it felt rushed which stopped me from being able to rate it as highly as the first in the series.
Slight spoiler in my review below if you haven't read the first book in the series, so be careful if you don't want to ruin anything!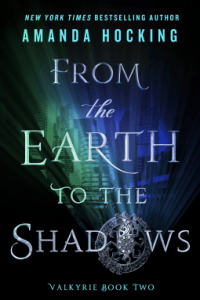 Title: From the Earth to the Shadows
Series: Valkyrie #2
Author: Amanda Hocking
Publisher: Wednesday Books
Release Date: 24th April 2018
Pages: 336
Source: eARC provided through NetGalley by Wednesday Books (this in no way affects my review which is honest and unbiased)
Rating:

Goodreads Synopsis:
'Malin's mission to avenge her mother's murder has uncovered dangerous secrets. As a Valkyrie-in-training, Malin must slay immortals who've had their time, to maintain balance between humans and immortals. But her quest could destroy earth's stability – and unleash chaos.
Just when she needs to focus, her friend Asher is in grave danger. He's been dragged into the underworld, where vengeful immortals plot revolution. Malin believes her feelings mustn't distract from her goal – but is desperate to rescue him. So she ventures into the darkest of realms, knowing she may not survive. With new allies at her side and new enemies ahead, Malin will face terrible choices. She'll have to keep her head – or be ruled by her heart.'
Review
I loved the first book in this series, the mix of mythology and futuristic sci-fi elements alongside an LGBTQ+ main character was perfect for me. I didn't enjoy the second quite as much, but it was definitely still a fun read and I wanted to know how the story itself would pan out after the first.
The second book picks up directly following the end of the first, with the world essentially about to go to hell and back with our original super team of Malin, Quinn, Oona, Asher and Atlas trying to save the world. SPOILER ALERT: Asher doesn't want Malin to save him from Kurnugia, but she finds herself heading to the underworld along with Oona and a new character, Valeska. Valeska is the daughter of an Alkonost with wings and a kickass attitude. She was straight to the point and fairly similar to Malin in her mannerisms, but without Malin's emotional insecurities. (I also really loved the Wolpertinger, Bowie, check out my review on the first book in the series – Between the Blade and the Heart – for more on him and his cuteness).
In terms of world building, we had the introduction of Kurnugia itself in this story. I loved the way that Amanda split it into different zones, and I also liked the way that she described it in general. The ending itself was something I hadn't seen happening, which is always a bonus! Don't worry, I won't be spoiling that for you.
Now, having said the above, unfortunately I didn't love this book as much as the first… I still enjoyed it, but a couple of things just meant that the story didn't flow all that well for me. At times it seemed like the story was rushed, and there was a lot of repetition where events were retold from the first book and even things from the chapters previous were repeated. I know it can be useful for someone who either hasn't read the first book or read it a long time ago but it pulled me out of the flow of the story a little too often. Even still, the story seemed to get more confusing until the very end which made it difficult to follow.
Back to my original gripe with the first book, the love triangle. Now something happened to one of the characters at the end of the first book, so of course whilst they're shortly out of the picture (I'm talking about a week and a bit here) of course she almost kisses the other character. I think the issue I had with this is I liked one of the characters, Quinn (Malin's ex-girlfriend), more than Malin herself for most of the time. She was a really caring yet still kickass character and I didn't like her being misled by Malin's confusion. Although, at the same time this is also a good thing about the story because I did care about the characters and how they were treated.
There you have it! Another pretty cool YA LGBTQ+ Fantasy read all-in-all, but sadly I didn't enjoy it as much as the first.
In the UK? Order this book from Book Depository for free delivery!

About the Author
'I live in Minnesota with my two dogs Isley and Sawyer, my three cats Sophie, Nikki, and Squeak, my hamster Mulberry, my husband Mike and my stepson Gavin. I do many things, most of them lame and boring, but the thing I get paid to do is write young adult books.
I enjoy Red Bull, Jim Henson, Batman, dinosaurs, sharks, Lego sets, and I absolutely hate long walks on the beach out of my intense fear/hatred of wet sand.
I have published five different series, with a total of 20 different published works. Two of my series and one standalone novel are self-published, and three of my series are with a traditional publisher, St. Martin's. My zombie series, The Hollows, has been adapted into a graphic novel by Dynamite.'

Source: Amanda Hocking's website
Have you read this yet?
What did you think?
Feel free to leave a comment or Tweet @LuchiaHoughton!
Follow me on my social media pages to keep up to date with further posts!
Bloglovin' — Facebook — Instagram — Twitter