Time for another FairyLoot unboxing! June's box had items inspired by Legendary, Shatter Me, Nevernight and The Selection. As always, art for the box by Taratjah was gorgeous, I've got them on a row on my wall and they look so awesome.
The Book
This month's book was Grace & Fury by Tracy Banghart. I reviewed this recently and I absolutely adored it! You can check out my spoiler-free review here. There was also a signed bookplate, author letter (with this beautiful art of the sisters on), and postcard. The hardcover design is stunning too!
Candle
The candle is inspired by Nevernight, which is another series I haven't read yet… but it smells absolutely gorgeous! It's by Geeky Clean and smells of Strawberry and Pepper.
Patch
This iron-on patch is designed by Ink and Wonder and I think it's an awesome quote! Inspired by The Selection.
Bookmarks
These are exclusive magnetic bookmarks designed by Taratjah for this month's box, inspired by Shatter Me. They're cool and I do love her art but I have not read this series yet (I know, shock).
Reading Journal
So this was a joint creation from FictionTea Designs and Stella's Bookish Art, how gorgeous is it?! I love the quotes pages inside and it will certainly come in handy now that I have more time to read again.

Necklace
Okay so I absolutely love this mask necklace! It's a FairyLoot exclusive and even though mine is missing a gem it's still beautiful. I'll have to find some way of fixing it up but luckily it's not too noticeable.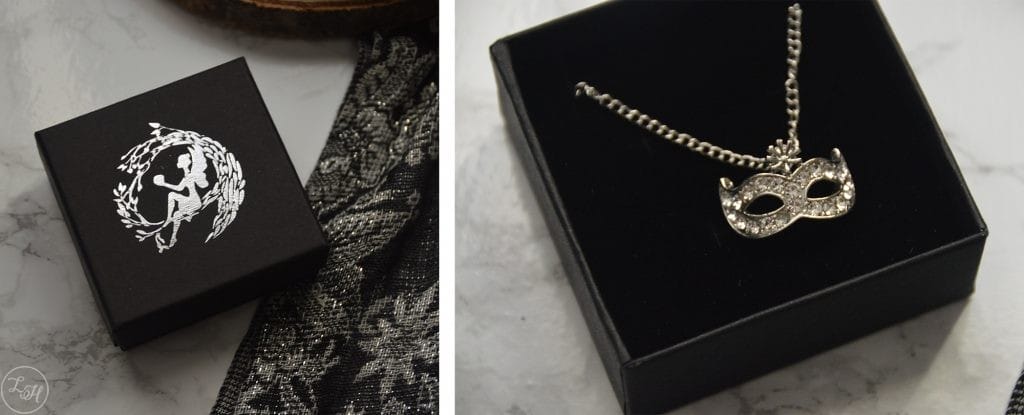 Pillow
HAVE I MENTIONED HOW MUCH I ADORE CARAVAL? Because I really do. So, naturally, I love this Legendary-inspired pillow by Miss Phi.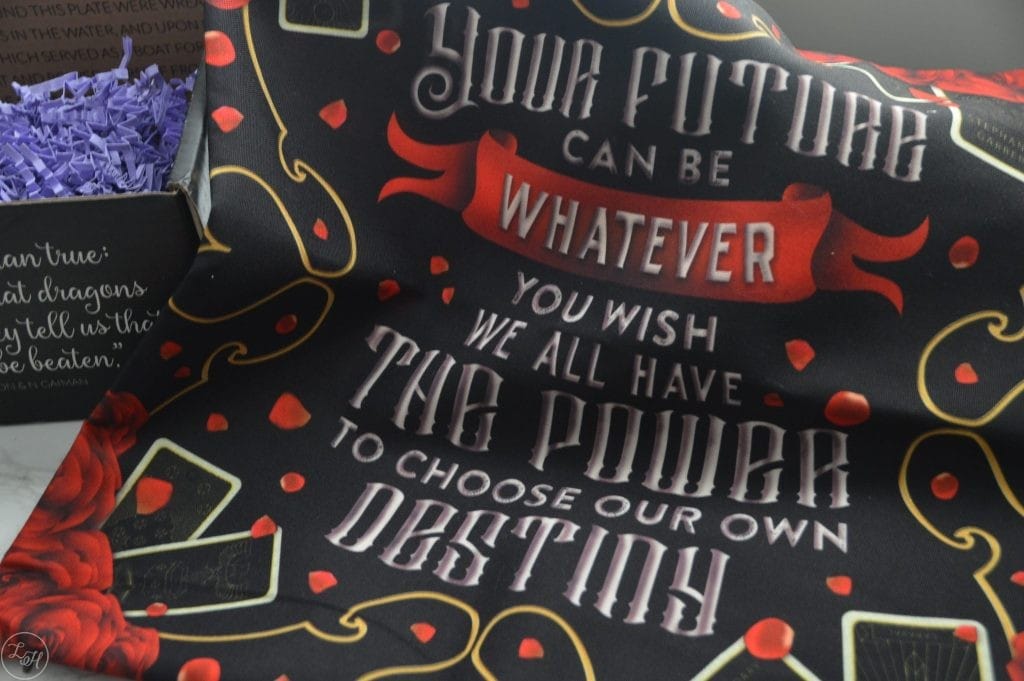 Promotional Item
This month came with a poster for Sea Witch, which I'll actually be reviewing soon! Excited to read it as I've heard great things about it.
Overall
I loved this box, the book is perfect for the theme and even though I've not read all of the series every item is great quality and beautiful.
Next Month – The Power Within
From FairyLoot themselves:
'We are so excited to reveal that the July theme is 'The Power Within'!
This box is inspired by stories where characters are powerful within, whether it's from magic or just strength and determination.
The book we are featuring is a brilliant fantasy book where there are women who can manipulate flesh, bones, breath, and blood. We adored this story so much! It's action packed from the start to finish, with a dash of humour. We're so excited to reveal that the edition we will be including will be a FairyLoot exclusive as it will have SPRAYED PAGES and will actually be SIGNED BY THE AUTHOR! We cannot wait for you guys to see these stunning unique copies in person!
This box will have items inspired by Falling Kingdoms by Morgan Rhodes, Snow Like Ashes by Sara Raasch, Harry Potter by J.K. Rowling, And I Darken by Kiersten White, Sky in the Deep by Adrienne Young and Children of Blood and Bone by Tomi Adeyemi. Even if you haven't read any of these books you can still enjoy all of these stunning items – promise!
For the moment all we can reveal is that this box will contain a ✨ MAGIC CERAMIC MUG ✨ … we've been so excited to include this item!'
I'm so excited to see the item inspired by Sky in the Deep, I loved that book so it's nice to see something will be inspired by it so soon after! The magic ceramic mug seems pretty cool too.
Do you subscribe to any book boxes?
Follow me on my social media pages to keep up to date with further posts!
Bloglovin' — Facebook — Instagram — Twitter