I've been wanting to read this for a while now, I picked up a copy from the latest Northern YA Literary Festival event and the synopsis had me interested from the beginning.
The Boneless Mercies was such a captivating fantasy read. It has substantial world building (especially for a standalone, though I'd love to see more of the world), friendships to envy, strong female main characters and beautiful prose throughout.
Read on for my full review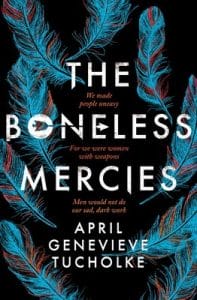 Title: The Boneless Mercies
Author: April Genevieve Tucholke
Publisher: Simon & Schuster
Release Date: 4th October 2018
Pages: 368
Source: Physical ARC received at Northern YA Literary Festival July 2018
Rating:

Goodreads Synopsis:
'A dark and gorgeously drawn standalone YA fantasy about a band of mercenary girls in search of female glory. Won in a major six-house auction!
Frey, Ovie, Juniper, and Runa are the Boneless Mercies—girls hired to kill quickly, quietly, and mercifully. But Frey is weary of the death trade and, having been raised on the heroic sagas of her people, dreams of a bigger life.
When she hears of an unstoppable monster ravaging a nearby town, Frey decides this is the Mercies' one chance out. The fame and fortune of bringing down such a beast would ensure a new future for all the Mercies. In fact, her actions may change the story arc of women everywhere.
Full of fierce girls, bloodlust, tenuous alliances, and unapologetic quests for glory, this elegantly spun tale challenges the power of storytelling—and who gets to be the storyteller. Perfect for fans of Maggie Stiefvater, V.E. Schwab, and Heidi Heilig.'
Review
Set in a "Vorse" (seemingly Norse-inspired) fantasy land, The Boneless Mercies is rich in mythology created by April which is brought into the story through songs and stories.
We follow Frey, who is the leader of 'The Boneless Mercies', a group of women tasked with helping those close to death have a quick and merciful one. Her group contains three others – Runa, Ovie and Juniper. Kickass female characters are my favourite to read about, and this group is entirely that. They're skilled at fighting and can be sassy at times too, but none of them want to work in the death trade anymore.
Each character is wonderfully different, April has created a world with so much diversity that it really adds to the story in general. Runa was my absolute favourite, she was such a headstrong character but at the same time like the other three from the group she remained faithful to the Mercies throughout, even when she had the opportunity to go her separate way.
Whilst between jobs, Frey has the idea that they could set out on a quest to kill a beast which has been murdering villagers in Blue Vee Valley. The journey there itself finds the group thrown into a series of events, which all link to a larger event that the book pretty much introduces (and I'd be very happy to see more of this world, exploring that event).
On the way they meet the Sea Witches (which is the group Juniper came from) and the leader, Hush, makes Frey an offer to kill another witch queen in order to help her on her quest to kill the beast. Whereas the start is really a lead up to what will happen, it doesn't take much time at all for the action to really kick in and it actually begins even prior to the group meeting the Sea Witches.
Women had a fair bit of standing in the world too but this was definitely amplified towards the end by the actions of the Mercies – previous ballads and stories were of brave men only but they found that their story had gained them glory. Frey only really wanted glory from the quest but she gained so many friendships along the way and you could tell this really helped to shape her.
In the UK? Order this book from Book Depository for free delivery!
Favourite Quote*
"No magic is as strong, or as powerful, as fear."
*Quote from advanced reader copy thus subject to change.
Will you be preordering this?
Feel free to leave a comment or Tweet @LuchiaHoughton!
Follow me on my social media pages to keep up to date with further posts!
Bloglovin' — Facebook — Instagram — Twitter