I've previously posted about my haul from YALC but I wanted to talk about just how awesome I found the whole weekend, especially because it was my first ever YALC trip! And I'm sorry, I'm probably the latest person to the wrap-up post party but… I have no excuse, I'm just sorry.
The event itself was on the 27th-29th July, but Becky, Beth, Charlotte, Lauren and myself all went down a day earlier which meant we could pick up our wristbands and hang out the evening before (we had Pizza Express which was lovely, in case you were wondering). I know that the big thing about YALC is the books, but for me the best part of it was getting to know these lovely ladies a little more. Anyway, I'll go into more detail after talking about the bookish parts of the event (since I'm guessing that's what you're reading for anyway!).
Signings
So I can't really compare to much since my only events really have been much smaller than that of YALC, but on the whole I'd say the signings were organised fairly well but there were some issues. In terms of accessibility it wasn't perfect and there were some who had extra help bands but didn't feel they were that considered. One annoying thing too was that some very highly anticipated authors drew queues so large that tickets had to be given out, in one case numbers went as high as 400 but it wasn't guaranteed that your number would be reached.
Honestly, I was really lucky overall. I got to see every author I'd bought books for – including Tomi Adeyemi (I think numbers were called out to around 100/400+ and my number was like 95). I didn't manage to meet Samantha Shannon on her signing day but luckily she returned the following day (Sunday) for another off-plan signing and I had my copy of The Bone Season in my suitcase which was in the cloakroom that day.
I really struggle with photos of myself lately, but I swallowed that fear and got photos with the lovely ladies below: Alexandra Christo, Samantha Shannon and Sara Holland. I didn't want to pass out on the chance just in case I never got them again, and I'm glad I got the guts to (as well as the guts to ask, even though I'm super awkward).


ARC Drops
ARCs were given away through a few methods, from raffles to just handing out copies and then some publishers got creative asking for tweets to be involved. I don't have any issues with how they were given away for myself, there were sometimes I missed drops because they were early but then I can understand that queues were starting around 30 minutes beforehand. My favourite way was when publishers would give an ARC away if you bought finished copies, because let's face it – any excuse to buy another book, right?


Workshops
YALC had a number of panels and workshops on, but one thing that I wasn't too happy with was that I didn't really get to go to any owing to clashes with signings and ARC drops. I'm hoping I'll get to go to some panels next year though! (Or any of the following years after).
One workshop I was most definitely attending though, regardless of anything, was the Everless with a Mocktail Mixology Workshop with Sara Holland (I know, you're surprised, my love for Everless is so not transparent). It was so fun, we got to make mocktails with edible glitter in and not only did they look gorgeous but they tasted great too! Bkmrk also gave us some Everless themed chocolate coins afterwards too.


The Best Bit
Super lame of me, I know. But honestly getting to spend time with Becky, Beth, Charlotte and Lauren made the whole experience just so much better! It was really great to have a whole weekend of books and book talk and these four girls are just the loveliest! As mentioned before, I'm incredibly awkward in general but I feel like I can be myself around them and not have to worry about them thinking I'm weird. I just hope next year that Amy gets to come along too! I also got to meet a couple of people I'd spoken to on Twitter/Instagram, including the lovely Jenn (who also runs LiteraryGalaxy – she makes some beautiful items!) and Jane.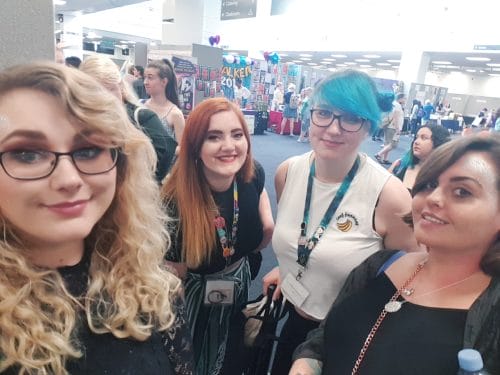 Did you go to YALC?
What was your favourite part about it?
Follow me on my social media pages to keep up to date with further posts and book reviews!
Bloglovin' — Facebook — Instagram — Twitter