So I was more than a little bit excited for the sequel to Reign of the Fallen, which was one of my favourite reads from last year. Song of the Dead didn't disappoint and it was great to see some characters who I really loved returning.
I do love this duology and recommend it if you're after a fantasy with a great magic system that includes necromancers!
Read on for my full review.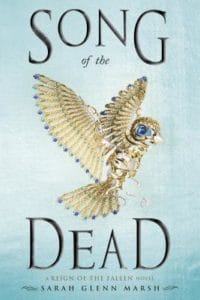 Title: Song of the Dead
Series: Reign of the Fallen #2
Author: Sarah Glenn Marsh
Publisher: Razorbill
Release Date: 22nd January 2019
Pages: 416
Source: Purchased
Rating:
Synopsis:
'The Dead must stay buried.
Karthia is nothing like it used to be. The kingdom's borders are open for the first time in nearly three hundred years, and raising the dead has been outlawed. Odessa is determined to explore the world beyond Karthia's waters, hoping to heal a heart broken in more ways than she can count. But with Meredy joining the ocean voyage, vanquishing her sorrow will be a difficult task.
Despite the daily reminder of the history they share, Odessa and Meredy are fascinated when their journey takes them to a land where the Dead rule the night and dragons roam the streets. Odessa can't help being mesmerized by the new magic–and by the girl at her side. But just as she and Meredy are beginning to explore the new world, a terrifying development in Karthia summons them home at once.
Growing political unrest on top of threats from foreign invaders means Odessa and Meredy are thrust back into the lives they tried to leave behind while specters from their past haunt their tenuous relationship. Gathering a force big enough to ward off enemies seems impossible, until one of Queen Valoria's mages creates a weapon that could make them invincible. As danger continues to mount inside the palace, Odessa fears that without the Dead, even the greatest invention won't be enough to save their fates.
In this enthralling, heartrending sequel to Reign of the Fallen, Odessa faces the fight of her life as the boundaries between the Dead and the living are challenged in a way more gruesome than ever before.'
Review
Song of the Dead picks up after the events of Reign of the Fallen, with Odessa hoping to find her purpose. Straight away she finds that travelling isn't exactly all she hoped – necromancy isn't as revered elsewhere as it had been in Karthia. Fairly quickly though the travelling elements stop and suddenly our crew has to return to Karthia because Valoria needs them.
We're also introduced quickly to two new characters, Azelie and Nipper. Azelie is sweet, lovely and caring but Nipper… Nipper is a gorgeous purple DRAGON baby. If you don't know, I love dragons. So this introduction by itself makes me adore Song of the Dead.
Sarah revives some storylines from the first, most potently that of Odessa and Meredy's blossoming love for each other. Pretty soon they become girlfriends and it's a pretty cute relationship from the get-go, especially as Meredy's Lysander and Odessa's Nipper become the best of pals.
But it's not all sweetness and cuteness, much like the first book there are underlying issues not only with dangerous characters but the tough topic of grief, though the focus is largely on Meredy's grief this time round. There were a couple of delicious twists I didn't see coming towards the end also, which is forever a bonus with me!
My only slight issue with the book was pacing at some points. It was more so at the end where things just felt a little bit rushed and there were a lot of revelations at once. But, all-in-all, I really liked this duology. And the pacing thing was probably just an issue because I wish it could have been longer. The magic system had me enticed from the beginning and the majority of the characters were impossible to dislike. Also, Nipper. Nipper is the best.


…I made myself a little Nipper because she's the cutest.
ABOUT THE AUTHOR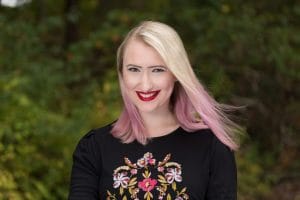 Sarah Glenn Marsh writes young adult novels and children's picture books. An avid fantasy reader from the day her dad handed her a copy of The Hobbit and promised it would change her life, she's been making up words and worlds ever since.
When she's not writing, Sarah enjoys watercolor painting, ghost hunting, and pursuits of the nerd variety, from video games to tabletop adventures. She's never met an animal or a doughnut she didn't like.
Sarah lives in Richmond, Virginia with her husband and their tiny zoo of four rescued greyhounds, three birds, and many fish. She is the author of Fear the Drowning Deep, the Reign of the Fallen duology, and several picture books.
Author Links: Instagram | Twitter | Goodreads
Have you read this yet?
What did you think?
Feel free to leave a comment or Tweet @LuchiaHoughton!
Follow me on my social media pages to keep up to date with further posts!
Bloglovin' — Facebook — Instagram — Twitter