This month's OwlCrate box included items inspired by Howl's Moving Castle, A Court of Mist and Fury, A Darker Shade of Magic, Stardust, The Hobbit and the book of this month. I really loved this box, and I'd been hoping for a copy of the book so I was super excited about the items related to it also!
Read on to see the full contents.
The Book
I was seriously excited when I saw the original theme reveal because I'd been seriously hoping for a copy of this book for ages, We Hunt the Flame by Hafsah Faizal looks like an epic read and I hope I manage to get round to it soon! The OwlCrate edition is signed and has a slight colour change — the silver foiling is gold on the standard US edition. And of course there was also an author letter and a couple more related goodies which I'll go into below!
Synopsis
People lived because she killed.
People died because he lived.
Zafira is the Hunter, disguising herself as a man when she braves the cursed forest of the Arz to feed her people. Nasir is the Prince of Death, assassinating those foolish enough to defy his autocratic father, the king. If Zafira was exposed as a girl, all of her achievements would be rejected; if Nasir displayed his compassion, his father would punish him in the most brutal of ways.
Both are legends in the kingdom of Arawiya—but neither wants to be.
War is brewing, and the Arz sweeps closer with each passing day, engulfing the land in shadow. When Zafira embarks on a quest to uncover a lost artifact that can restore magic to her suffering world and stop the Arz, Nasir is sent by the king on a similar mission: retrieve the artifact and kill the Hunter. But an ancient evil stirs as their journey unfolds—and the prize they seek may pose a threat greater than either can imagine.
We Hunt The Flame Merchandise
When @_iceydesigns was announced as this month's pin designer I wasn't surprised in the slightest, as not only is Hafsah now the author of a beautiful looking (and surely to be a matching beautiful read) but she owns Icey Designs and sells gorgeous bookish pins through her store! OwlCrate also included this double-sided print featuring character art of the main characters, created by the talented @arz28.
Sticker
This vinyl sticker is based on Howl's Moving Castle by @naomi_lord, honestly I've never seen it but this is an adorable sticker nonetheless!
Sleep Mask
@bookwormboutique designed this Night Court sleep mask, inspired by A Court of Mist and Fury. As a personal fan of sleep masks I really like this item, the material is lovely and the design is beautiful.
Passport Wallet
As someone who could probably say their biggest habit going away is panicking that they've lost their passport once every day, I think this will actually come in pretty handy for me! It's inspired by The Hobbit and designed by @kitstercronk.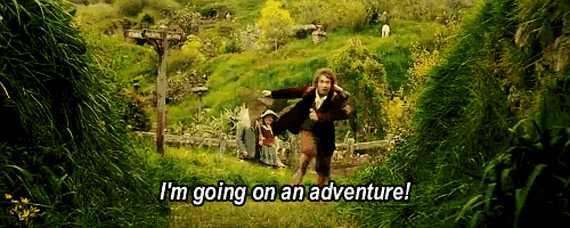 Now I just need an adventure planned…
Water Bottle
This OwlCrate exclusive glass water bottle features lettering from @kdpletters and is inspired by Neil Gaiman's Stardust. It's super pretty, but I am worried because I feel like me and a glass water bottle is a recipe for disaster! I've seen one person on Facebook put fairy lights in theirs though, which might be something I try! 
Pillowcase
Featuring a quote from A Darker Shade of Magic, this pillowcase from @stellabookishart is beautiful! I definitely need to read this soon too, as Victoria will be at YALC this year! 
Overall
For me, the book and associated items would have been enough for this box to be worth it for me, but I really like all of the other items too! I especially like the pillowcase, the pirate details are just awesome! Essentially OwlCrate can do no wrong in my eyes though…
Next Month – Libraries of Wonder 📚
From OwlCrate themselves:
'We all know libraries hold a certain kind of magic all their own, and our June box is in celebration of this! We've curated a very unique box inspired by our favorite fictional libraries.
Our book pick is all about a young girl training among dangerous magical books in a grand library. It's a story filled with adventure, sorcery, romance and humor – what more could you ask for?
We'll be including a beautiful OwlCrate exclusive edition of the book, which will be signed by the author.
You'll also find items inspired by The Chronicles of Narnia, Strange the Dreamer, Beauty and the Beast, plus many more goodies to help make your own personal library magical! We can't wait to share more sneak peeks in the coming weeks. This is truly one of our favorite boxes we've ever done!'
So it's already been announced that this box will include coffee and Narnia inspired bookends (both of them in one box too). I don't drink coffee but it's always nice to be able to offer items to others instead of hoarding them all, so that's good with me! I just hope that the coffee isn't the Strange the Dreamer item… because I definitely need more merchandise for it!
The book is 99% going to be the same as what I'll be getting in FairyLoot, but they're different exclusive copies and I'm SO excited for the book that I'll need both of them anyway.
Do you subscribe to any book boxes?
If you'd like to get an OwlCrate subscription check out this link!
Follow me on my social media pages to keep up to date with further posts!
Bloglovin' — Facebook — Instagram — Twitter