Last year I read Geekerella and absolutely fell in love with the book, it was one of my favourite reads of the year. When I found out a couple of weeks ago that Ashley is signing in Manchester this Wednesday (*internally screams with excitement*) I knew I had to see where the series had gone with the second book in the instalment (I'd actually just picked up the paperback the weekend before I found out too, but I got the hardcover anyway too because… signed hardcovers).
As with Geekerella, this was another absolutely adorable story. I really hope we get a third book in the series soon, so I can happy cry some more.
Read on for my full review.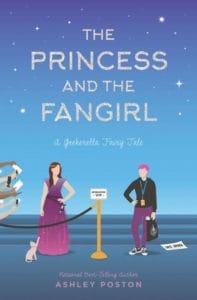 Title: The Princess and the Fangirl
Series: Once Upon a Con #2
Author: Ashley Poston
Publisher: Quirk Books
Release Date: 2nd April 2019
Pages: 320
Source: Hardcover and paperback both purchased
Rating:

'The Prince and the Pauper gets a modern makeover in this adorable, witty, and heartwarming young adult novel set in the Geekerella universe by national bestselling author Ashley Poston.
Imogen Lovelace is an ordinary fangirl on an impossible mission: save her favorite character, Princess Amara, from being killed off from her favorite franchise, Starfield. The problem is, Jessica Stone—the actress who plays Princess Amara—wants nothing more than to leave the intense scrutiny of the fandom behind. If this year's ExcelsiCon isn't her last, she'll consider her career derailed.
When a case of mistaken identity throws look-a-likes Imogen and Jess together, they quickly become enemies. But when the script for the Starfield sequel leaks, and all signs point to Jess, she and Imogen must trade places to find the person responsible. That's easier said than done when the girls step into each other's shoes and discover new romantic possibilities, as well as the other side of intense fandom. As these "princesses" race to find the script-leaker, they must rescue themselves from their own expectations, and redefine what it means to live happily ever after.'
Review
My review from Geekerella ended with this…
'So yeah, I adored this book. But I do want to warn people… make sure you have tissues nearby, you're about 80% likely to cry because at times this is heart wrenching to read but mostly you'll be smiling with happy tears falling down your face. It's definitely something I'd happily read again also!'
Basically, this works just as well for its sequel. The Princess and the Fangirl kind of builds upon the first in the series in some ways, with a few returning characters. But it can stand on its own two feet at the same time. From Geekerella, we see Darien and Elle again, along with Sage and Cal, but they're really more like extras in this story. The main characters are Jessica and Imogen, with Jess being a Hollywood star who portrayed Princess Amara in the Starfield film and Imogen being such a fangirl of Princess Amara that she starts up a #SaveAmara campaign.
As the two look kind of similar, they end up swapping whilst at the Excelsior convention (the whole story is set over the duration of the con) because Jess finds herself in a little bit of trouble. Cue the love interests. Imogen can't help but be attracted to Jess's best friend, Ethan, whilst Jess finds herself drawn to Imogen's best friend, Harper. Side note, if you're looking for a cute, nerdy contemporary series with LGBTQ+ representation – this is a series you need to read.
What I really, really, really loved about this story though is how well Ashley portrays both the main characters. I didn't super like Jess at first, but I think that's a part of what makes the story so good. As she opens up to others around her and feels more at ease, it's kind of like a flower blooming and suddenly you understand her and feel for her. Ashley does a really brilliant job of showing the dark side of fame too, why Jess hates Starfield so much. What's really great about this in terms of progression is that Imogen immediately gets swept up in thinking it'll be the best thing ever to impersonate Jess for a couple of days, until she starts to understand the dark side too.
Jess, on the other hand, starts to seriously love not being in the limelight. There are times when she's just super happy to not be seen and some of my favourite parts to read were the ones where she starts to show her true self to Harper.
Supporting characters are equally awesome though, particularly Imogen's little brother and his boyfriend. They're adorable throughout and her brother's love for her is particularly endearing. I wish we'd seen more of their mothers though, basically quirky figurine sellers and just, they seemed awesome from what was in the book.
I'd really kill for this series to be a Netflix show, alongside Starfield itself! I love the sci-fi world that Ashley has created and from what I've read in Geekerella and The Princess and the Fangirl I'd totally love to watch Starfield.
Look to the Stars. Aim. Ignite.
In the UK? Order this book from Book Depository for free delivery!




About the Author
Ashley Poston is a part-time author and full-time fangirl. She was born in rural South Carolina, where you can see the stars impossibly well…
Author Links: Twitter | Instagram | Goodreads | Website 
Have you read this yet?
What did you think?
Feel free to leave a comment or tweet me @LuchiaHoughton!
Follow me on my social media pages to keep up to date with further posts!
Bloglovin' — Facebook — Instagram — Twitter