So I got my July OwlCrate just before YALC! Great timing, and a pretty nice, much needed distraction…
This month's OwlCrate box included items inspired by items inspired by Harry Potter and the Goblet of Fire, The Hunger Games, The Selection, The Night Circus and A Gathering of Shadows and the book of this month. I really liked the box again but then again are we even surprised at this point? I think there might have been one single box I didn't like the majority of since starting my subscription in November 2017 (I'm pretty picky with merch, so that's a big deal).
Read on to see the full contents.
The Book
This month's book was Spin the Dawn, which is basically why I joined up for the blog tour with FFBC tours but also because I knew I would enjoy it! The OwlCrate edition has a slight colour-change, with the title from silver to gold and it's also signed. It came with an author letter, star shaped bookmark and of course a book-inspired pin (which is beautiful).
You can check out my full review for it here if you're interested! Very glad to have more merch for it.
Synopsis
Project Runway meets Mulan in this sweeping YA fantasy about a young girl who poses as a boy to compete for the role of imperial tailor and embarks on an impossible journey to sew three magic dresses, from the sun, the moon, and the stars.
Maia Tamarin dreams of becoming the greatest tailor in the land, but as a girl, the best she can hope for is to marry well. When a royal messenger summons her ailing father, once a tailor of renown, to court, Maia poses as a boy and takes his place. She knows her life is forfeit if her secret is discovered, but she'll take that risk to achieve her dream and save her family from ruin. There's just one catch: Maia is one of twelve tailors vying for the job.
Backstabbing and lies run rampant as the tailors compete in challenges to prove their artistry and skill. Maia's task is further complicated when she draws the attention of the court magician, Edan, whose piercing eyes seem to see straight through her disguise.
And nothing could have prepared her for the final challenge: to sew three magic gowns for the emperor's reluctant bride-to-be, from the laughter of the sun, the tears of the moon, and the blood of stars. With this impossible task before her, she embarks on a journey to the far reaches of the kingdom, seeking the sun, the moon, and the stars, and finding more than she ever could have imagined.
Steeped in Chinese culture, sizzling with forbidden romance, and shimmering with magic, this young adult fantasy is pitch-perfect for fans of Sarah J. Maas or Renée Ahdieh.
Spin the Dawn Pin
This month's pin is designed by Dust and Pages and it's so beautiful, you can't really tell here but it's kind of sparkly which I'm a mega fan of.
Lanyard
This lanyard is inspired by The Selection and designed by Four Seasons Fox, featuring a bunch of cute plants and 'Bravery hides in amazing places'.
Coin Purse
The canvas coin purse is designed by Kit Cronk Studio and features 'may the odds be ever in your favour' – of course inspired by The Hunger Games.
Jigsaw Puzzle (and Print)
I haven't read The Night Circus yet but I know it's one I'll enjoy! I really like how OwlCrate included a print of the puzzle because it's so pretty. This is illustrated by Holly Dunn Design.
Playing Cards
So these are similar to the cards in OwlCrate's special edition Finale box with the sides being metallic-looking but inspired by A Gathering of Shadows. Artwork on the cards is from @nicole.deal.art, @darkandbeautifulart, @mariannemartindraws and @dianadworak, whilst the packaging is by @themichellegray.
Artwork is as follows:
Ceramic Mug
This is the third Cara Kozik Harry Potter mug in the series created with OwlCrate and features the Triwizard Tournament. It's gorgeous and I'm, of course, a big fan of the dragon scene.
Promo Item
Okay so I'm sharing this because Kingdom of Souls by Rena Barron is one of my most anticipated reads for the year (I have, of course, ordered the Goldsboro edition) and I'll be taking part in the FFBC blog tour for it on September 8th!
Overall
I really liked the items in general, quality is again great and since I already know I love the book it just makes me like it even more.
Next Month – Storms and Seas 🌊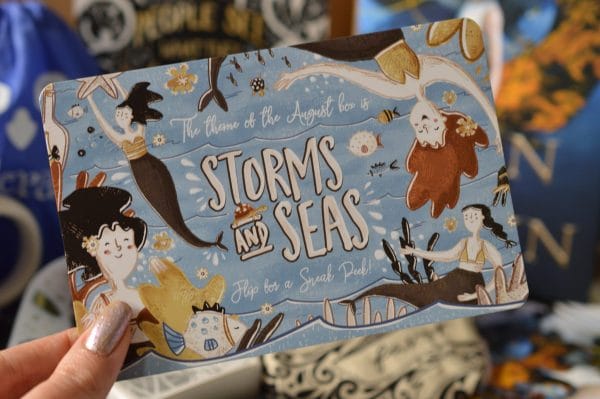 From OwlCrate themselves:
'Our book pick is a beautiful fairy-tale retelling set on an island. The descriptions of the sea and the rainy climate make the setting feel like one of the main characters.
The story is filled with family, magic, romance, and ghosts! This book was unlike anything we had ever read before and we haven't been able to stop thinking about it.
We'll be including a beautiful exclusive edition which is signed by the author!
You can also expect to find stunning items inspired by The Little Mermaid, The Scorpio Races, Daughter of the Pirate King, Sea Witch and more (including some super cool items we've never included before)!'
If you know me then you'll know I really like pirate and mermaid stories, so the fandoms for this are great for me. Pretty sure I know what the book is too and that looks interesting so that's all good.
Do you subscribe to any book boxes?
If you'd like to get an OwlCrate subscription check out this link!
Follow me on my social media pages to keep up to date with further posts!
Bloglovin' — Facebook — Instagram — Twitter