Today's book review is another FFBC blog tour post for Tears of Frost by Bree Barton, sequel to Heart of Thorns.
If you've read my review for the first book in this trilogy, you'll know I loved it. Bree has created a fascinating world and Tears is no different, just with a lot more… well, tearful parts to be true to its name.
Read on for my full review and favourite quotes!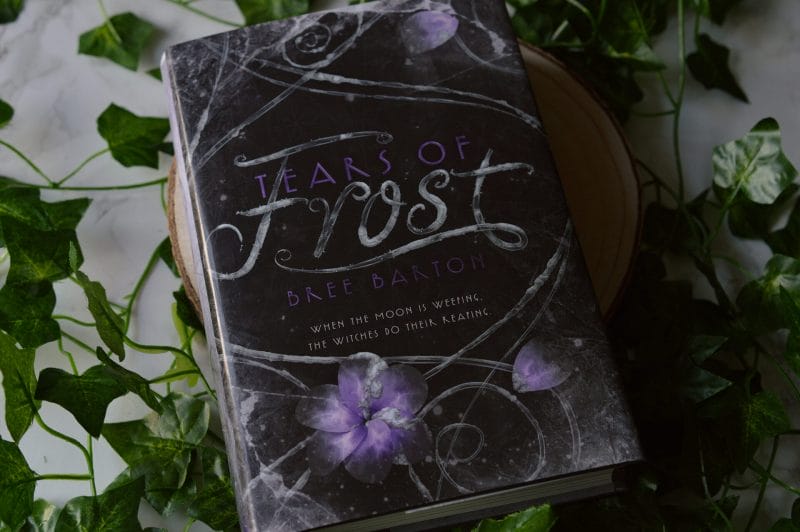 About the Book
Title: Tears of Frost
Series: Heart of Thorns #2
Author: Bree Barton
Publisher: Katherine Tegen Books
Release Date: 5th November 2019
Pages: 480
Source: eARC provided by the publisher (this in no way affects my review which is honest and unbiased)
Rating: ★★★★★
Synopsis
'The electric second book in the Heart of Thorns trilogy explores the effects of power in a dark magical kingdom—and the fierce courage it takes to claim your body as your own.
Mia Rose is back from the dead. Her memories are hazy, her body numb—but she won't stop searching. Her only hope to save the boy she loves and the sister who destroyed her is to find the mother she can never forgive. Pilar is on a hunt of her own. Betrayed by her mother, and plagued by a painful secret, she's determined to seek out the only person who can exact revenge. All goes according to plan… until she collides with Prince Quin, the boy whose sister she killed.
As Mia, Pilar, and Quin forge dangerous new alliances, they are bewitched by the snow kingdom's promise of freedom and opportunity. But with the winter solstice drawing near, they must confront the truth beneath the glimmering ice, as lines between friend, foe, and lover vanish like snowflakes on a flame.'

Review
Tears of Frost is an absolute whirlwind of emotions from start to finish. From the get-go we have Pilar in the woods stalking men she thinks are there to capture her, playing all sorts of tricks on them along the way. We also get an inkling very early on that she's trying to deal with some trauma.
Sometimes the things you wanted most were the very things that destroyed you.
Quin is then quickly placed in the picture, with the guards happening upon him and assuming it was him who had been playing tricks on them. Pilar ends up defending him and after they realise they're both bound for the snow kingdom, which results in a pretty tension-filled and also awkward journey.
I adored Quin's character in the first book, and he's so wholesome in Tears that I couldn't help but fall back in love with the Prince. He's of course dealing with the loss of pretty much anyone he cared about at this point but he still has his kind heart. Pilar, on the other hand, is straight up brutally honest about how she'd quite like to just skip to murdering her own mother.
Where love bloomed, Pilar would cut it out. And in the space it left behind, she'd set the world aflame.
But it's not quite as simple as that, as I said early Bree quickly hints that Pilar is dealing with something serious and we find that there's a lot more vulnerability to Pilar than she'd like to admit. Nevertheless, she's headstrong and quick to defend those she cares about, so even without the vulnerability you can't help but love her.
And of course, Mia is back from the dead! Albeit fairly zombified as she can't feel things anymore, like emotions or pain. Her own adventure also leads her to the snow kingdom, in search of her mother along with how she can gain control of her magic again. So, cue some super frustrating times where you'll read a chapter showing Quin grieving for his "dead" love followed by Mia's chapter stating she's focusing on trying to save him somehow. But it adds to the tension nicely!
"Magic is not yours to control. But it is always, always your choice how you use it."
This book deals with sexual assault and consent a lot. It can be quite a heavy read but it's worth it. The story is fantastic and about half way in you get a twist that you really won't see coming. This is one of my favourite trilogies so far and I'm so excited to see where it ends up!


About the Author
Bree Barton is the author of Heart of Thorns (KT/HarperCollins 2018), the first in a series of fierce feminist fantasy novels. Her books have been published in seven countries and four languages. When she's not crafting a story, Bree teaches dance and writing to teen girls. You can find her on Instagram 
@SpeakBreely
.
She lives in Los Angeles but dreams of the northern lights.

Blog Tour

CHECK OUT THE OTHER STOPS ON THE FFBC BLOG TOUR HERE!

Will you be getting this?
Feel free to leave a comment or Tweet @LuchiaHoughton!

If you enjoy my content please consider supporting me through any of the following:
♥ Ko-Fi — Bloglovin' — Facebook — Instagram — Twitter — Wishlist ♥