Today's review is for a book by an author who I actually hadn't read any books by before now! I've had my eyes on her books for a while though and when I saw Kingdom of the Wicked being available for request on Netgalley I jumped on the chance for it!
I was approved by both the UK and US publishers for it and I'm so glad I was, as I absolutely loved this deliciously dark read!
Read on for my full review.
About the Book
Title: Kingdom of the Wicked
Series: Kingdom of the Wicked #1
Author: Kerri Maniscalco
Publisher: Hodder & Stoughton (UK) / Jimmy Patterson (US)
Release Date: 27th October 2020
Pages: 448
Source: e-ARC provided by the publisher through NetGalley (this in no way affects my review which is honest and unbiased)
Rating: ★★★★☆
Synopsis
'Emilia and her twin sister Victoria are streghe – witches who live secretly among humans, avoiding notice and persecution. One night, Victoria misses dinner service at the family's renowned Sicilian restaurant. Emilia soon finds the body of her beloved twin…desecrated beyond belief. Devastated, Emilia sets out to discover who did this, and to seek vengeance at any cost—even if it means using dark magic that's been long forbidden.
Then Emilia meets Wrath, the outlier among the seven demon brethren, always choosing duty over pleasure. He's been tasked by his master with investigating a series of women's murders on the island. When Emilia and Wrath's fates collide, it's clear this disturbing mystery will take a bewitching turn…
Kerri Maniscalco introduces her next series, a dark tale of a beautiful young witch, a troubled demon, and their epic romance, set against a 19th century Italian backdrop.'
Review
Okay so this first book is very much so a set-up book for following books in the series. I know that isn't to everyone's taste but it's still definitely an entertaining read from start to finish.
The book is from the point of view of Emilia, one of the twin sisters who are linked to a devastating prophecy. Very early on her twin sister, Vittoria/Victoria, is murdered and Emilia's finds her body in a heartbreaking scene. This leads to the basis of the whole book – she's hellbent on finding the murderer and getting revenge but she doesn't know who the murderer is.
Emilia's grandmother plays an important role throughout, as she essentially has the most knowledge that can help. She's determined for the family not to use dark magic though as she doesn't want to raise attention to demons about the twins. But, when Emilia uncovers that her twin had been using dark magic before her death, she can't help but get involved in it with the hope of getting closer to an answer.
This leads her to summon a demon, and, as luck would have it, it ends up being one of the princes, the Prince of Wrath. There are seven demon princes, corresponding to the seven deadly sins, and as Emilia finds out they're real she starts to suspect each one she meets – including Wrath. There's a strange dynamic to their relationship though as, since she summoned him, he can't lie to her. Even though she knew as a result of that that he didn't kill Vittoria she's wary of him throughout. They grow close though and he ends up being sweeter and sweeter to her, which I couldn't help but find endearing. At one point, I'd say I actually preferred his character quite a lot and really I'm excited to read on in the series to see what happens with Wrath.
Emilia herself is headstrong and smart. She has her own great qualities but at times, understandably, does some pretty rash things which I think is a great way of showing that she's still dealing with intense grief from the loss of her sister. There were times when she'd go off by herself and I'd just be waiting for something bad to happen (which almost always happened).
One thing I have to say is that the Princes are by no means the worst characters in this book. A couple of them do horrid things but on the whole they're quite, human? In a sense that there's good and bad in them. I really feel like this gave them more depth though and I enjoyed this element, even if the MC couldn't see it for herself. But this again goes back the grief she's feeling and also shows just how much her Nonna's stories of demons have influenced her. On the other hand, we hear about bad things witches have done in the past and present too which shows off the light and dark theme again.
In essence, it was an exciting read from start to finish and I'm really excited for the next instalment. I think sometime soon I'll have to pick up more of Kerri's books too! If you're in the mood for a deliciously dark read for Halloween, pick this up.
'Fear made monsters of men.'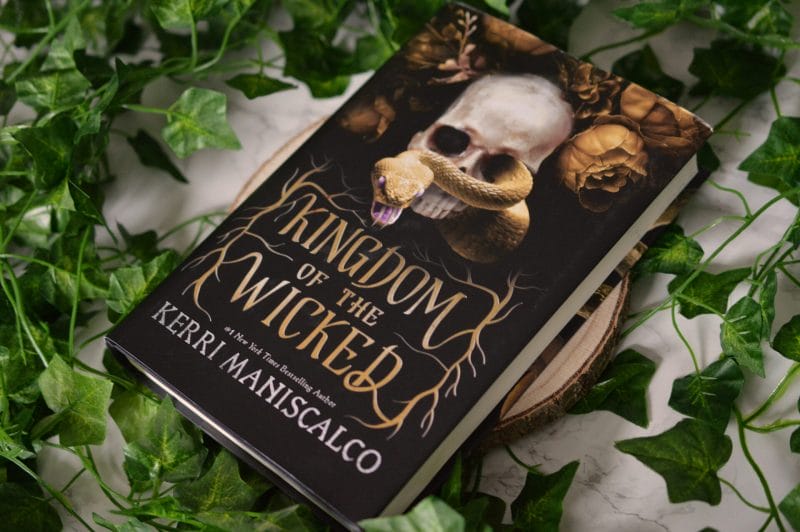 If you enjoy my content please consider supporting me through any of the following:
♥ Ko-Fi — Bloglovin' — Facebook — Instagram — Twitter — Wishlist ♥