Okay if you're new here… I adore Ashley Poston's works and I was dying to read this, so I was happy when Amy bought it me for my birthday last December!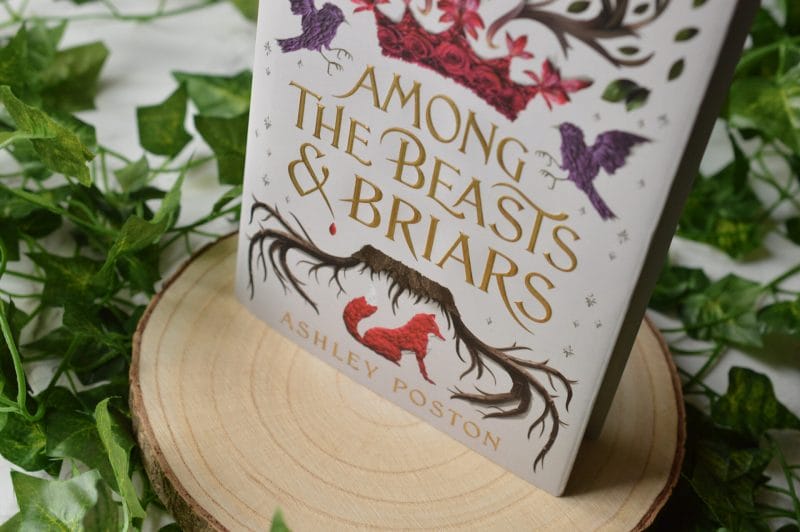 I'll be honest, other than it being a book by Ashley Poston with a beautiful cover, I didn't know that much about it. It looked like a fairytale based book with the fox and crown on the cover though and well, that's pretty much spot on.
If you love original fairytale stories, this is one you need to check out. Also if you love foxes, more on that later…
Read on for my full review.
About the Book
Title: Among the Beasts & Briars
Series: N/a
Author: Ashley Poston
Publisher: Balzer + Bray
Release Date: 20th October 2020
Pages: 352
Source: Hardcover
Rating: ★★★★★
Purchase Links: Amazon
Synopsis
'Cerys is safe in the kingdom of Aloriya.
Here there are no droughts, disease, or famine, and peace is everlasting. It has been this way for hundreds of years, since the first king made a bargain with the Lady who ruled the forest that borders the kingdom. But as Aloriya prospered, the woods grew dark, cursed, and forbidden. Cerys knows this all too well: when she was young, she barely escaped as the woods killed her friends and her mother. Now Cerys carries a small bit of the curse—the magic—in her blood, a reminder of the day she lost everything. The most danger she faces now, as a gardener's daughter, is the annoying fox who stalks the royal gardens and won't leave her alone.
As a new queen is crowned, however, things long hidden in the woods descend on the kingdom itself. Cerys is forced on the run, her only companions the small fox from the garden, a strange and powerful bear, and the magic in her veins. It's up to her to find the legendary Lady of the Wilds and beg for a way to save her home. But the road is darker and more dangerous than she knows, and as secrets from the past are uncovered amid the teeth and roots of the forest, it's going to take everything she has just to survive.'

Review
Well… this was an adorable little gem. Bear with me because this book is one I've fallen in love with and, as such, it might be hard to put into words exactly how I feel. I also don't want to give away the main twists at all so it's going to be limited in some respects. We have two points of view but I don't want to spoil who the second is at all so I'll only speak of the main protagonist in this review (but there is another, and they are a complex, lovable character).
Among the Beasts & Briars is set in the fictional Kingdom of Aloriya, where essentially people are kept safe with a magical crown that was gifted to the King and passed down to his heirs. As I mentioned previously, I had no clue what this would be like going into it. I hadn't even read the synopsis, I just wanted it because it was written by an auto-buy author of mine.
Straight off you are thrown into a prologue explaining the necessity of the crown, it keeps people safe from beings in the woods surrounding (known as the wild woods). One of our main characters, Cerys, is the daughter of the Royal Gardener and as such was pretty much best friends with the Prince and Princess growing up. Her mother's origins are unknown as she was found by her father one day in the woods close to death and ultimately they fell in love.
We quickly get a flashback to when she was a child and an event happened in the wild woods where Cerys ended up losing her mother, the Prince and a squire who had been tasked looking after the Prince and Princess. Her mother becomes killed and cursed from the wild wood but something happens just before she dies as she tells Cerys to run, and suddenly Cerys has magic. Cerys is then able to use her blood to make flowers bloom and although this is similar to the magic of the royal lineage she has to hide it, as she's taught it isn't magic but instead a curse.
The main part of the story is set when the Princess is supposed to have her coronation but on that day something goes terribly wrong and Cerys sets out on a mission to save the Kingdom, heading out to find a village hidden in the woods themselves that she's been heard of her whole life through stories of the crown.
You trekked among the beasts and briars.
Foxes. If you love foxes, you need to read this book. One of her companions throughout is an adorable fox and you can't help but love him. I won't say too much about him because it's one of the best parts of the book but we see him with Cerys pretty much the whole time. I didn't like Cerys as much as the other main character, at first. This isn't to say she's a bad character but I guess I just sided with the other main character a little too much? She's in grief for the majority of the book too, which is understandable but makes her act out and basically push people away. She does have kind of a wake up call though and I guess that's her cue to change for the better.
Her father is featured in the beginning of the book and he is such a great dad to her. It's so nice to see them both joking around and he's easily one of my favourite characters, even though she parts from him to go save the Kingdom. (The adorable quote at the very end of this review is said by him in fact.)
There were times when I really got Beauty and the Beast vibes from the story, which makes sense because I remember Ashley Poston saying at an event once that it was her favourite fairytale. Personally I loved the little hints that reminded me of it since it's one of my favourites also.
There were no stories of foxes and gardeners with happy endings.
The ending of the story itself is one which (if you're anything like me) will have you happy crying. It's such a wholesome ending for everyone and it ties up everything very nicely… but then after the acknowledgements we get one particular page that screams a potential follow up with side characters. Personally, I'd love this. The side character involved is, for the most part, sassy and sarcastic and I think I'll always have a weak spot for characters like that. Plus, more of Poston's work? All the yes. We're also treated to a super cute F/F romance mini-story on another page following and although it doesn't necessarily start any dramatic story… I wouldn't mind a whole book full of this couple's romance.
If you've read Poston's previous works and loved them, pick this up as soon as possible because I can guarantee you'll feel the same way as me at the end.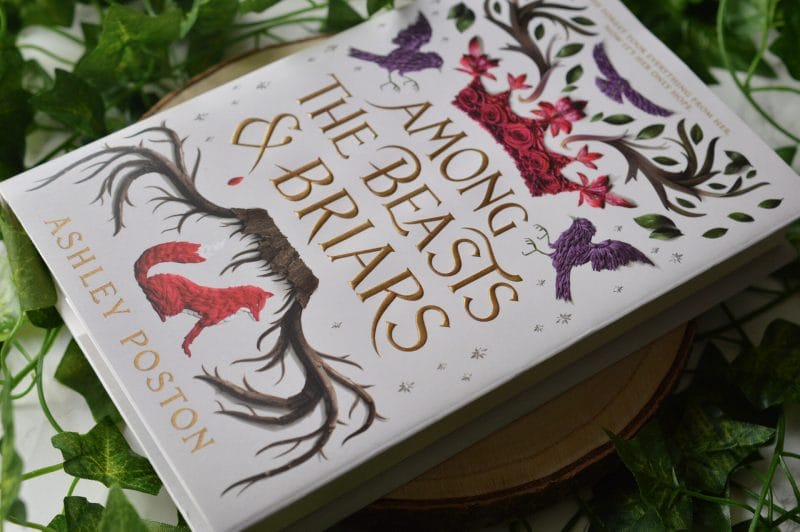 "Never let anyone make you feel unworthy. You deserve the moon just as much as anyone else."

Bonus Content
I hope you liked Among the Beasts & Briars as much as I did! I've made a little wallpaper if anyone is interested.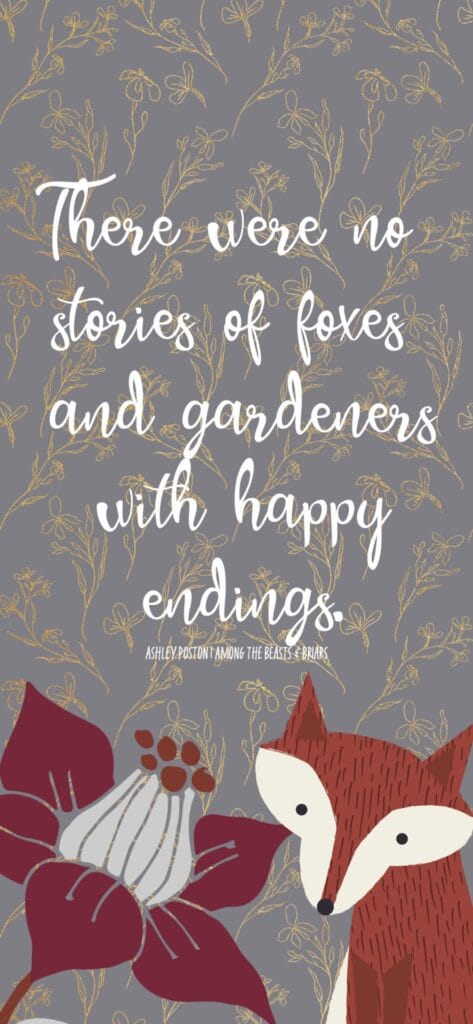 Have you read this?
Feel free to leave a comment or tweet me @LuchiaHoughton!

If you enjoy my content please consider supporting me through any of the following:
♥ Ko-Fi — Bloglovin' — Facebook — Instagram — Twitter ♥