A couple of months ago I watched a video on someone organising their shelves and showing their manga haul on YouTube, you can find the video here but it lead to me and Jordan finding out about The Heroic Legend of Arslan. It's an original fantasy story by Yoshiki Tanaka but the manga itself is drawn by Hiromu Arakawa (Fullmetal Alchemist mangaka).
Jordan picked up the first two volumes that weekend when we saw it in Forbidden Planet and now we're both hooked. The first volume was spectacular and beautiful, and I've actually caught up with the entire series out in physical form so far now! (13 volumes thus far.)
Read on for my full review of the first volume.

About the Manga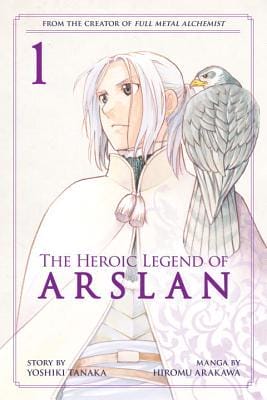 Title: The Heroic Legend of Arslan
Volume: 1
Writer: Yoshiki Tanaka
Artist: Hiromu Arakawa
Publisher: Kodansha Comics
Release Date: 19th August 2014
Pages: 192
Format: Paperback
Rating: ★★★★★
Purchase Links: Amazon
| Waterstones | The Book Depository
Synopsis
'In the prosperous kingdom of Pars lies the Royal Capital of Ecbatana, a city of splendor and wonder, ruled by the undefeated and fearsome King Andragoras. Arslan is the young and curious prince of Pars who, despite his best efforts doesn't seem to have what it takes to be a proper king like his father.
At the age of 14, Arslan goes to his first battle and loses everything as the blood-soaked mist of war gives way to scorching flames, bringing him to face the demise of his once glorious kingdom. However, it is Arslan's destiny to be a ruler, and despite the trials that face him, he must now embark on a journey to reclaim his fallen kingdom.'

Review
First up, covers might not be important for reviews but I think it's important to note just how beautiful the covers for these are! Hiromu Arakawa has drawn the main character, Prince Arslan, so beautifully along with his hawk friend Azreal!
The first couple of pages spring right into the action, showing battles from the get-go. One thing I will note from this is if you're squeamish, or just not a fan of violence, then this won't be a book you enjoy. For myself, I love how it sprung straight into action. After a couple of pages showing the battle it cuts to a young, 11-year-old Arslan, being trained by Head Commander (Erān) Vahriz in sword fighting. The first chapter is all set around a time of him being 11, and although there's a lot of action we also see a lot about the Prince's character. He's pretty naive but this is most likely from his sheltered upbringing, he doesn't understand how other kingdoms could function any differently to how his does.
There's even one scene where he finds a lot of slaves have been murdered, and he just can't seem to understand why they didn't just accept being slaves so that they could (in his eyes) have a good life being fed and working. At the same time we do see that really he has a good heart, he even lets one slave (captured from a battle) escape. The slave in question is someone who I hope we see again in future volumes, he's the same age as the Prince but clearly more battle-ready – I'd quite like if we saw him return and feel confused at how to act towards Arslan (since he did save his life, after all).
Chapter 2 onwards is another battle scene, lasting the rest of the story. We see more of Vahriz and, in all honesty, he acts like more of a father figure towards Arslan than the King himself. I wasn't a big fan of the King though, he clearly practices a form of tough love towards Arslan but there wasn't a single scene where he acted like a father, even though by going to the battle at a mere age of 14 the Prince is clearly trying to gain his father's approval.
Another character who stood out was Vahriz's nephew, Daryun, who is one of the military commanders (Marzban). In the first chapter, he's the one who goes to shoot an arrow at the slave escaping (he'd been holding the Prince hostage) but doesn't at the request of Arslan. I can't say too much on him because he's more important towards the end of the story but his unyielding determination to protect the Prince is clear to see, and adorable to read.
As I've already hinted at with the cover, the artwork from Hiromu Arakawa throughout is beautiful. The detail provided throughout is great and, as someone who's yet to read FMA, it makes me even more excited to start that series! For a first volume, I absolutely adored it. I currently have to wait for April for the next physical volume to be released so I can read it (volume 14)… and I can't wait.


Have you read this manga, or want to?

If you enjoy my content please consider supporting me through any of the following:
♥ Ko-Fi — Bloglovin' — Facebook — Instagram — Twitter ♥