I've seen so many people talking about Jujutsu Kaisen that I just had to check it out, when I saw it was on NetGalley it was pretty much an instant request because I knew I'd be reading it at some point!
The first volume had me a little bit confused at how I felt. It was action-packed and the pacing was super fast but I found it pretty difficult to get to know the main character, and a couple of side characters stood out to me a lot more.
Nevertheless, it was enjoyable enough that I've already started reading on through the Shonen Jump app!
Read on for my full review of the first volume.
---
About the Manga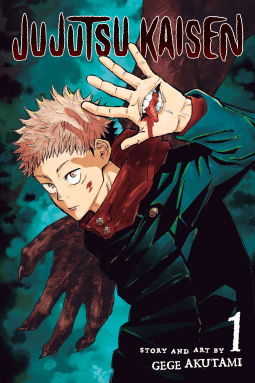 Title: Jujutsu Kaisen
Volume: 1
Mangaka: Gege Akutami
Publisher: VIZ Media
Release Date: 3rd December 2019
Pages: 192
Format: e-ARC provided by the publisher through NetGalley (this in no way affects my review which is honest and unbiased) and I bought the paperback myself
Rating: ★★★★
Synopsis
Yuji Itadori is resolved to save the world from cursed demons, but he soon learns that the best way to do it is to slowly lose his humanity and become one himself!
In a world where demons feed on unsuspecting humans, fragments of the legendary and feared demon Ryoma Sukuna were lost and scattered about. Should any demon consume Sukuna's body parts, the power they gain could destroy the world as we know it. Fortunately, there exists a mysterious school of Jujutsu Sorcerers who exist to protect the precarious existence of the living from the undead!
Yuji Itadori is high schooler who spends his days visiting his bedridden grandfather. Although he looks like your average teenager, his immense physical strength is something to behold! Every sports club wants him to join, but Itadori would rather hang out with the school outcasts in the Occult Club. One day, the club manages to get their hands on a sealed cursed object, but little do they know the terror they'll unleash when they break the seal…
---
Review
Volume 1 of Jujutsu Kaisen features chapters 1 through 8, and honestly I'm a little bit torn when it comes to reviewing the first volume. The whole premise mentioned in the synopsis screams at something I'd like, but for me the first volume fell a bit flat? But… I read on a couple of chapters through the Shonen Jump app and things started to get a lot better very quickly in the second volume.
This review of course is focused on the first volume though, so I won't mention the ones after anymore!
After a brief page showing Megumi Fushiguro, we're taken to the main character Yuji Itadori being in school. He's joined up to an extracurricular class based on the occult and the track and field coach ends up being super upset over it, thus challenges him to a little strength test. Itadori wins by a mile and ends up bumping into Fushiguro, who's shocked that he can sense a cursed object on him.
The story then skips to Itadori visiting his grandfather in hospital where his grandfather has a last heart-to-heart with him. I found it pretty strange how his death doesn't really affect Itadori, as in there aren't even any tears? I think this is more to do with the pacing of Jujutsu over anything else though because things happen super quick throughout.
Fushiguro finds Itadori and is basically after the cursed object, but then Itadori lets him know that it's actually back at school with the other two members of his occult class. This is when all hell breaks loose and we get an action-packed scene of curses attacking the characters.
So, how does Itadori make it so then win? He eats a cursed finger. It's partly smart, partly stupid, partly gross and also partly funny but it ends up that Itadori is the one in a million chance of someone being able to basically merge with a curse. All of this and the above happens in the first chapter alone, if you're after an idea for the pacing!
This sets up the bigger story as we learn Fushiguro is from a team who fight curses, including Satoru Gojo who's a teacher that I can't help but be reminded of Naruto's Kakashi Hatake when reading. He's sassy and appears carefree but also super strong. (This is by no means a bad thing, as I love Kakashi.) Honestly, my favourite two characters in this volume are by far Fushiguro and Gojo. Both of them seem to have a lot more to them based off this one volume and Fushiguro just seems super sweet too!
Itadori's finger consumption has a devastating effect, as the Jujutsu organisation basically now wants him dead since he's got a curse in him. Gojo manages to convince them to let him live until he's been able to merge with the remaining curses and then kill him. Strangely enough, Itadori agrees to the plan as he doesn't want to let anymore people die from curses (his resilience in that manner is pretty great to see).
Volume 1 ends with Itadori and his two classmates (Fushiguro and a girl called Nobara Kugisaki, who's pretty cool but we don't see much of her character other than that she's a pretty decent fighter) being on a mission against super strong curses, and Itadori throughout shows that he refuses to back down.

---
Have you read this manga yet, or want to?

If you enjoy my content please consider supporting me through any of the following:
♥ Ko-Fi — Bloglovin' — Facebook — Instagram — Twitter ♥