The review for today is a story that mixes Viking mythology and other monsters up into a beautiful fantasy blend that is sure to become a favourite for fans of Vikings and the Witcher series.
I really loved reading the first part of the Bloodsworn Saga, The Shadow of the Gods, by John Gwynne and I'm already excited for the next instalment!
Read on for my full review!
About the Book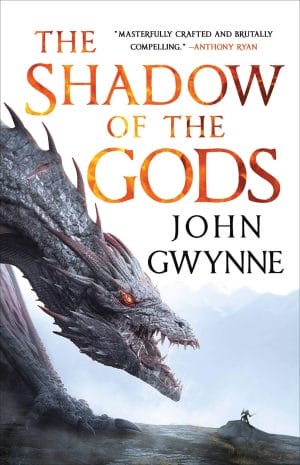 Title: The Shadow of the Gods
Series: The Bloodsworn Saga #1
Author: John Gwynne
Publisher: Orbit Books
Release Date: May 6th 2021
Pages: 496
Source: Physical ARC provided by the publisher (this in no way affects my review which is honest and unbiased) (Hardcover copy purchased by myself)
Rating: ★★★★★
Synopsis
'Set in a brand-new, Norse-inspired world, and packed with myth, magic and bloody vengeance, The Shadow of the Gods begins an epic new fantasy saga from bestselling author John Gwynne.

After the gods warred and drove themselves to extinction, the cataclysm of their fall shattered the land of Vigrið.
Now a new world is rising, where power-hungry jarls feud and monsters stalk the woods and mountains. A world where the bones of the dead gods still hold great power for those brave – or desperate – enough to seek them out.
Now, as whispers of war echo across the mountains and fjords, fate follows in the footsteps of three people: a huntress on a dangerous quest, a noblewoman who has rejected privilege in pursuit of battle fame, and a thrall who seeks vengeance among the famed mercenaries known as the Bloodsworn.
All three will shape the fate of the world as it once more falls under the shadow of the gods . . . '

Review
Content warnings: violence, murder, gore, kidnapping. General Viking-ness.
Okay so as soon as I saw Witcher x Vikings I was all for this book, and I'm so glad because it's actually pretty accurate!
The Shadow of the Gods is set in a Norse-inspired world filled with cutthroat groups of people and monsters. As the synopsis states, it's after the gods have all fallen but there are people who are descended from them and have qualities. And… there is of course a huge dragon on the cover, and I am all for dragons in anything!
We follow three different perspectives in the story, being:
– Orka: the huntress on a dangerous quest
– Elvar: the noblewoman who has rejected privilege in pursuit of battle fame with the Battle-Grim
– Varg: a thrall joins the Bloodsworn to get vengeance for his sister's murder
Each of the points of view are very different, and I found myself looking for signs of them coming together throughout but it's honestly like three different stories almost for about… 90% of it maybe? I absolutely definitely liked Orka's side of the story most of the three, but each of them were very unique and had their own exciting elements.
Orka though… what a woman. She reminded me a lot of Lagertha (from Vikings) and that is 100% a compliment as I adore Lagertha. She goes through the worst situations during the book itself though and it was so heartbreaking to read, which is great in a sense because it just goes to show how much you care for the characters due to Gwynne's writing.
And if I do not find him, then I shall have my vengeance.
I am blood. I am vengeance, I am death.
Elvar is equally a cool character. She's determined to be a warrior and gain fame for it, instead of being used as a way for her father to gain more power. The Battle-Grim she's a part of are mercenaries who seem to mostly care about making money, no matter what they have to do for it. However, they're still basically a great example of found family. I think it's important to note that can be said for both the Battle-Grim and Bloodsworn, they're both predominantly a collection of random people who come together and look after one another no matter what.
Varg's perspective is important for spoiler-ish reasons, but he's entirely focused throughout the majority on finding his sister's killer and getting vengeance (in a very Viking-like style, there's quite a lot of that in this book). In a way he kind of falls into the Bloodsworn almost by accident, but as a former thrall he has a lot of character development in the story as he becomes a warrior as the rest of his new family are.
The world-building is absolutely awesome, you can really see the Viking-influence and Gwynne finds a way to perfectly bring things like frost spiders to life and make you genuinely fear for the characters' lives throughout. His extensive research is apparent from the use of lots of Norse terms throughout. This was the first John Gwynne book I've ever read, but I'm so glad. I've watched a few events with the author in too now and found out things such as he's an avid Viking reenactor and it's just so cool that he's thrown himself into the world so much – it really shows in his writing.
In essence, I loved this book. If I had to choose one thing I didn't like, it could only be that I wanted more dragons. But at the same time I was introduced to creatures such as tennúrs and trolls so really, I can't even say that. I definitely had my fill of fantastic creatures reading this and I am ridiculously excited for the next instalment!


A Little Mention
So, closer to the start of this year I heard about a new independent bookshop selling science fiction and fantasy books (perfection, right?) – The Broken Binding.
Anyway they were selling signed copies of The Shadow of the Gods, and eventually I caved. By that point I was loving the book too much to resist a signed copy for my collection!
I really wanted to show off my packaging from them though, because it was way too pretty not to! (Protected by Smaug, as it's of course treasure).
The Broken Binding is just a fab bookshop though and I'm excited to see them grow, it's worth checking them out for your SFF needs!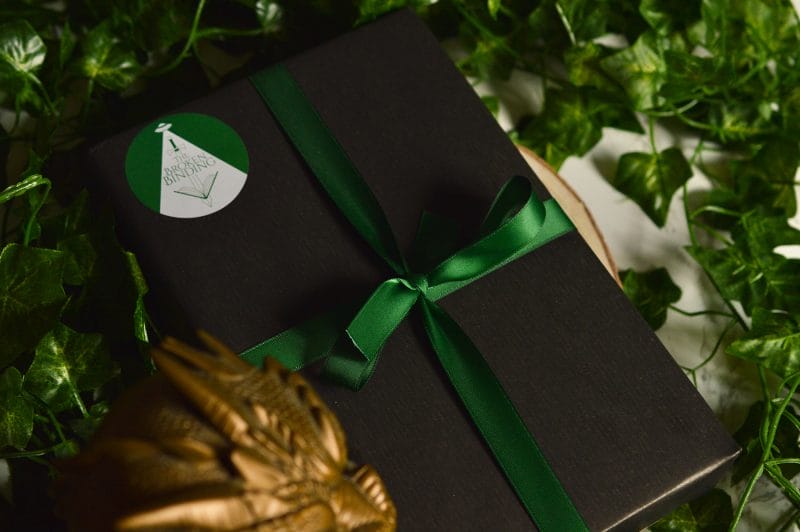 If you enjoy my content please consider supporting me through any of the following:
♥ Ko-Fi — Bloglovin' — Facebook — Instagram — Twitter — Wishlist ♥
Like this Post? Pin It ♥
Related Book Reviews