Hey everyone! Today I'm reviewing White Smoke by Tiffany D. Jackson, a perfectly spooky read for Spooky Season but with a lot more to it than you'd expect!
This book piqued my interest from the very beginning, with a set up that our main character was heading into a new house and community with a lot of history. 
Full review below!
About the Book
Title: White Smoke
Series: N/a
Author: Tiffany D. Jackson
Publisher: Harper360
Release Date: September 30th 2021
Pages: 384
Source: Physical ARC from the publisher (this in no way affects my review which is honest and unbiased)
Rating: ★★★★☆
Synopsis
'The Haunting of Hill House meets Get Out in this chilling YA psychological thriller and modern take on the classic haunted house story from New York Times bestselling author Tiffany D. Jackson!
Marigold is running from ghosts. The phantoms of her old life keep haunting her, but a move with her newly blended family from their small California beach town to the embattled Midwestern city of Cedarville might be the fresh start she needs. Her mom has accepted a new job with the Sterling Foundation that comes with a free house, one that Mari now has to share with her bratty ten-year-old stepsister, Piper.
The renovated picture-perfect home on Maple Street, sitting between dilapidated houses, surrounded by wary neighbors has its . . . secrets. That's only half the problem: household items vanish, doors open on their own, lights turn off, shadows walk past rooms, voices can be heard in the walls, and there's a foul smell seeping through the vents only Mari seems to notice. Worse: Piper keeps talking about a friend who wants Mari gone.
But "running from ghosts" is just a metaphor, right?
As the house closes in, Mari learns that the danger isn't limited to Maple Street. Cedarville has its secrets, too. And secrets always find their way through the cracks.'

Review
Trigger warnings: Anxiety, mention of beg bugs, drug misuse (including overdose – flashback).
Okay, wow? When I saw the synopsis for White Smoke, I was instantly intrigued. All of the references to ghosts in the synopsis sounded awesome, and perfect for Spooky Season! But, where this story really shines is its anxiety representation. The main character, Marigold (Mari), has major anxiety around bed bugs in particular and Jackson highlights Mari's "coping" mechanisms for this. There is a lot of reference to drug abuse and Mari talks of needing them a lot throughout, and I think talking about the dark paths anxiety can lead us to is very important so it made me appreciate this story even more.
White Smoke also deals a lot with family ties, partly discussing the effects of Mari's anxiety on the family as a whole. I felt uncomfortable at times as she was essentially guilted a lot of the time for it? But then there were many times you could tell that her mother and brother in particular really worried for her. It's not just the main character's family explored though, but that of many families in the nearby area. This links up to a more vindictive overarching plot led by white people of power attempting to push out the local black community for gentrification purposes, in any way possible. Really, they're the villains of this story overall.
At it's heart though, this is one creepy, awesome ride throughout! There are paranormal activity vibes and Jackson even makes use of sleep paralysis at times in a very effective way to add to the scares, it's a book that will be perfect to read for Spooky Season!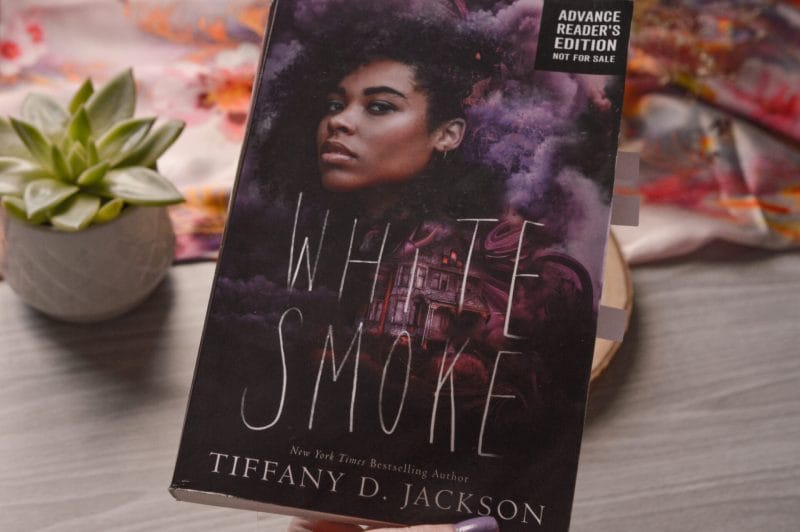 Have you read this?

If you enjoy my content please consider supporting me through any of the following:
♥ Ko-Fi — Bloglovin' — Facebook — Instagram — Twitter — Wishlist ♥
Like this Post? Pin It ♥