Today's post is my part of the blog tour for Jade Fire Gold by June CL Tan, run by TBR and Beyond. And the happiest of book birthdays for it also, as it's finally out in the US! In the UK we have to wait until November 4th, but I'm very excited as I have a couple of US finished copies on the way as well.
My stop today features my favourite quotes alongside my top 5 reasons why you should read the book! I'll be honest, I fell head over over heels with this book the first time I read it. You can read my review here but basically, I really loved it. Check out my full post for the tour below and also the rest of the stops here!
About the Book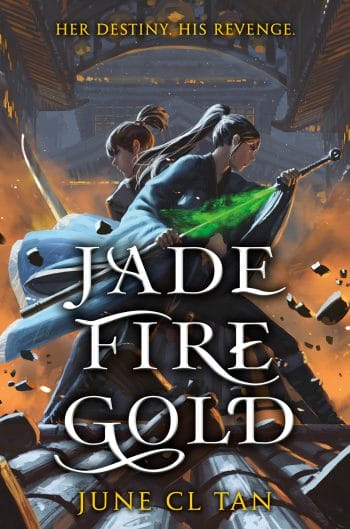 Title: Jade Fire Gold
Author: June CL Tan
Genre: Young Adult Fantasy
Publisher: HarperTeen (US) Hodder & Stoughton (UK)
Pages: 464
Source: Physical ARC from the UK publisher (this in no way affects my review which is honest and unbiased)
I have several copies preordered, and space on my favourites shelf. If you really need extra confirmation that I just loved this story!
Release Date: October 12th 2021 (US) November 4th 2021 (UK)
Links (including US purchase links): Goodreads | Amazon | Barnes & Noble | Book Depository | Indigo
Synopsis
'Girls of Paper and Fire meets The Tiger at Midnight in June CL Tan's stunning debut, inspired by Chinese mythology, with rich magic and an epic slow-burn romance.
In an empire on the brink of war . . .
Ahn is no one, with no past and no family.
Altan is a lost heir, his future stolen away as a child.
When they meet, Altan sees in Ahn a path to reclaiming the throne. Ahn sees a way to finally unlock her past and understand her arcane magical abilities.
But they may have to pay a far deadlier price than either could have imagined.
Ferocious action, shadowy intrigue, and a captivating romance collide in June CL Tan's debut, a stunning homage to the Xianxia novel with a tender, beating heart, perfect for fans of The Bone Witch and We Hunt the Flame.'
Content Warnings: self-harm (gouging, eye horror; non-graphic), child abuse (physical, verbal, emotional manipulation/gaslighting), parent death (implied, off-page), character deaths mentions and descriptions of fantasy/magical violence (blood, war, political violence), mentions and descriptions of physical symptoms that might be triggering to those with emetophobia.

Favourite Quotes
This is one of those times where it's actually quite hard to pick out all of my favourite quotes… because it would mean writing the whole book out. But, I've narrowed it down to five below that gave me shivers when I read the book (and they're even more moving within the story, you should definitely find that out for yourself though)!


Top 5 Reasons to Read Jade Fire Gold
1. A Rich, New Fantasy World
June has taken inspiration from Chinese mythology, xianxia and wuxia to create this world and it all moulds together into a world which is utterly fascinating. June has spoken a lot about her inspirations behind the world-building on her Instagram lately and the peak into her influences will make you admire the world even more.
On a personal level, I'd watched a couple of xianxia films before reading Jade Fire Gold, and the story just made me want to watch even more!
2. Zutara is Your OTP
The main romance gives off similar vibes to Zuko and Katara from Avatar: The Last Airbender. Altan is a banished, sulking prince and Ahn (as far as she knows) is just a simple girl from a desert town. There's a clear, instant attraction between the two but as soon as Altan realises who Ahn is he shuts off on her… as much as he can, that is. The romance has elements of enemies-to-lovers (through Altan being stubborn) and they're thrown into a trope… only one cave. Which is one of my favourite scenes. It's not spicy but if you enjoy slow-burn romance like I do then you'll love it.
3. Found Family You'll Love
Tang Wei, Linxi, Tai Shun and Leiye. Altan is very familiar with these four key side characters, but Ahn meets each one in kind of a drip-through way and they just make the story even better. Tang Wei is this fun force of nature, ready to kill for anything but will especially kill for her adorable girlfriend Linxi, who's basically like the mum of the group. Tai Shun is just… the cutest? He's interested in music and healing people which really says the most about his overall character. Leiye is this pretty mysterious character… can you trust someone who is very good at using magic to kill others? Regardless, the yearning Tai Shun has for him is also super cute to see.
4. Discussions of Colonialism
Although Jade Fire Gold is, most definitely, a fantasy story which should not compared directly to human history (or present), June has stated that growing up in Singapore, a former British colony, inspired her to have the Shi Empire as a colonising one. This was clear to see when reading and my favourite quote, 'history is never written by its victims', is linked to this. We need as much discussion about the bad effects of colonialism as possible, be it from real life or fantasy.
Speaking specifically as a white British person, we don't really get taught in school how much violence British people have incited on a global scale throughout history, the focus is always on "better", "nicer" things that happened and I'm glad that June made me more acutely aware of this bias.
5. Elemental Magic
When it comes to magic systems, I absolutely love elemental ones. I'm all for a bit of fire bending because it's the power I'd love to have most. June's system, with characters having affinities for certain elements, is reminiscent of Avatar: The Last Airbender and it's just another thing to love. It isn't the only magic in Jade Fire Gold though, for one we also get some magic swords and… I love how that is interwoven into the story.
A Bonus Reason…
There are so many more reasons I would absolutely love to give for you to read Jade Fire Gold, but we'd be going into spoiler territory for some of them! I definitely encountered this story for myself at the perfect time, but with all the reasons to love it, I really do think that the majority of readers will also fall in love with this world. I'm genuinely so excited to read whatever June writes next, she's become an auto-buy author for me already.
I've said love a lot in this post, I realise. Honestly it's because this has become one of my favourite books of all time, and it's definitely my favourite book of the year. I'll be recommending it for a very long time.

Tour Schedule

About the Author
June CL Tan grew up in Singapore where she was raised on a diet of classic books and wuxia movies, caffeine and congee. After obtaining three degrees, she decided she had enough of academia. Thankfully, those degrees were somewhat related to telling stories and now, she resides in New York City, writing under the watchful eye of her crafty cat. Jade Fire Gold is her debut novel.
Website | Twitter | Instagram | Goodreads

Giveaway (US Only)
One winner will receive a finished copy of Jade Fire Gold.
The giveaway starts on October 11th and ends on October 18th!

If you enjoy my content please consider supporting me through any of the following:
♥ Ko-Fi — Bloglovin' — Facebook — Instagram — Twitter — Wishlist ♥