Blood Scion is a violent, vibrant and glorious debut from Deborah Falaye, one that will make you sad, angry and [occasionally] happy whilst reading. It's emotive and one of those stories that you'll likely be thinking of for a while after you've finished it.
First and foremost, the cover for this book really grabbed my attention, it's absolutely stunning how fierce the main character, Sloane, appears on it! I loved her character throughout the story too, with a large part of Blood Scion being focused on her learning to really live with her powers.
Full review below.
About the Book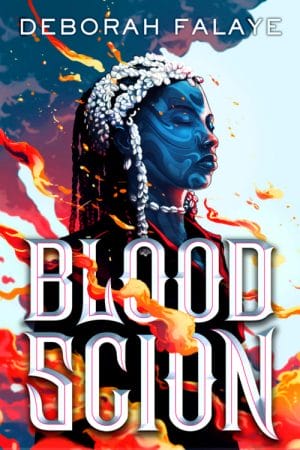 Title: Blood Scion
Series: Blood Scion #1
Author: Deborah Falaye
Publisher: HarperTeen – Harper360
Release Date: March 31st 2022 (UK)
Pages: 432
Source: Physical ARC gifted from the publisher (this in no way affects my review which is honest and unbiased)
Rating: ★★★★☆
Synopsis
This is what they deserve. They wanted me to be a monster. I will be the worst monster they ever created.
Fifteen-year-old Sloane can incinerate an enemy at will—she is a Scion, a descendant of the ancient Orisha gods.
Under the Lucis' brutal rule, her identity means her death if her powers are discovered. But when she is forcibly conscripted into the Lucis army on her fifteenth birthday, Sloane sees a new opportunity: to overcome the bloody challenges of Lucis training, and destroy them from within.
Sloane rises through the ranks and gains strength but, in doing so, risks something greater: losing herself entirely, and becoming the very monster that she ahbors.
Following one girl's journey of magic, injustice, power, and revenge, this deeply felt and emotionally charged debut from Deborah Falaye, inspired by Yoruba-Nigerian mythology, is a magnetic combination of A Song of Wraiths and Ruin and Daughter of Smoke and Bone that will utterly thrill and capture readers.

Review
Blood Scion is a book that grabs your attention from the very first line, 'Another night, another dead body that isn't Momma.' Simultaneously, this pretty much sets the mood as, contrary to the fairly bright cover with the fire, this is a very dark read. There is the loss of a parent, self-harm, murders, bullying, attempted rape, all within the first part (the book is set in three distinct parts).
The first part involves a lot of world-building, and introduces us to how strong Sloane's powers are. As a Scion, a descendant of the god Shango, she can pretty much incinerate anyone if she's unable to temper her power. The only thing that seems to be able to help her to do that is a special tea her grandfather makes.
We also find out why Sloane's searching for her mother in this part, she'd disappeared and had been assumed to have run off with a married man. But Sloane believes she was killed by the Lucis instead (colonisers), and she's desperate to find proof of this.
The Lucis are horrid, being your standard colonisers hoping to get rid of all of Sloane's culture and heritage. They force children from her village to be child soldiers, but when Sloane is drafted she sees this as an opportunity to potentially find out the truth about her mother.
It's an even more cutthroat world from then on (for a young adult book, this was VERY dark, I'd say it's on a similar level to Girls of Paper and Fire for comparison) and Sloane has to fight to keep her humanity whilst the Lucis do their absolute utmost to turn her into a monster, a weapon they can use (even though they're kept from her heritage).
In terms of character relationships, Sloane tries her hardest not to let anyone close to her. The characters that do end up close to her though are all endearing in their own ways, though essentially every character is forced by this gruesome world to be morally grey.
There's a questionable relationship within the story for the main character, but without giving too much away I think this serves a purpose of making Sloane go through more hell. As this is part of a duology, I see this first instalment as Sloane not just making fire with her powers but walking through fire metaphorically through the entire story, and I'm looking forward to Falaye's next book to see how Sloane [assumedly] manages to overcome the obstacles she ends up faced against by the end of book one.
If you enjoy dark stories and morally grey characters, this is definitely a book you need to check out.
Are you planning to read this book?

If you enjoy my content please consider supporting me through any of the following:
♥ Ko-Fi — Bloglovin' — Facebook — Instagram — Twitter — Wishlist ♥