Okay, today's review is for a book that's well and truly embedded itself into my all-time favourites. I'd been looking forward to Fake Dates and Mooncakes by Sher Lee since… I think around February last year? That's almost an entire year of anticipation and being super excited for what sounded like an adorable read.
Good news, zero disappointment. Reading this meant a rollercoaster of emotions and SO MANY happy tears. Bad news, I finished it in less than a day and now I need more of these two absolute cuties! ♥
Read on for my full review!
About the Book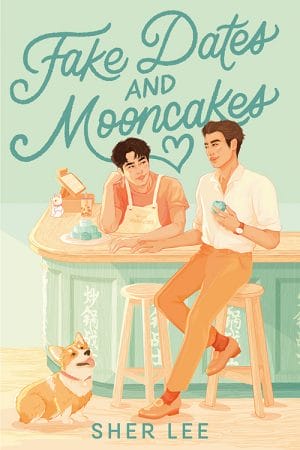 Title: Fake Dates and Mooncakes
Author: Sher Lee
Publisher: Penguin Random House
Release Date: May 16th 2023
Pages: 272
Source: e-arc provided by the author/publisher as part of being on the #FDAMStreetTeam (this in no way affects my review which is honest and unbiased)
Rating: ♥♥♥♥♥♥♥♥♥♥
Synopsis
Heartstopper meets Crazy Rich Asians in this heartfelt, joyful paperback original rom-com that follows an aspiring chef who discovers the recipe for love is more complicated than it seems when he starts fake-dating a handsome new customer.
Dylan Tang wants to win a Mid-Autumn Festival mooncake-making competition for teen chefs—in memory of his mom, and to bring much-needed publicity to his aunt's struggling Chinese takeout in Brooklyn.
Enter Theo Somers: charming, wealthy, with a smile that makes Dylan's stomach do backflips. AKA a distraction. Their worlds are sun-and-moon apart, but Theo keeps showing up. He even convinces Dylan to be his fake date at a family wedding in the Hamptons.
In Theo's glittering world of pomp, privilege, and crazy rich drama, their romance is supposed to be just pretend . . . but Dylan finds himself falling for Theo. For real. Then Theo's relatives reveal their true colors—but with the mooncake contest looming, Dylan can't risk being sidetracked by rich-people problems.
Can Dylan save his family's business and follow his heart—or will he fail to do both?
Review
Fake Dates and Mooncakes is beautiful YA rom-com that introduces us to Dylan, who we have a first person perspective from throughout, and Theo. Dylan spends as much of his spare time as he can helping in his aunt's Singaporean Chinese takeaway, whilst Theo gets invited to things like events with celebrities. So, very different upbringings but they have amazing chemistry together! (And if you like a great pun, you're in for a treat there too.) They're as sweet as Nick and Charlie from Heartstopper, but both Dylan and Theo are out, proud and accepted for it before the book even begins.
Theo's background is where the Crazy Rich Asians comes in, but it's more just crazy rich family (the majority of whom are white, from his dad's side). There's a lot of drama in Theo's family overall, including a couple of situations that are a little heartbreaking, but Sher manages to tie up pretty much every instance with a positive outcome so it ends up warming your heart anyway.
"Our worlds are as far apart as the sun and the moon."
"They align every now and then… Eclipses are pretty memorable."
How do two people from such different backgrounds bond in one of the cutest ways possible? Dylan has grown up surrounded by his family's Singaporean Chinese culture, he celebrates each festival with them and knows the language and so forth. Theo, on the other hand, hasn't really had chance for that; so Dylan spends a lot of time telling him (and, subsequently, the reader) about these things. It's beautiful to watch them grow closer through that.
Oh, and you'll be hungry reading this, many amazing sounding dishes are described!
Of course, food is a huge part overall to the story, with Dylan hoping to win a mooncake contest that his mum didn't get chance to enter alongside him. Not everything is as easy as it could be though, as he specifically aims to make mooncakes from the same recipe as his grandma always used, but she is living in Singapore and has difficulty remembering it precisely.
Even with the above taken into account, there's so much more to love about Fake Dates and Mooncakes. From endearing (usually teasing) relatives on both sides to an adorable corgi called Clover, and many moments that will bring happy tears to your eyes… I'm just so grateful I got the chance to fall in love with this story and these characters early, and I'll be reading everything else Sher writes as soon as I can also! ♥

Will you be preordering this?

If you enjoy my content please consider supporting me through any of the following:
♥ Ko-Fi — Bloglovin' — Facebook — Instagram — Twitter — Wishlist ♥