Hey loves! So, it's been a very long time since I did a post about upcoming releases, but there are a few books that I really wanted to shout about!
The books on this list are all debut fantasy stories, and all but one are the start to series/duologies, so we have a lot more on the way.
Read on for 10 that I'm super looking forward to! I'll try do some more lists like this soon, because there are a few follow-ups and new series that aren't debuts that I'm psyched for as well!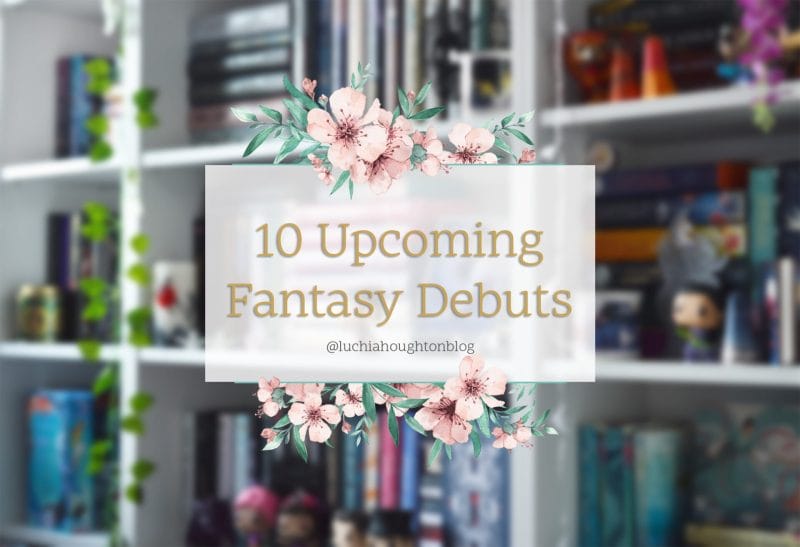 Affiliate links are used within this post, if used I may receive a small commission at no extra cost to you.
And Break the Pretty Kings (Sacred Bone #1) by Lena Jeong
June 20, 2023 (US) July 20, 2023 (UK)
Inspired by Korean history and myths, this rich and evocative high-stakes fantasy is perfect for fans of GALLANT and SIX CRIMSON CRANES.
A crown princess.
A monster the gods fear.
A destiny no one can outrun.
Mirae was meant to save her queendom, but the ceremony before her coronation ends in terror and death, unlocking a strange new power within her and foretelling the return of a monster even the gods fear. Amid the chaos, Mirae's beloved older brother is taken—threatening the peninsula's already tenuous truce.
Desperate to save her brother and defeat this ancient enemy before the queendom is beset by war, Mirae sets out on a journey with an unlikely group of companions while her unpredictable magic gives her terrifying visions of a future she must stop at any cost.
The Sun and the Void (The Warring Gods #1) by Gabriela Romero-Lacruz
July 25, 2023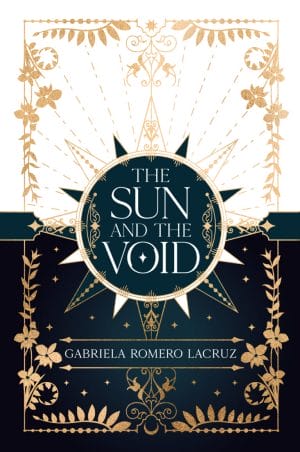 In a lush world inspired by the history and folklore of South America, a sweeping epic fantasy of colonialism, ancient magic, and two young women's quest for belonging unfolds.
Reina is desperate.
Stuck living on the edges of society, her only salvation lies in an invitation from a grandmother she's never known. But the journey is dangerous, and prayer can't always avert disaster.
Attacked by creatures that stalk the region, Reina is on the verge of death until her grandmother, a dark sorceress, intervenes. Now dependent on the Doña's magic for her life, Reina will do anything to earn—and keep—her favor. Even the bidding of an ancient god who whispers to her at night.
Eva Kesare is unwanted.
Illegitimate and of mixed heritage, Eva is her family's shame. She tries her best to be perfect and to hide her oddities. But Eva is hiding a secret: magic calls to her.
Eva knows she should fight the temptation. Magic is the sign of the dark god, and using it is punishable by death. Yet, it's hard to deny power when it has always been denied to you. Eva is walking a dangerous path, one that gets stranger every day. And, in the end, she'll become something she never imagined.
Waterstones Special Edition | Waterstones Standard Edition
The Jasad Heir (The Scorched Throne #1) by Sara Hashem
July 20, 2023
In this Egyptian-inspired debut fantasy, a fugitive queen strikes a deadly bargain with her greatest enemy and finds herself embroiled in a complex game that could resurrect her scorched kingdom or leave it in ashes forever.
Ten years ago, the kingdom of Jasad burned. Its magic outlawed; its royal family murdered down to the last child. At least, that's what Sylvia wants people to believe.
The lost Heir of Jasad, Sylvia never wants to be found. She can't think about how Nizahl's armies laid waste to her kingdom and continue to hunt its people—not if she wants to stay alive. But when Arin, the Nizahl Heir, tracks a group of Jasadi rebels to her village, staying one step ahead of death gets trickier.
In a moment of anger Sylvia's magic is exposed, capturing Arin's attention. Now, to save her life, Sylvia will have to make a deal with her greatest enemy. If she helps him lure the rebels, she'll escape persecution.
A deadly game begins. Sylvia can't let Arin discover her identity even as hatred shifts into something more. Soon, Sylvia will have to choose between the life she wants and the one she left behind. The scorched kingdom is rising, and it needs a queen.
Forbidden Planet Signed Bookplate | Waterstones
The Hurricane Wars (The Hurricane Wars #1) by Thea Guanzon
October 12, 2023

The Night Empire will rule all.
Nothing can stand in the way of its might and power.
Little by little, year by year, the Hurricane Wars take more and more from those who resists the empire's supremacy.
And yet, there is hope in the darkness.
One lone light stands against the empire.
Talasyn was left on the steps of a Sardovian orphanage as a baby. All she has ever known are the Hurricane Wars, as her people fight for freedom from the tyranny of the Night Emperor Gaheris. But are they her people? Talasyn dreams of one day finding where she comes from – her true place, family, and the source of the Lightweave magic that flows through her veins like sunlight.
Alaric of House Ossinast, Master of the Shadowforged Legion and Gaheris's only son and heir has been forged into a weapon by his father. Tasked with obliterating the Sardovian Allford alliance with the strength of his armies and mighty Shadow magic, all Alaric can see is their goal: extinguish all threats to the empire.
That is until he sees Talasyn burning brightly on the battlefield with the magic that killed his grandfather, turned his father into a monster, and ignited the Hurricane Wars. He tries and fails to kill her, his now greatest enemy slipping through his fingers.
But a greater threat is coming. One that will overshadow the Hurricane Wars.
Will these mortal enemies be able to come together to confront it or is everything that has been fought over for so long about to be destroyed?
The Surviving Sky (Rages #1) by Kritika H. Rao
June 13, 2023
This Hindu philosophy-inspired debut science fantasy follows a husband and wife racing to save their living city—and their troubled marriage—high above a jungle world besieged by cataclysmic storms.
High above a jungle-planet float the last refuges of humanity—plant-made civilizations held together by tradition, technology, and arcane science. In these living cities, architects are revered above anyone else. If not for their ability to psychically manipulate the architecture, the cities would plunge into the devastating earthrage storms below.
Charismatic, powerful, mystical, Iravan is one such architect. In his city, his word is nearly law. His abilities are his identity, but to Ahilya, his wife, they are a way for survival to be reliant on the privileged few. Like most others, she cannot manipulate the plants. And she desperately seeks change.
Their marriage is already thorny—then Iravan is accused of pushing his abilities to forbidden limits. He needs Ahilya to help clear his name; she needs him to tip the balance of rule in their society. As their paths become increasingly intertwined, deadly truths emerge, challenging everything each of them believes. And as the earthrages become longer, and their floating city begins to plummet, Iravan and Ahilya's discoveries might destroy their marriage, their culture, and their entire civilization.
Forbidden Planet | Waterstones
If I Have to be Haunted by Miranda Sun
September 14, 2023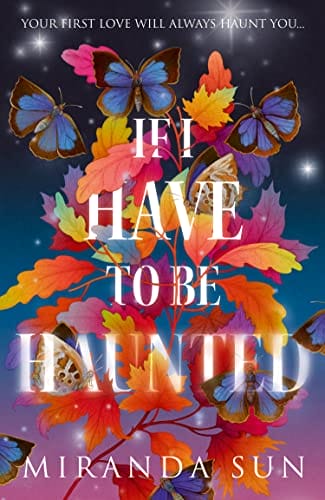 Your first love will always haunt you…
The most haunting, heartwarming debut of 2023. Perfect for fans of strong female leads and supernatural stakes in Buffy, with all the sweetness and romance of To All the Boys I've Loved Before.
Cara's just trying to stay on top of all her classes, excel at her extracurriculars, and prepare for college – which means not speaking to the dead, an ability she inherited from her grandmother. Ghosts are trouble, and Cara doesn't need to add their problems to her own.
But then she stumbles upon the body of Zach – the super popular but very newly dead high school golden boy – in the woods, and guess what? He wants her to resurrect him.
Cue trouble.
Miranda Sun's debut touches on the power and conflicts in a mother-daughter love, first romance – and finding your place in the world while honouring your culture. Full of heart, humour and thrills, If I Have to be Haunted will put a spell on you.
Sons of Darkness (The Raag of Rta #1) by Gourav Mohanty
July 6, 2023
THE HOUSE OF THE DRAGON MEETS SUCCESSION IN AN EPIC REIMAGINING OF THE MAHABHARATA
'An unforgettable wild journey set in re-imagined Vedic India' SF Book Review
'Like Game of Thrones in an Indian alternative universe… exhilarating… heralds the arrival of a special new talent' Dan Jones
' Mahabharata imbued with A Song of Ice and Fire , The First Law , & Malazan Book of the Fallen ' Novel Notions
SOME BALLADS ARE INKED IN BLOOD
Bled dry by violent confrontations with the Magadhan Empire, the Mathuran Republic simmers on the brink of oblivion. Senator Krishna and his third wife Satyabhama have put their plans in motion, both within and beyond the Republic's blood-soaked borders, to protect it from total annihilation.
But they are soon to discover that neither gold nor alliances last forever – and that they are not the only players on the board.
Mati, Pirate-Princess of Kalinga, has decided to mend her ways and become a good wife. But old habits die hard, especially when one habitually uses murder to settle old scores.
Brooding and beautiful Karna hopes to bury his brutal past, but finds that destiny is a miser when it comes to granting second chances.
Hero-turned-torturer Shakuni limps through a path of daggers. Meanwhile, his foes and woes multiply, leaving little time for vengeance.
Their lives are about to become yet more difficult, as a cast of sinister queens, naive kings, pious assassins and ravenous priests are converging where the Son of Darkness is prophesied to rise… even as forgotten Gods prepare to play their hand.
The Phoenix King (The Ravence Trilogy #1) by Aparna Verma
August 29, 2023
In a kingdom where flames hold magic and the desert hides secrets, an ancient prophecy comes for an assassin, a princess, and a king. But none are ready to face destiny—and the choices they make could burn the world.
"If we carry the burdens of our fathers, we'll never know what it means to be free."
For Elena Aadya Ravence, fire is yearning. She longs to feel worthy of her Phoenix god, of her ancestors who transformed the barren dunes of Sayon into a thriving kingdom. But though she knows the ways and wiles of the desert better than she knows her own skin, the secrets of the Eternal Flame elude her. And without them, she'll never be accepted as queen.
For Leo Malhari Ravence, fire is control. He is not ready to give up his crown—there's still too much work to be done to ensure his legacy remains untarnished, his family protected. But power comes with a price, and he'll wage war with the heavens themselves to keep from paying it.
For Yassen Knight, fire is redemption. He dreams of shedding his past as one of Sayon's most deadly assassins, of laying to rest the ghosts of those he has lost. If joining the court of flame and serving the royal Ravence family—the very people he once swore to eliminate—will earn him that, he'll do it no matter what they ask of him.
But the Phoenix watches over all and the fire has a will of its own. It will come for all three, will come for Sayon itself….and they must either find a way to withstand the blaze or burn to ash.
The first in an action–packed debut epic fantasy trilogy, The Phoenix King is "a captivating adventure from a gifted new voice" (Peter V. Brett).
Forbidden Planet | Waterstones
Sing Me to Sleep (Sing Me to Sleep #1) by Gabi Burton
June 27, 2023
Words sting. Songs kill.
The Cruel Prince meets To Kill a Kingdom in this seductive YA fantasy debut, in which a siren must choose between protecting her family and following her heart in a prejudiced kingdom where her existence is illegal.
Saoirse Sorkova survives on secrets. As the last siren in her kingdom, she can sing any man to an early grave – but her very existence is illegal, and if her true identity were ever discovered, it would be her life on the line.
By day, Saoirse disguises herself as a fae, pretending to be the perfect soldier-in-training. By night, she satisfies her darker urges working as an assassin for dangerous mercenaries. And all the while, she keeps the biggest secret of all: that she is not always in control of her Siren powers, or her desire to kill.
Then a blackmailer threatens her sister, and Saoirse's investigation takes her to the royal palace, and her most dangerous job yet: personal bodyguard to the Crown Prince.
Saoirse expects to despise Prince Hayes. But he is kind, thoughtful, and charming, and she finds herself increasingly drawn to him . . . until he tasks her with investigating a killer plaguing the kingdom. The problem: the killer is Saoirse.
Trapped by her deadly double life, Saoirse can't leave the palace until she saves her sister . . . but who will save her from herself?
Forged By Blood (Tainted Blood Duology #1) by Ehigbor Okosun
August 17, 2023
A brilliant new voice brings a brilliant new novel: debut author Ehigbor Okosun's first book in an action-packed, poignant duology inspired by Nigerian mythology–full of magic and emotion and set in a highly atmospheric, complex world in which a young woman fights to survive a tyrannical society, having everything stripped away from her, and seeks vengeance for her mother's murder and the spilled blood of her people.
In the midst of a tyrannical regime and political invasion, Dèmi just wants to survive: to avoid the suspicion of the nonmagical Ajes who occupy her ancestral homeland of Ife; to escape the King's brutal genocide of her people—the darker skinned, magic wielding Oluso; and to live peacefully with her secretive mother while learning to control the terrifying blood magic that is her birthright.
But when Dèmi's misplaced trust costs her mother's life, survival gives way to vengeance. She bides her time until the devious Lord Ekwensi grants her the perfect opportunity—kidnap the Aje prince, Jonas, and bargain with his life to save the remaining Oluso. With the help of her reckless childhood friend Colin, Dèmi succeeds, but discovers that she and Jonas share more than deadly secrets; every moment tangles them further into a forbidden, unmistakable attraction, much to Colin's—and Dèmi's—distress.
The kidnapping is now a joint mission: to return to the King, help get Lord Ekwensi on the council, and bolster the voice of the Oluso in a system designed to silence them. But the way is dangerous, Dèmi's magic is growing yet uncertain, and it's not clear if she can trust the two men at her side.
A tale of rebellion and redemption, race and class, love and trust and betrayal, Forged by Blood is epic fantasy at its finest, from an enthusiastic, emerging voice.
What upcoming releases are you excited for?

If you enjoy my content please consider supporting me through any of the following:
♥ Ko-Fi — Bloglovin' — Facebook — Instagram — Twitter — Wishlist ♥