Today's review is for Ebony Gate, a book I had my eye on as soon as I saw the gorgeous cover reveal alongside 'John Wick meets dragon magic', what's not to love about that?
Safe to say I wasn't disappointed in the least, I truly enjoyed this first instalment and I'm excited to see where Emiko's journey takes her next!
Full review below.
About the Book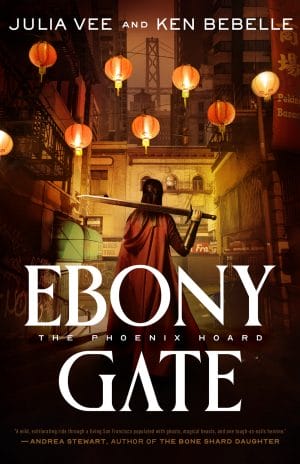 Title: Ebony Gate
Series: Phoenix Hoard #1
Author: Julia Vee and Ken Bebelle
Publisher: Tor Books
Release Date: July 11th 2023
Pages: 448
Source: Advanced reading copy gifted by author Ken Bebelle (this in no way affects my review which is honest and unbiased) Finished copy purchased by myself
Rating: ★★★★★★★★★★
Synopsis
Julia Vee and Ken Bebelle's Ebony Gate is a female John Wick story with dragon magic set in contemporary San Francisco's Chinatown.
Emiko Soong belongs to one of the eight premier magical families of the world. But Emiko never needed any magic. Because she is the Blade of the Soong Clan. Or was. Until she's drenched in blood in the middle of a market in China, surrounded by bodies and the scent of blood and human waste as a lethal perfume.
The Butcher of Beijing now lives a quiet life in San Francisco, importing antiques. But when a shinigami, a god of death itself, calls in a family blood debt, Emiko must recover the Ebony Gate that holds back the hungry ghosts of the Yomi underworld. Or forfeit her soul as the anchor.
What's a retired assassin to do but save the City by the Bay from an army of the dead?
Review
Ebony Gate is set in modern-day San Francisco, with a fantasy twist. The gist of the magic is that there are magical families, descended from dragons, with an array of magical talents. Our main character, Emiko Soong, had been taken out of school and trained to become her family's assassin instead. But this was in the past, and in the present all she wants to do is forget about her time as an assassin and try to live a "normal" life instead, whilst helping to build museum collections of Asian items.
She'd been trying this for a couple of years at the start of Ebony Gate, though most of the magical folk (Jiārén) around her are hoping she'll become the city's protector, a "Sentinel", whilst her non-magical friends (Waīrén) wish that she'd let loose and hang out with them more. 
Emiko's plans go out of the window as a shinigami, a death god, requests her to carry out a retrieval. Refusing would mean that not only would her city be in danger, but her brother would be pulled in to the mess also. 
She's joined by a cast of some very lovable characters, including the Shinigami himself who is a bit of a comedian in parts. Basically he's your average meddling god looking for some entertainment along the way, think Ryuk from Death Note! Other than the Shinigami, Emiko enlists the help of the Tran family to help her on her mission. The Tran family is run by Fiona, an exceedingly stylish lady who can manipulate air, though she asks for her brother Freddy to mostly aid with the work. Freddy is a little dear, he spends a lot of his time just chilling out but he's very sweet-natured. We also get to meet Pópó a couple of times, an adorable Grandma-like character who helps Emiko.
Waīrén friends include the extra charming Adam, an extremely wealthy man who knows a surprising amount about Jiārén. He also happens to be charming and handsome, which is a bonus. I hope we get to see more of him in the next book, because his overall chemistry with Emiko is fabulous to see!
I can't talk about the characters of Ebony Gate without mentioning the adorable Bāo, a foo lion companion of Emiko's. He frequently aids her and is basically a really cute oversized cat, animated from a necklace worn by Emiko using her father's magical talent.
As the story is told in first person, the most important character is Emiko herself. If you like characters with a bit of sass to them then you'll love Emiko, she's so blunt and straight to the point and I really enjoyed her commentary throughout.
There's far more to Ebony Gate than I can't talk about without delving into spoiler territory, but I'm very excited to see where this story will go next and I'll be picking up the next books as soon as possible!
Have you read this yet?

If you enjoy my content please consider supporting me through any of the following:
♥ Ko-Fi — Bloglovin' — Facebook — Instagram — Twitter — Wishlist ♥