Today I'm sharing a review for the sequel to one of my favourite 2022 releases, Only a Monster by Vanessa Len.
Never a Hero was a wild ride of a story and I loved it so much, it was a fantastic addition to the Monsters world and made me love it even more!
Read on for a full review, this book gets all the stars from me!
About the Book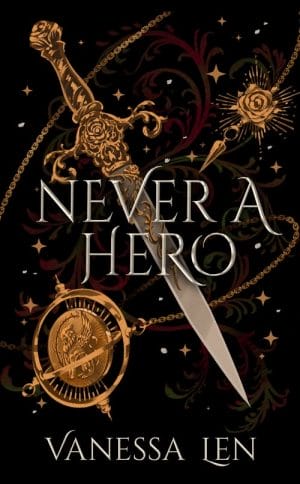 Title: Never a Hero
Series: Monsters #2
Author: Vanessa Len
Publisher:  Hodder & Stoughton
Release Date: August 29th 2023
Pages: 496
Source: Advanced hardcover gifted by publisher ❤️ (this in no way affects my review which is honest and unbiased)
Rating: ★★★★★★★★★★
Synopsis
This sequel to the contemporary fantasy Only a Monster will take Joan deeper into the monster world, where treacherous secrets and even more danger await.
Despite all of the odds, Joan achieved the impossible. She reset the timeline, saved her family – and destroyed the hero, Nick.
But her success has come at a terrible cost.
She alone remembers what happened. Now, Aaron, her hard-won friend – and maybe more – is an enemy, trying to kill her. And Nick, the boy she loved, is a stranger who doesn't even know her name. Only Joan remembers that there is a ruthless and dangerous enemy still out there.
When a deadly attack forces Joan back into the monster world as a fugitive, she finds herself on the run with Nick – as Aaron closes in.
As the danger rises – and Nick gets perilously closer to discovering the truth of what Joan did to him – Joan discovers a secret of her own. One that threatens everyone she loves.
Torn between love and family and monstrous choices, Joan must find a way to re-gather her old allies to face down the deadliest of enemies, and to save the timeline itself.
Vanessa Len's stunning Only a Monster trilogy continues with this second instalment, a thrilling journey where a secret past threatens to unravel everyone's future.

Review
Never a Hero is the sequel to Vanessa Len's Only a Monster, a book I thoroughly enjoyed when I first read it and went on to collect several copies of it due to that! The sequel begins a couple of months after the end of book one, with Joan back at school and trying to adjust to life in the new timeline she created at the end of Only a Monster.
If you enjoyed Only a Monster then you'll fall head over heels for book two, it takes the events of book one and adds to them considerably, answering a few questions you might have had when reading the first book whilst bringing in new challenges that Joan has to deal with.
Don't worry if, like me, you fell in love with a few characters from the first book; because slowly yet surely we meet them in the new timeline.
Unfortunately, a certain dashing young gentleman's claim that he'll hate Joan ends up being a little bit true, but Aaron remains to be the most endearing male character and I'll just leave my thoughts on him at that because otherwise this entire review will become an essay about how much I love him.
Nick is in it too. He's okay.
All jokes aside, the way that Vanessa brings the characters back into Joan's life is brilliant each and every time, and we're thrown into the action extremely quickly as Joan faces consequences that seemingly arise from the first book. The majority of side characters don't remember the first timeline in Only a Monster (with the Liu family being an exception to this), and it takes a fair bit of convincing from Joan until they believe everything.
Understandably, with Nick things are a little more complicated. We see a lot more of him in the sequel though and one thing I really appreciate about Len's storytelling is that she makes it difficult to completely dislike any character. Even at the end of Only a Monster, we find out why Nick is being so monstrous to the monsters. But his connection to Joan ensures more encounters in book two and getting to know more about him definitely makes him more of an endearing character (Aaron is still the best though, I'm sorry, he's just far too adorable).
And the ending?! The Monsters world had been pretty extensive in the first book, considering all the time travel they could do and making a new timeline, but the ending to Never a Hero has me in desperate need of book three due to all of the potential.
To summarise, I love this world that Len has created and book two has only made me love it even more.
Have you read this yet?

If you enjoy my content please consider supporting me through any of the following:
♥ Ko-Fi — Bloglovin' — Facebook — Instagram — Twitter — Wishlist ♥