Hello and welcome to another review for a '22 release I've been highly anticipating!
When I first saw the cover for the US copy of Only a Monster by Vanessa Len, I was immediately drawn in. It's stunning! And then I found out it was going to be released in the UK by Hodder & Stoughton, and I kind of knew it was going to be a book I loved then because Hodder seems to release some of my faves consistently? And then Hodder also released the beautiful UK cover designed by Afterblossom…
I wasn't wrong, I truly enjoyed this book and stole as many chances over the Christmas celebrations as possible to read it. Read on for my full review!
About the Book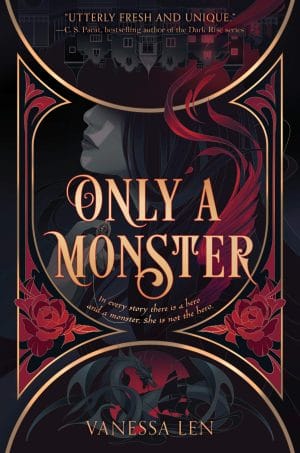 Title: Only a Monster
Series: Monsters #1
Author: Vanessa Len
Publisher: HarperTeen (US), Hodder & Stoughton (UK)
Release Date: February 22nd 2022 (US), February 17th 2022 (UK)
Pages: 416
Source: US proof copy won from an author giveaway ❤️ (this in no way affects my review which is honest and unbiased)
Rating: ★★★★★
Synopsis
'With the sweeping romance of Passenger and the dark fantasy edge of This Savage Song, this standout YA contemporary fantasy debut from Vanessa Len, is the first in a planned trilogy.
It should have been the perfect summer. Sent to stay with her late mother's eccentric family in London, sixteen-year-old Joan is determined to enjoy herself. She loves her nerdy job at the historic Holland House, and when her super cute co-worker Nick asks her on a date, it feels like everything is falling into place.
But she soon learns the truth. Her family aren't just eccentric: they're monsters, with terrifying, hidden powers. And Nick isn't just a cute boy: he's a legendary monster slayer, who will do anything to bring them down.
As she battles Nick, Joan is forced to work with the beautiful and ruthless Aaron Oliver, heir to a monster family that hates her own. She'll have to embrace her own monstrousness if she is to save herself, and her family. Because in this story . . .
. . . she is not the hero. '

Review
Only a Monster follows the main character, Joan, as she's thrown head first into the world of monsters from her mother's side, whilst still being half-human thanks to her dad's side.
So… monsters. I wouldn't mind being a "monster" if I didn't have to hurt anyone to do it? The monster world is split up by families who each have their own special powers. But the one defining trait is the one that I personally adored the most… they can all time travel. However, to do this they have to take time from a human, which is what makes them monstrous.
"Real monsters look like me and you."
Being half-monster, Joan discovers she can do this very early into the story through an accident but had not been warned of it prior. Naturally, she's good-hearted so she feels terrible when she first does it and it messes with her plans for a date with a mysterious yet kind guy called Nick (who Joan just so happens to have been drawn to the entire time she's been working with him at Holland House).
When she misses her date with Nick she feels terrible, so she heads to Holland House to see about making amends and also because she just really needs to talk to someone. But she can't tell him about monsters, because humans aren't supposed to know about them and their secret ways. As the synopsis says, she quickly discovers that Nick is, in fact, a monster slayer. 100% committed to killing every single monster family in London.
"You're a hero and I'm a monster. There's only one way that story ever ends."
Events occur, and Joan is left on the run with a boy called Aaron Oliver, from a rival monster family who normally can't stand all of the Hunt family (Joan's). Whereas Joan is disgusted in the fact she's a monster, Aaron thinks it makes him better than humans. He has a super arrogant persona at first but as the story continued there were a lot of moments where I fell a little in love with him.
Joan being new to the monster world is excellent for the reader, because her fellow gang explains things to her throughout and so the reader learns as she does. Her amazement at times also leads to her pointing out a lot of historical things, so if you're a fan of history you'll definitely appreciate these little anecdotes at times!
I'm so looking forward to more from this world, there were a few things left out in the open by the end of this first instalment and I just can't wait to see where Len takes the next two books! The world she's created is expansive and full of possibility. It's essentially kind of like the multiverse but with characters more alike to villains than superheroes?
One thing I found in particular was that, even with the self-awareness of being a monster, you still like the majority of the characters you meet? Naturally, some take their namesake a little too seriously and there are silly things like hatred between particular families for no reason other than they're different… but that's [unfortunately] pretty standard for the world we live in and I think it helped to make it feel more like a contemporary fantasy through that? This did help with character development for Aaron in particular though. As an Oliver, he really shouldn't care about Joan in any way but… it's very clear he cares anyway.
There are also families that are just straight up adorable, the Liu family's defining trait is that they "remember" everything and, at least for the members we meet, they're helpful regardless of the family that comes to them (albeit everyone wants a favour for a favour, which, again, is just pretty humanlike)!
I hope we get to see more of each family in the next books, and maybe even spin off stories? The potential is definitely there for a multitude of stories, and I think this book is going to appeal to a lot of readers!

Have you preordered this yet?

If you enjoy my content please consider supporting me through any of the following:
♥ Ko-Fi — Bloglovin' — Facebook — Instagram — Twitter — Wishlist ♥