Well, as mentioned I received a copy of The Cruel Prince in two book boxes this month – so of course I had to read it as soon as possible.
Title: The Cruel Prince
Series: The Folk of the Air #1
Author: Holly Black
Publisher: Little Brown
Release Date: 2nd January 2018
Pages: 384
Source: FairyLoot and OwlCrate January Book Boxes
Rating:

Goodreads Synopsis:
'Of course I want to be like them. They're beautiful as blades forged in some divine fire. They will live forever.
And Cardan is even more beautiful than the rest. I hate him more than all the others. I hate him so much that sometimes when I look at him, I can hardly breathe.
Jude was seven years old when her parents were murdered and she and her two sisters were stolen away to live in the treacherous High Court of Faerie. Ten years later, Jude wants nothing more than to belong there, despite her mortality. But many of the fey despise humans. Especially Prince Cardan, the youngest and wickedest son of the High King.
To win a place at the Court, she must defy him–and face the consequences.
In doing so, she becomes embroiled in palace intrigues and deceptions, discovering her own capacity for bloodshed. But as civil war threatens to drown the Courts of Faerie in violence, Jude will need to risk her life in a dangerous alliance to save her sisters, and Faerie itself.'
Review
So far this year I've loved most of the books I've read, and things were no different with The Cruel Prince. I left this review a couple of days extra because I wanted to make sure it wasn't post-reading feels that had me thinking it was amazing but the story is just so consuming that I know for sure it's a 5 star read! I did debate between 4.5 and 5 stars… but really there was too much I loved about this book overall that I just couldn't bring it down.
"If I cannot be better than them, I will be so much worse."
The book is set out in two parts – with the last section being a lot smaller than the first. The point of view is from that of Jude, who has a twin sister (Taryn) and an older half sister who is half-fae (Vi). I think Vi was one of my favourite characters other than Jude, she's a very interesting character and rebellious too. In terms of the sisters, it was interesting that although Vi fitted in the best in Faerie she was the one sister who wanted to escape as soon as possible. I loved the contrast between the twins too – one wanting to find her place in Faerie through love (Taryn) and the other wanting to prove her place there by becoming a knight (Jude).
"Instead of being afraid, I will become something to fear."
Jude is by no means a perfect main character, she has her flaws and has to make some difficult choices but personally I prefer seeing more complex characters like that. Her and her sisters have grown up in the world of Faerie, in the house of the Fae who had murdered their human parents – Madoc. Madoc himself was such a strange character, he was cruel and bloodthirsty yet treats Jude and Taryn as though they are his own daughters, which is massively contrasting to the way that the majority of the Faeries treat humans. I found myself very interested in the "Cruel Prince" himself – Prince Cardan – also. I was hoping for a Everless sort of reveal of his character fairly early on as, although he was most definitely horrible I couldn't stop wishing it was all just an act. I really did love the character of Locke too. I thought he was such an intriguing character especially with this quote:
"If I can't find a good enough story, I make one."
The above characters aren't even half of the characters we're introduced to either, but Holly adds so much to the story that they all fit in so well. The majority are subject to being involved in intricate subplots to the main story and every part fits together in a beautiful way.
In terms of content/trigger warnings – this is by no means a light hearted book. There is murder from the very beginning, excessive bullying, and suicide within. The drama that fills The Cruel Prince is apparent in every chapter of the book. There are so many plot twists by the end that the story truly becomes a piece of art. I'll definitely be reading the rest of this series, and I'm incredibly excited now to be going to the Northern YA Literary Festival which Holly Black will be attending next month! I'll make sure to take my camera too and write a blog post following that, I'm hoping to also read a couple more of Holly's works prior since I loved The Cruel Prince so much! (I have The Darkest Part of the Forest and Tithe ready to read of hers).
"Because you're like a story that hasn't happened yet. Because I want to see what you will do. I want to be part of the unfolding of the tale."
My collection of The Cruel Prince merchandise/books after getting OwlCrate and FairyLoot this month! ♡
Around the Web
I've found some really cool things when it comes to The Cruel Prince, so I wanted to share them with you in case you haven't come across them yet!
Midnight Designs: The Cruel Prince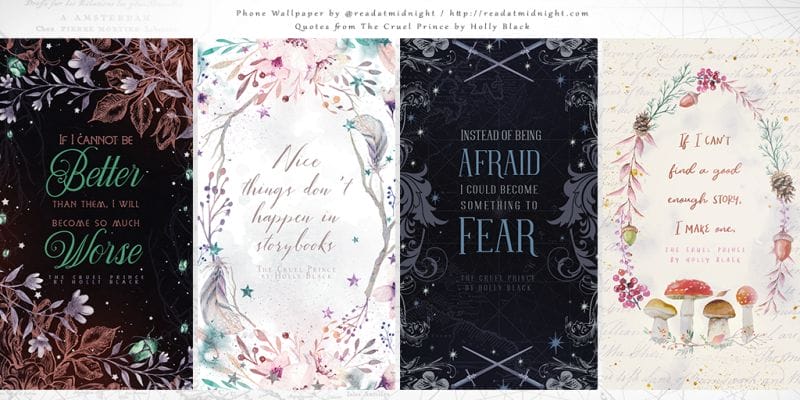 Aentee (Read at Midnight) makes the above beautiful wallpapers for your phone, I currently have her design of the quote by Locke "If I can't find a good enough story, I make one." as my wallpaper.
The above body paint tutorial based on the standard cover art and it's just so beautiful I had to share it!
About the Author
'Holly Black is the author of bestselling contemporary fantasy books for kids and teens. Some of her titles include The Spiderwick Chronicles (with Tony DiTerlizzi), The Modern Faerie Tale series, the Curse Workers series, Doll Bones, The Coldest Girl in Coldtown, the Magisterium series (with Cassandra Clare) and The Darkest Part of the Forest. She has been a a finalist for an Eisner Award, and the recipient of the Andre Norton Award, the Mythopoeic Award and a Newbery Honor. She currently lives in New England with her husband and son in a house with a secret door.'
Have you read this book yet?
What did you think?
Feel free to leave a comment or Tweet @LuchiaHoughton!
Follow me on my social media pages to keep up to date with further posts!
Bloglovin' — Facebook — Instagram — Twitter