Hey! So today's post is a little different, I'm part of the FFBC book tour for the upcoming Ace of Shades (check out the full blog tour schedule here) so I've been provided with some behind the scenes information on the characters by the author herself, Amanda Foody! I'm so excited for this book, I'm a huge fan of gangster films so it'll be awesome to read a gangster themed fantasy story. Based off the below I think I'm going to love Lola, thank god there isn't too long to wait until I'll get to see if I was right! Read on to get to know these cool characters…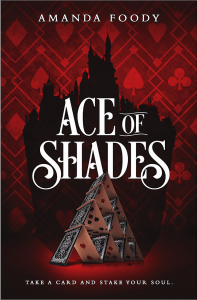 Title: Ace of Shades
Series: The Shadow Game #1
Author: Amanda Foody
Publisher: Harlequin Teen
Release Date: April 10th 2018
Genre: Young Adult, Fantasy
Synopsis:
Welcome to the City of Sin, where casino families reign, gangs infest the streets…and secrets hide in every shadow.
Enne Salta was raised as a proper young lady, and no lady would willingly visit New Reynes, the so-called City of Sin. But when her mother goes missing, Enne must leave her finishing school—and her reputation—behind to follow her mother's trail to the city where no one survives uncorrupted.
Frightened and alone, her only lead is a name: Levi Glaisyer. Unfortunately, Levi is not the gentleman she expected—he's a street lord and a con man. Levi is also only one payment away from cleaning up a rapidly unraveling investment scam, so he doesn't have time to investigate a woman leading a dangerous double life. Enne's offer of compensation, however, could be the solution to all his problems.
Their search for clues leads them through glamorous casinos, illicit cabarets and into the clutches of a ruthless mafia donna. As Enne unearths an impossible secret about her past, Levi's enemies catch up to them, ensnaring him in a vicious execution game where the players always lose. To save him, Enne will need to surrender herself to the city…
And she'll need to play.
Meet the Characters
Enne Salta
Enne is a ballet student at the Bellamy Finishing School of Fine Arts, who has spent her entire life struggling to keep up with her more talented classmates, all for the opportunity to graduate, earn the title of "lady," and be accepted by her prim and proper society. Enne leaves all of this behind to search for her missing mother in the City of Sin. Though Enne first comes across as significantly over her head and uptight, the ambition, raw determination, and practicality that she developed in Bellamy prove valuable assets in New Reynes.
Levi Glaisyer
Levi came to the City of Sin in search for fame and fortune, and though he is well-respected as one of the city's most esteemed card dealers, his gang, the Irons, lacks the awe-inspiring, impressive reputation of some of the criminals of New Reynes legends. But lately, his dreams of expanding his empire have been bleak. For months, he has been running an investment scam under the orders of Vianca Augustine, a ruthless mafia donna, and the scheme is crumbling around him. For such a good gambler, he is awfully close to losing everything.
Jac Mardlin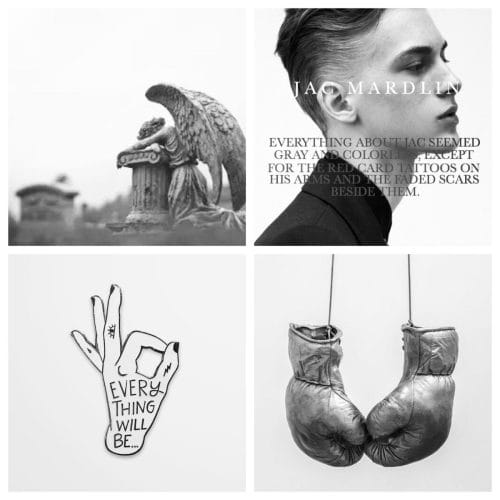 Jac is Levi's best friend and the second in the Irons. Though he is somewhat the brawn to Levi's brains, Jac holds the highly necessary position of wise-cracking and keeping Levi humble. Despite his dark past and his bad habits involving whiskey and boxing rings, Jac is just trying to be a good guy. And hopefully survive all of this.
Lola Sanguick
Lola is a blood gazer, someone with the ability to read another's magic. Though this job has her spending hours studying ancestry books and closing up the National Library, Lola comes across as far more deadly than studious. At least, that's what her knife collection and assassin-dyed hair would lead you to believe.
Vianca Augustine
In a city full of villains, Vianca is the witch. She runs St. Morse, one of the city's most famous casinos, as well as an expansive drug and narcotics empire. Her magical ability to bind people in unbreakable oaths helps her maintain a small circle of those she trusts–for she trusts no one she can't control. Don't ask her about politics unless you would like to listen to a lecture for three hours.
(Character aesthetics by Amanda Foody on her Twitter)
Links
Goodreads | Amazon | Barnes & Noble | Kobo | The Book Depository | iBooks | IndieBound
About the Author
Amanda Foody has always considered imagination to be our best attempt at magic. After spending her childhood longing to attend Hogwarts, she now loves to write about immersive settings and characters grappling with insurmountable destinies. She holds a Masters in Accountancy from Villanova University, and a Bachelors of Arts in English Literature from the College of William and Mary. Currently, she works as a tax accountant in Philadelphia, PA, surrounded by her many siblings and many books.
DAUGHTER OF THE BURNING CITY is her first novel. Her second, ACE OF SHADES, will follow in April 2018.

Check out the other stops on the blog tour here!
Giveaway!
• Prize: 5 copies of Ace of Shades (The Shadow Game #1) by Amanda Foody
• US/Canada Only
• Starts: 3/26
• Ends: 4/19
Are you as excited for Ace of Shades as I am?
Be sure to check out the other stops on the blog tour here!
Follow me on my social media pages to keep up to date with further posts!
Bloglovin' — Facebook — Instagram — Twitter