Last Saturday was the first ever Northern YA Literary Festival, and also the first book festival I've ever been to! I went with Amy and Beth and honestly it was brilliant, not only was the day full to the brim with panels from amazing authors but publishers had kindly donated ARCs, and there was also a stall from Taken Moons and I've been wanting a specific candle made by Rebecca since I first saw it (I bought it, of course)…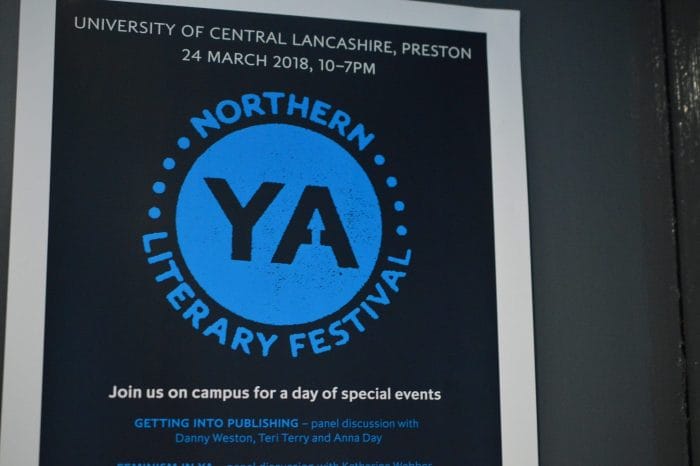 Obviously there were also signings throughout the day, I bought a copy of Rebel of the Sands by Alwyn Hamilton as Amy and Beth had recommended it so was able to get that signed, and of course I was able to have my other copy of The Cruel Prince signed by Holly Black (along with The Coldest Girl in Coldtown as I bought that from the Waterstones pop up stand too, but not The Darkest Part of the Forest which I completely forgot to pack…).
But the day was full of bookish things, panels, and I absolutely loved it! I wanted to write as much as I could about it since it was honestly just so fun, so courtesy of my memory and notes made, here's the run down for the day!
Panels
The first panel of the day was Getting into Publishing at 11am, with authors Teri Terry, Danny Weston and Anna Day, and Kevin Duffy, founder of independent publisher, Bluemoose Books. Top things from this panel… the average author writes four books before they eventually get published, how crazy is that? Teri had actually written 9 books before her first was published, that amount of dedication is so brilliant but to anyone trying right now it's also so motivating, keep going, you'll get there!
Teri also said something which I can relate to pretty well – 'If I had someone that told me it was possible [to become a writer] I might have started a lot sooner.' I love this because it's so real, we usually wait until we're told we can achieve something to even try but if we tried a lot sooner we'd probably get there a lot sooner, I guess it's a lesson that we should have faith in ourselves rather than rely on what others tell us. On top of this, when talking of the subject of editing Danny Weston said that every time you rewrite something it gets better. Which is definitely a motivating thought for those who are going over their work a lot!
After this panel there were some signings, followed by a second panel at 1.30pm with authors Katherine Webber, Annabel Pitcher, Lauren James and Matt Killeen (all introduced by Laura Steven). This panel was on Feminism in YA and authors spoke of defining feminism, what makes books feminist, it was definitely insightful especially with Matt's view comparing the patriarchy to Stockholm Syndrome.
Then we had Alwyn Hamilton's talk, in conversation with Samantha Shannon (who has a series called the Bone Season which I'm also desperate to read now). The panel was largely on Alwyn's Rebel of the Sands trilogy, which is now fully published. Having read a lot of Middle Eastern fantasy lately I'm so excited to pick up my copy, but I fear I may get attached to someone who's future isn't concrete having listened to the panel… Alwyn also said that she had originally intended for the books to be a standalone, and she'd always imagined the conclusion to be the same way. Her favourite book to write up was Traitor to the Throne and she also stated an interest in continuing writing about the Rebel world (but not as a direct continuation of the trilogy).
The last panel of the day was Holly Black talking with Samantha Shannon about The Cruel Prince and more. Even telling us her favourite fairy tale (which was a ridiculously funny one – The Prince and the White Cat). Of course I'm a huge fan of her book The Cruel Prince, so hearing about what inspired her to write it and even about her love for faeries in general was definitely a special thing for me! She mentioned her original love for fairies also comes from having seen the book Fairies (illustrated by Brian Froud and Alan Lee) as a child. One thing that stood out for me was Holly describing her idea for the cover of The Cruel Prince… An underground thrown with a crown – definitely seemed familiar to me…
Signings
Straight after the Feminism in YA Panel, we stood in the signings queue to get books signed by Alwyn Hamilton. I got my copy of Rebel of the Sands signed by her and I love how she signed it with 'Join the Rebellion' too!
I wish I'd had more books to get signed by all the authors – hopefully I'll be in a better position for buying books before hand for the next signing event because all the authors were so lovely I'd have loved to chat to them all! I'm slightly shy, so without a book I'd have a mess of words attempt to come out of my mouth instead of 'your book sounds fantastic, I can't wait to get round to reading it on my Kindle'.
Following from Holly's panel we stood in line eager to meet her. I had my FairyLoot copy of The Cruel Prince with me since I hadn't stuck the signed book plate in, and I had my copy of The Coldest Girl in Coldtown signed too. Honestly, I was a little kind of star struck by meeting her at this point. She was so lovely on her panel and somehow I managed to get the courage to ask for a selfie!
Freebies
I was pretty lucky to come away with a few gems in the way of ARCs, including Renegades which I've been looking forward to reading since I first saw it! They had samples, bookmarks, postcards and more too but I tried to stick to a reasonable amount since there was only so much I could carry (my arms felt like I'd done weights the day after still though!). We were given this cute YA tote bag on entry too, courtesy of Usborne books.
Hot Keys Books gave us such an awesome goody bag for The Cruel Prince too! Including a print, mini candle, A SAMPLE OF THE WICKED KING, a bookmark with The Cruel Prince on, a FairyLoot badge and… a chocolate lolly (not pictured, it was already eaten… but it was cute and heart shaped with a black wrapper). And it all came in a special bag too with the cover printed on it!
Taken Moons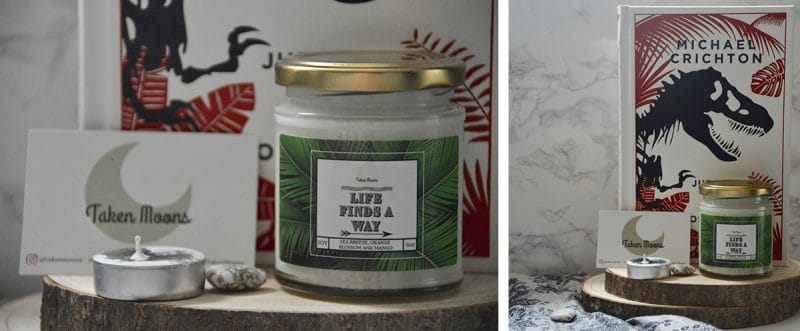 Was I ever going to resist a Jurassic Park themed candle? Nope, not a single chance! I also got a sample of the Love, Simon inspired 'Why is straight the default?' which smells of cookies and cream, definitely one to add to the wish list!
Anyway, Rebecca has an online store too on Etsy and there's international shipping available too! So make sure you check out Taken Moons cause there are some pretty cool bookish candles available.
Bakes By Susannah
There was a stall with amazing cupcakes by Bakes By Susannah at the event too! Now you might be wondering why I'm mentioning this but just look at these awesome cupcakes, in particular The Cruel Prince cupcake! They were so tasty too but there were a lot of cupcakes with different book covers on in a similar fashion and it was just so adorable.
That's the day in as much detail as I can remember (with the help of a few notes) but I don't think even this post sums up quite how much fun I had! For those who missed out on the chance to go this year… The Northern YA Literary Festival for 2019 has thankfully been announced already!
So who's coming to #NYALitFest 2019? That's right. It's happening! @UCLanWhatsOn @UCLan @WstonesPreston @lancspublib pic.twitter.com/GgKVSpSI9C

— The Northern YA Literary Festival (@NYALitFest) March 28, 2018
Did you attend the Northern YA Literary Festival this year,
what was your favourite part of it?
Follow me on my social media pages to keep up to date with further posts!
Bloglovin' — Facebook — Instagram — Twitter