So as I mentioned in my February wrap-up I was pretty excited for this month! I got to see Imagine Dragons live in Manchester on the 3rd, Fall Out Boy on the 29th, I went to my second TEENSgate meeting on the 4th (and seriously I adore them, it's so nice to be able to chat about books in person with people!), and then on the 24th I went to the first ever Northern YA Literary Festival. So yeah, pretty much an awesome month for me in general!
Reading
I've had a fairly bad reading month, I haven't been able to read as much and a couple of the books I had to stopped reading for one reason or another. Still, managed to read a few gems just not as much as the last couple of months! You can find reviews for the books marked with an asterisk here.
I've read:
A Court of Thorns and Roses by Sarah J. Maas – 5 stars
The Witches Blood* (full trilogy) by Katharine and Elizabeth Corr – 3.5 stars
Flame in the Mist* by Renée Adhieh – 5 stars
The Life Siphon by Kathryn Sommerlot – 3 stars
The Wicked Deep* by Shea Ernshaw – 5 stars
Ignited* (Dance of the Elements #1) by A. M. Deese – 5 stars
The City of Brass* (The Daevabad Trilogy #1) by S. A. Chakraborty – 5 stars
I guess I shouldn't be too upset at having read 9 books, I mean this month has been pretty busy too…
Life
I went to see Imagine Dragons live in Manchester on the 3rd, which was my first time seeing them and they were so great to watch! I honestly loved the show so much, and I realised how much I'd missed gigs too. On the 29th I went to see Fall Out Boy too for my third time, major thank you to Charlotte for the ticket!
Bookish events, on the 4th I attended my second TEENSgate meeting which was another fun day, we spoke a lot about Love, Simon and had another trade of books. I picked up The Catalyst from the trade and then because I have absolutely no self control when it comes to books I also picked up a copy of To Kill a Kingdom by Alexandra Christo (they had it in early, you can't blame me with that cover!) and a World Book Day copy of Fly by Night by Francis Hardine (it was £2.50, looked gorgeous, and again… no self control).
Fiona made this awesome video for the event based on an idea that Kimi and herself had:
On the 24th I went to the first ever Northern YA Literary Festival, and it was so awesome! It was my first ever book event with a signing and I got to stand right in front of the Fairy Queen (Holly Black), get a couple of books signed by her and she even let me take a selfie with her! She's lovely. Also lovely was Alwyn Hamilton and I couldn't resist picking up a copy of Rebel of the Sands after hearing good things about it from Amy and Beth! At the risk of making this a repetition, you can see my full post on the day here!
Well I mentioned a few things above but also… I finally have the perfect for job for me! As of next Wednesday I start my job as a Corporate Document Writer, and I'm so excited! I adore writing (as you can possibly imagine from all the blog posts) so to have a career where I'm writing? I honestly can't ask for more!
So, on the same day I got the offer I actually received an email saying that I'd won a bundle for Shea Ernshaw's The Wicked Deep from Culturefly, which contains the paperback version of the book, a 'Sparrow' town candle from Meraki Candles and a postcard.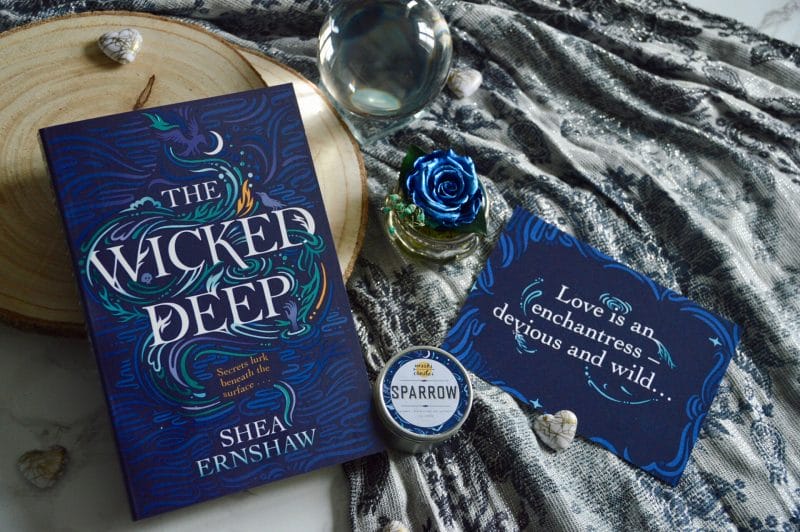 It has been a very, very long time since I had a month quite as good as this one. I've been ill for the last week or so which did put a slight damper on my productivity but otherwise I've seen two awesome bands, spent time with some very lovely people, got my dream job… I'm definitely hoping that this is just the start to an amazing year, can't wait to see how things go!
What have you been up to this month?
Follow me on my social media pages to keep up to date with further book reviews!
Bloglovin' — Facebook — Instagram — Twitter