March was the second anniversary box for FairyLoot, with the theme of Memorable Moments. With items inspired by Game of Thrones, Harry Potter, Lord of the Rings and The Mortal Instruments I was pretty excited so decided to get another one off box (my first since the January box).
The Book
I've heard some good and some bad things about this book – State of Sorrow by Melinda Salisbury. The cover is definitely beautiful though and I'm intrigued by the synopsis:
'Sorrow – for that is all she brings us.
A people laid low by grief and darkness.
A cut-throat race for power and victory.
A girl with everything and nothing to lose…
By day, Sorrow governs the Court of Tears, covering for her grief-maddened father, who has turned their once celebrated land into a living monument for the brother who died before she was born.
By night, she seeks solace in the arms of the boy she's loved since childhood. But one ghost won't stop haunting her, and when enemies old and new close ranks against her, Sorrow must decide how far she's willing to go to win…'
It definitely sounds like my kind of book! The box also had a signed book plate and letter from Melinda included, as well as a promotional postcard.
Candle
FairyLoot's book candle is the Harry Potter item, based on the Goblet of Fire. It's definitely pretty and it smells of pain au chocolat (which I'm most definitely not complaining about). This is an exclusive mini jar made by Paper Flames Candle Co.
Soap
The Lord of the Rings item is soap fashioned after Bilbo's birthday cake, which I suppose fits in well with the anniversary theme. It's actually my second LOTR soap from a box too – having got one in my first OwlCrate back in November. This is an exclusive soap made by Geeky Clean.
Hot Chocolate
Okay so I love hot chocolate so I was pretty happy to see this included at first, I tried half of it though and it's not really to my taste but I'll try making the rest a different way just in case! Either way this is the Game of Thrones inspired item, exclusively created by Eponine.
Cork Bunting
If you're after this, you can buy the exact thing here on Amazon
… I have no space for this, it's a sweet idea but personally I would have preferred something more bookish instead.
Promotional Items
FairyLoot also included a bookmark and badge for the book The Belles. This is definitely one I've had my eye on so hopefully I'll get round to reading it soon, and I'll be able to read it with the bookmark!
Scarf
And we have another scarf in a March box! This is of course inspired by the Shadowhunters – created by FictionTea Designs. It's my favourite item out of the box as even though I haven't read the series I absolutely love the movie and TV show. Runes are also something I really love so it's a win-win for me. Plus it's nice and wearable being monochrome, and good quality!
Overall
I didn't think that this was a bad box, don't get me wrong. And being from the UK I probably should prefer it to OwlCrate but for me personally I definitely preferred OwlCrate's box this month. The FairyLoot book does look interesting, and I do love the scarf! But the rest let the box down for me kind of. The soap is nice but take off the packaging and there isn't really anything that unique about it, I wish there wasn't an edible item with the hot chocolate as personally I feel things like food or drinks are either hit or miss – you'll either love it or hate it and once it's gone well, that's your GOT item gone… And the cork bunting? I like the idea, I'm one of those who keeps everything and anything important but I don't feel like it's a particularly special item to put in an anniversary box?
The worst thing for me is how much this box was built up as a very special anniversary box, if it hadn't been emphasised so much my expectations wouldn't have been quite as high and I think I would have liked it a lot more.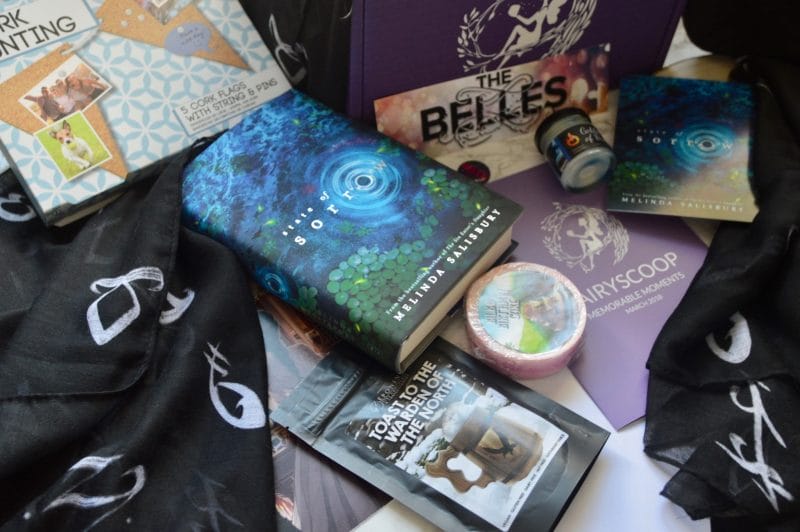 Next Month – Whimsical Journeys
From FairyLoot themselves:
'The April box is now available in our online store for subscriptions and single purchase!
This box is perfect for people that love epic and whimsical journeys filled with magic, mythology, action, and romance! You'll find exclusive items inspired by Narnia, Fantastic Beasts, The Hobbit, The Darkest Minds and Percy Jackson.
We're including some really unique items and there will be TWO items we have never included in any of our previous boxes! So far we're excited to reveal that this box will feature an exclusive tote bag designed by @stellabookishart that you won't be able to get anywhere else – it's absolutely gorgeous.
The book we have selected is a fantastic stand-alone story filled with Norse and Celtic mythology – we hope you're ready for some Vikings and magic! This is such a fun book and we are so excited for you guys to read it. The edition we are featuring will also have EXCLUSIVE FOILING on the cover – the standard edition won't have any foiling! It will also come with a signed bookplate, letter from the author and other exclusive goodies relating to the book!'
Do you subscribe to any book boxes?
Follow me on my social media pages to keep up to date with further posts!
Bloglovin' — Facebook — Instagram — Twitter