Emily R. King is a wonderful author and Before the Broken Star is as wonderfully twisty as her Hundredth Queen series.
I love reading a book with unexpected events and this one hits you in the face with a massive example halfway through, Emily has set up what will probably be one of my favourite series and I'm so excited for the next instalment, I NEED to know what happens next and I miss the main character already.
Read on for my full review, which is more detailed but spoiler-free!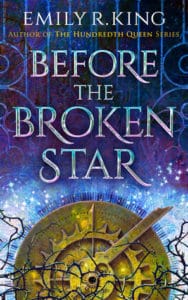 Title: Before the Broken Star
Series: The Evermore Chronicles #1
Author: Emily R. King
Publisher: Skyscape
Release Date: 1st June 2019
Pages: 300
Source: Physical hardcover purchased, eARC from the publisher on NetGalley (this in no way affects my review which is honest and unbiased)
Rating:

Synopsis:
'A fierce young female adventurer battles time itself to claim her destiny in a sweeping new fantasy saga from the author of the Hundredth Queen series.
Everley Donovan is living on borrowed time. The lone survivor of her family's unexplained assassination, she was saved by an ingeniously crafted clockwork heart. But the time she was given won't last forever. Now, every tick-tock reminds her how fragile her existence is and hastens her quest to expose Killian Markham, the navy admiral who shattered her world and left her for dead. But Everley's hunt for justice will be a long and hard-won voyage.
Her journey takes her to a penal colony on a cursed isle, where she will be married off and charged to build the new world. It is here, and beyond, that hidden realms hide, treasures are unearthed, her family secrets are buried, and young love will test the strength of her makeshift heart. When Everley discovers Markham may not be who he seems, her pursuit for truth is bound to his redemption, her tragic history, and her astonishing destiny.'
Review
All the emotions from this book! So I started drafting this review straight after I finished it and the story really threw me. I knew with the main character having a clock for a heart it would be a fantasy but I guess that because for half of the book that's the only element of fantasy I kind of assumed that would be it? I WAS SO WRONG AND I'M SO HAPPY ABOUT THAT. Now here's where it gets tricky, I don't like talking about books past the half way mark because that's spoiler-territory, but with BTBS honestly… just if you love mythical creatures and fairy tales but in a dark fantasy way READ THIS.
Girls with clock hearts aren't made for falling in love.
Trigger warnings though, there's a lot of gruesome scenes in this. Right at the beginning we find out that the main character's family was brutally murdered in front of her, and there is mention of rape too. There's one scene where animals are used for betting reasons but that's shut down very quickly (with a cute outcome too).
Our main character, Everley, is essentially on a quest for vengeance from the very beginning, she wants nothing more than to get revenge on the man who murdered her whole family. She's an extremely well-written morally grey character and although she cares for those around her (albeit without wanting to) she keeps her main desires at the forefront of her actions unless they risk someone she cares about.
Could you do it? Could you become a monster to destroy one?
Characters wise, obviously Everley is a complex character but overall you can't help but be on her side. Early on she's forced to marry a character called Jamison and honestly, I'm a little bit in love with him. He's constantly being pushed away by Everley even though he has no idea why but he's always a gentleman to her, to the extent he keeps her safe by marrying her so no one else could get too close to her. Essentially, if he hadn't said he'd married her then there was a risk her clock heart would be discovered. This does have a slight romance element which is super close to the enemies-to-lovers trope (which I'm a huge fan of) but it's also slow burn and the focus is on them as friends. There's also a lot of back and forth bickering between them at times which was great for adding humour into otherwise slightly dark situations.
But I believe in monsters. I have seen them take and destroy, suffocate and shred, every sliver of light in the world.
Another absolutely adorable character is that of Quinn, who's only young and so Everley and Jamison for the most part take on parental roles to look after her. She's a super sweet child. Other characters worth noting without giving too much away are Vevina, who is like a mother figure to women who have to con for a living, she's essentially built herself up as a businesswoman to survive and looks after Claret and Laverick like they're her flesh and blood, two girls around Everley's age with no family.
Don't be so distracted with what keeps you alive that you neglect to live.
The villain is of course Markham, and his character is so interesting. There are times when you'll feel sorry for him which for me is a sign of a good book – he may be horrible but you can't help but forget it at times when he's just a man searching for something.
And then we have the world building! I fell completely for the world, it's another unique setting from Emily with pixies and gnomes and wooden soldiers and pirates and monstrous whales… Like, really, it's a fantasy creature lover's dream!
I'll be 1,000,000% picking up the rest of the books in this series, and honestly I missed reading Emily's words so much! So yeah, I would definitely recommend reading this book. And if you're on the edge of whether or not to try it, maybe check out the cover below…


Have you read this yet
or will you be buying it?
Follow me on my social media pages to keep up to date with further posts!
Bloglovin' — Facebook — Instagram — Twitter