Hey everyone! So today's post is my stop on the FFBC's blog tour for Elizabeth Lim's Spin the Dawn; with a review, my favourite quotes AND a giveaway where one of my US-based readers is guaranteed a copy of the book itself!
I like to go into books knowing a little about them, but not too much. Basically prior to reading Spin the Dawn I knew it had a similar premise to Mulan with girl pretends to be a boy and that it also had sewing dresses involved but that was what I stopped at, because that was enough to make me know I wanted to read this.
In short, this was a beautiful and exciting read, but read on for my full review!
Title: Spin the Dawn
Series: Blood of the Stars #1
Author: Elizabeth Lim
Publisher: Knopf
Release Date: 9th July 2019
Pages: 416
Source: eARC ARC provided by the publisher (this in no way affects my review which is honest and unbiased)
Rating:

Synopsis:
'Project Runway meets Mulan in this sweeping YA fantasy about a young girl who poses as a boy to compete for the role of imperial tailor and embarks on an impossible journey to sew three magic dresses, from the sun, the moon, and the stars.
Maia Tamarin dreams of becoming the greatest tailor in the land, but as a girl, the best she can hope for is to marry well. When a royal messenger summons her ailing father, once a tailor of renown, to court, Maia poses as a boy and takes his place. She knows her life is forfeit if her secret is discovered, but she'll take that risk to achieve her dream and save her family from ruin. There's just one catch: Maia is one of twelve tailors vying for the job.
Backstabbing and lies run rampant as the tailors compete in challenges to prove their artistry and skill. Maia's task is further complicated when she draws the attention of the court magician, Edan, whose piercing eyes seem to see straight through her disguise.
And nothing could have prepared her for the final challenge: to sew three magic gowns for the emperor's reluctant bride-to-be, from the laughter of the sun, the tears of the moon, and the blood of stars. With this impossible task before her, she embarks on a journey to the far reaches of the kingdom, seeking the sun, the moon, and the stars, and finding more than she ever could have imagined.
Steeped in Chinese culture, sizzling with forbidden romance, and shimmering with magic, this young adult fantasy is pitch-perfect for fans of Sarah J. Maas or Renée Ahdieh.'
Review
Spin the Dawn was marketed as Project Runway meets Mulan and, honestly, that doesn't do this book half the justice it deserves. And, for the record, I'm a huge fan of Mulan.
This is a tale with magic and sorcerers and demons and quests and, yes, sewing… magical sewing.
The real gems of this story though were the two main characters — Maia and Edan. Maia is trying to help her family, whilst also trying to take on centuries of tradition by proving that a woman can be a talented tailor. The story is filled to the brim with her showing her strength and just basically being a great feminine icon like Mulan herself. Edan is the story's sorcerer but he's so much more than that. He's basically a bit of a smug know-it-all from the first time we meet him but from the first jibes he had with Maia I was dying to see them start something together.
The story is set up in three parts — The Trial, The Journey and The Oath. The Trial is to choose the Imperial Tailor from eleven renowned Masters of the art, as well as Maia (posing as her brother). Prior to the trial, I'll also note that this book almost had me in tears about 2% in. That's kind of a record in all honesty for me but it really helps you to emphasise with Maia from the very beginning — a necessary evil. Anyway, the trial has several nasty tailors involved but Maia learns early on that she accidentally has quite a trick up her sleeve involving magic. (I'm going to be very vague for a lot of this review because reading it makes it so much more magical.)
Edan isn't all he seems either, as a sorcerer he has centuries of knowledge and so goes on the quest with Maia to help her acquire the laughter of the sun, the tears of the moon, and the blood of stars for what the person setting the challenge assumes will be an impossible task. I'd love to go into how much I adore Edan's character but all I'll say is his origins aren't necessarily just from Chinese mythology and I had my theory about him early on, it was one of those times where I was super stoked to have guessed right! As the story continues, he becomes more and more endearing. Ladies/gents who like men, be warned, you'll love him. Ladies/gents who like women, you'll love Maia. Basically, the two main characters are my two of my favourites ever.
I also really loved the world building in this story, we're thrown into a war-torn country but this quickly moves into a country trying to recover from this and gain a better way of life. Though Maia isn't a believer in the gods, the story sets up the mythology perfectly and whilst she sees more and more to make her believe, we do also.
It's worth noting also that Lim has another book, a Twisted Tales version of Mulan — Reflection. I have a copy but haven't managed to pick it up as of yet, but I'm definitely hoping to get round to it a lot quicker having read Spin the Dawn! If you've read this and want to get your hands on a copy, if you're US-based check out my giveaway below. UK-based readers, as a heads up Illumicrate is featuring the book in a debut box available here.
I can't wait for the next book, I need it already. This is by far going to be one of my favourite reads for this year!

Favourite Quotes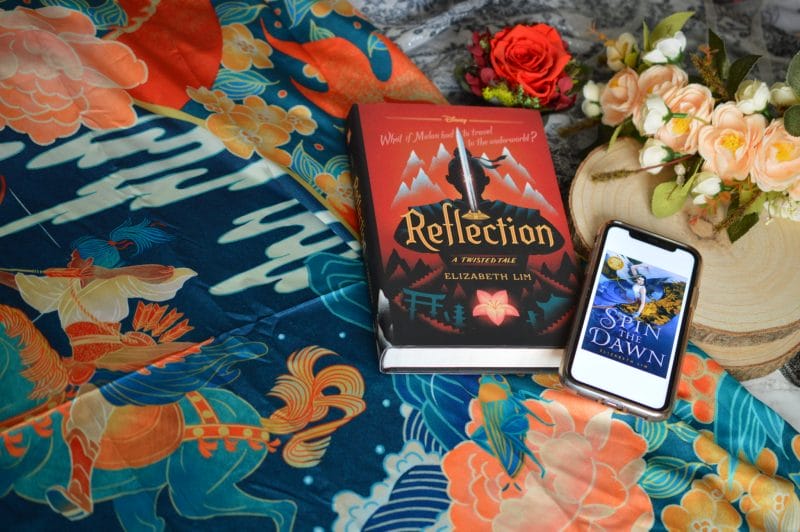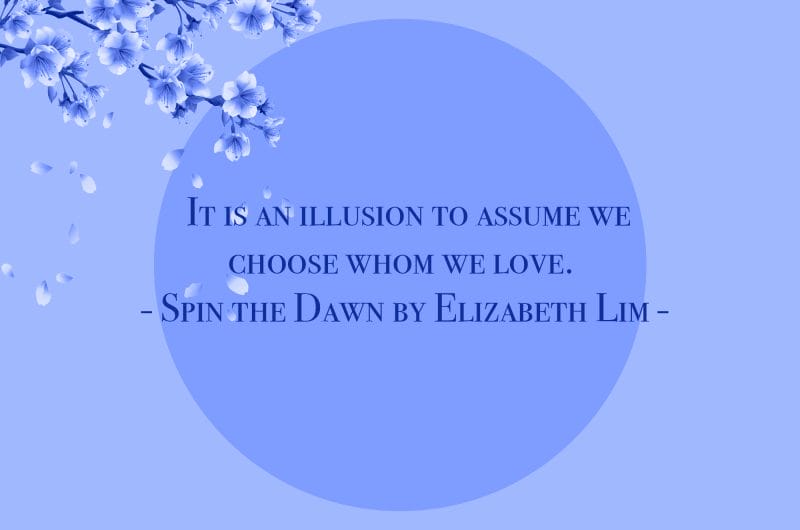 About the Author
Elizabeth Lim grew up on a hearty staple of fairy tales, myths, and songs. Her passion for storytelling began around age 10, when she started writing fanfics for Sailor Moon, Sweet Valley, and Star Wars, and posted them online to discover, "Wow, people actually read my stuff. And that's kinda cool!" But after one of her teachers told her she had "too much voice" in her essays, Elizabeth took a break from creative writing to focus on not flunking English.
Over the years, Elizabeth became a film and video game composer, and even went so far as to get a doctorate in music composition. But she always missed writing, and turned to penning stories when she needed a breather from grad school. One day, she decided to write and finish a novel — for kicks, at first, then things became serious — and she hasn't looked back since.
Elizabeth loves classic film scores, books with a good romance, food (she currently has a soft spot for arepas and Ethiopian food), the color turquoise, overcast skies, English muffins, cycling, and baking. She lives in New York City with her husband.
Blog Tour

Check out the other stops on the FFBC blog tour here!
Giveaway
Now, this is exciting!
Everyone on this blog tour is offering the chance to win a copy of Spin the Dawn (US only), so follow the below steps for a chance to win!
Have you read this yet
or will be preordering?
Feel free to leave a comment or Tweet @LuchiaHoughton!
Follow me on my social media pages to keep up to date with further posts!
Bloglovin' — Facebook — Instagram — Twitter