June's FairyLoot box had items inspired by To Kill A Kingdom, The Raven Cycle, The Witchlands, Air Awakens and The Lux Series. Art for the box by Taratjah was gorgeous again!
Check out all the items below.
The Book
This month's book was Sorcery of Thorns by Margaret Rogerson, and it's another beautiful FairyLoot exclusive! The edges are a sparkly green which looks magical, it's how I'd imagine Nathaniel's magic to look like! Read my review here to find out about Nathaniel and the rest of the book (which, btw, IS AMAZING). The character art is by @arz28.
Iron-On Patch
This iron-on patch is designed by @bookmarkd.tattoos and inspired by The Raven Cycle. I haven't read the series but I do love the look of this patch! Might be one I need to check out.
Reading Journal
The second reading journal of the year is by @fictionteadesigns and @monolimeart, featuring character art of Mia from Nevernight, Rook from An Enchantment of Ravens, Manon from Throne of Glass, Holland from A Darker Shade of Magic, Aeduan from The Witchlands and Cardan from The Cruel Prince. Pretty cool!
Socks
I haven't read the Lux series but I love these ankle socks by FairyLoot! So cute.
Enamel Pin
From the awesome @ironandinkdesigns, this enamel pin is inspired by The Witchlands series. I haven't read it yet but I'm dying to soon so I really like this!
Woodmark
So this woodmark is designed by @stellabookishart and it's beautiful! It's inspired by the Air Awakens series which I've not read but I can definitely appreciate the beauty of this, mega fan of roses too.
Tea
Okay so I'm kind of sad that the To Kill a Kingdom item is tea but on the plus side, it's a fruit tea so at least I'll be able to enjoy it! It's made by @thetealeafco and is strawberry and kiwi flavoured – excited to try it.
Wooden Book Box
This gorgeous item is the 'Secret Book of Banter' and is designed by @noverantale. It's full of quotes and illustrations but also fits in well with books.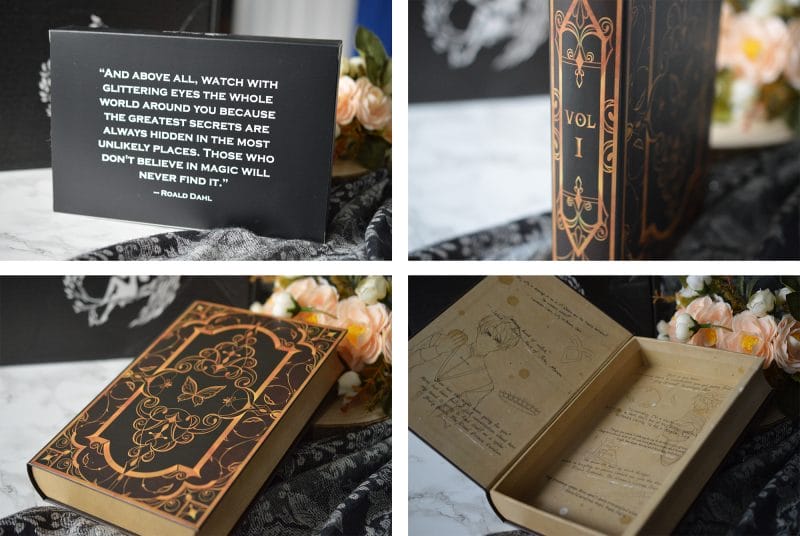 Print and Comic
Drawn by @taratjah, this print and comic is of the Last Airbender. I haven't seen/read it but I'd imagine fans will be pretty stoked with this item.
Enamel Paper Clips
Again designed by @taratjah, these paper clips features art of: Jace from The Mortal Instruments, Jacks from Caraval, Rowan from Throne of Glass and a quote that reads 'Mad but Fab'. Bit confused about Jace having red hair but that's the only series I haven't read any of.
Tarot Cards
This month's tarot cards are inspired by Harry Potter and feature gorgeous artwork from @loweana.art. I love Fawkes!
Overall
In case you couldn't tell from my descriptions above, I really loved this month's box! So many beautiful items, and the book with matching character art is more than enough for the value!
Next Month – Magic in the City 🌃
From FairyLoot themselves:
'We're so excited to reveal the theme for July and it is… MAGIC IN THE CITY!
Have you ever wished that there was magic in our everyday life? That you could just turn a corner, and you'd enter some magical world? Or that mythical creatures exist and are hiding in plain sight? Because we definitely do, and if we're being honest we haven't ruled out that it isn't all possible.
This theme is inspired by books that are set in a modern city and involves magic & mythology. We've never done a theme like this before so we cannot wait for you to see this box!
You can expect items inspired by Shadowhunters, A Curse So Dark and Lonely, Harry Potter, Percy Jackson, The Girl At Midnight and more! We'll be including a great variety of items and we are so thrilled to reveal that this box will include a CERAMIC MUG – Shadowhunter fans will not want to miss this.
The book of the month is an urban fantasy set in Korea, inspired by Korean mythology. In this story, Seoul is filled with magical and mythical creatures and our main character is a nine-tail fox that feeds on the souls of bad men to stay alive. We loved it! The edition will also be a FairyLoot exclusive with SPRAYED EDGES and it will be SIGNED BY THE AUTHOR!'
I've heard a lot of great things about this book, so I'm definitely excited for it! Korean mythology isn't something I've come across in a book before either so that just makes me want to read it even more. In terms of the items, I'm not sure if these fandoms will be for me, but then I still need to read A Curse So Dark and Lonely and my only issue with HP is that I'm drowning in HP things! (Personally, I blame Primark). Even still, I'm sure the items will again be awesome and I can't wait!
Do you subscribe to any book boxes?
Follow me on my social media pages to keep up to date with further posts!
Bloglovin' — Facebook — Instagram — Twitter