I got my first ever Shelflove Crate in June! I've been admiring a few of their boxes for a while now and when I saw that the book of the month was going to be The Kingdom I absolutely needed this one!
It was a seriously great box, with items inspired by Illuminae, Shatter Me, Red Rising, Lunar Chronicles and Skyward.
Read on to see the full contents.
The Book
Okay so literally, this book is the reason why I needed to get Shelflove Crate for June! I loved reading it and I seriously needed a US hardcover (like, how pretty is it?! It sparkles too…) and as an added bonus the reverse jacket has gorgeous artwork, it comes with an entry ticket to the Kingdom, and it's signed by Jess!
My review for this book is going up tomorrow, but once it's up I'll update here with a link! (Or just subscribe by email for a really easy way of finding out when its up).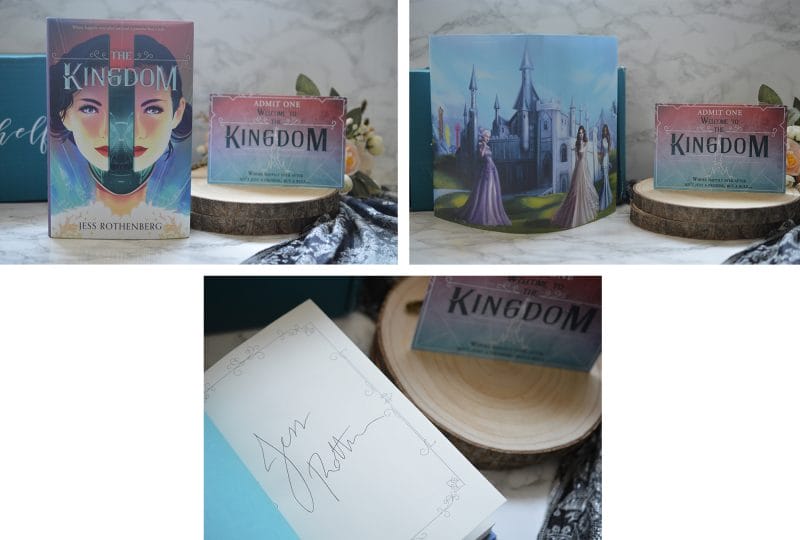 Synopsis
Welcome to the Kingdom… where 'Happily Ever After' isn't just a promise, but a rule.
Glimmering like a jewel behind its gateway, The Kingdom™ is an immersive fantasy theme park where guests soar on virtual dragons, castles loom like giants, and bioengineered species―formerly extinct―roam free.
Ana is one of seven Fantasists, beautiful "princesses" engineered to make dreams come true. When she meets park employee Owen, Ana begins to experience emotions beyond her programming including, for the first time… love.
But the fairytale becomes a nightmare when Ana is accused of murdering Owen, igniting the trial of the century. Through courtroom testimony, interviews, and Ana's memories of Owen, emerges a tale of love, lies, and cruelty―and what it truly means to be human.
Headband
This headband is inspired by Red Rising and designed by Team Shelflove themselves. I haven't read the books but it's definitely a beautiful item!
Throw Pillow
Inspired by Obsidio (book three of the Illuminae Files) this was designed by @nerdy.post and features the quote 'Every story needs its hero and its villain and its monster.' I love it. Still need to read the series but I'm 100% sure I'm gonna love the books so all Illuminae files items are great to me!
Pop Socket
This is the third pop socket I've got in a book box now and basically I need to buy two more phone cases so I can swap between them all! I really adore the look of this one though, those colours are some of my favourites! I haven't read the Shatter Me series it's inspired by but nevertheless, it's beautiful! Designed by @kitstercronk.
Pin Banner
As someone with a pin obsession, I really like this Lunar Chronicles inspired pin banner designed exclusively for Shelflove by @kdpletters! I need to get round to reading the books but my sci-fi enamels pins are going to look awesome on this!
Notepad
This cute notepad is inspired by Skyward, featuring a quote from the book. It's designed exclusively by @drawnielle and just super cute!
Chess Pieces
LOOK AT HOW FREAKING CUTE KADY AND EZRA ARE! These are illustrated by @silketara and although they're the first of Shelflove's ongoing collector chess pieces I've got my hands on I think they look awesome as stand-alone items!
Overall
I'm so so glad I got this box! I seriously love this copy of The Kingdom and there wasn't any item I didn't like, most of them I totally adored! I only wish that shipping was a little more affordable to the UK cause if it was I'd definitely consider swapping one of my other boxes for it every once in a while, will be keeping an eye on future boxes though and making the splurge when I can!
Next Month – Game On 🎮
From Shelflove Crate themselves:
'Are you ready to get your Game On?
This July, our Game On box is sending you to the bookish arena. There you will have the chance to not only watch some of your favorite characters compete, but join in as well! Get ready to catch the snitch, fight to survive, and find the hidden easter eggs.
Fandoms include: Harry Potter, Warcross, The Hunger Games, An Ember in the Ashes, Ready Player One, AND one item will feature 18 fandoms!
Our book of the month will be THE BECKONING SHADOW by Katharyn Blair. This book is The Darkest Minds meets Fight Club. Vesper Montgomery has the opportunity to change the past. But first she must battle it out in The Tournament of the Unraveling where Oddities (people with supernatural abilities) compete each year. In order to win, she'll fight her every instinct to survive—trusting others, asking for help, and even using the abilities that cost her everything.
Want the book, but not the items? We have a book only subscription option which renews monthly. The book will come with the bookmark of the month and 2 of our chess piece collectibles.'
So, I kinda wish I could have got this because the book sounds great and the fandoms do too! Alas, it's YALC month. I might be able to get a box in the future though so I'm crossing my fingers!
Do you subscribe to any book boxes?
Follow me on my social media pages to keep up to date with further posts!
Bloglovin' — Facebook — Instagram — Twitter