Weathering With You is a story from the director of Your Name, Makoto Shinkai, which largely revolves around the main character finding a 'Sunshine Girl' – a young woman who is able to manipulate the weather.
This first volume is a very cute introduction to the story, but I think overall I'll probably be watching the film before I pick up the next volumes.
Read on for my full review of the first volume.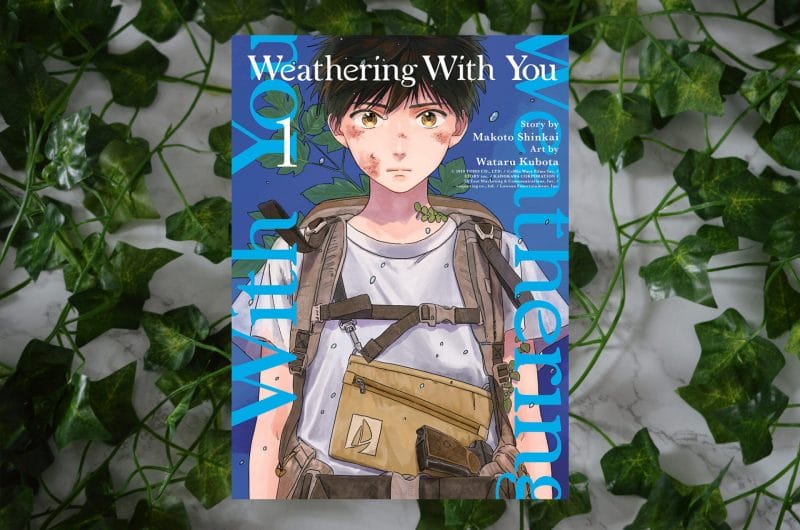 About the Manga
Title: Weathering With You
Volume: 1
Story by: Makoto Shinkai
Art by: Wataru Kubota
Publisher: Vertical Comics
Release Date: 22nd September 2020
Pages: 196
Format: e-ARC provided by the publisher through NetGalley (this in no way affects my review which is honest and unbiased)
Rating: ★★★★
Purchase Links: Waterstones | The Book Depository
Synopsis
During the summer of his first year in high school, a young man named Hodaka runs away from home to the bustling city of Tokyo. Alone and exhausted, he decides to kill time in a fast food place, where he meets a young woman named Hina who happens to work there. Little does he know that Hina possesses powers that not only affect the weather, but the whole world…
In Weathering with You, Makoto Shinkai dives into topics like love and sacrifice to show how far one boy goes to protect the thing he loves most. This manga reveals the backstories and true thoughts of the characters who stole the hearts of fans and critics worldwide.
Review
Volume 1 of Weathering With You is a very sweet introduction to the story on the whole. I haven't seen the movie itself but I absolutely adored Your Name so I wanted to check out this other work of art from the director.
The story follows Hodaka, who's trying to make a living in Tokyo after running away from his island home. It starts off very sad as he's homeless but he soon contacts someone who introduced themselves to him on the way to Tokyo and ends up gaining a job from them that includes food and board. Although this is just the first volume, we also meet a character called Hina and we quickly see that she can impact the weather by making rain stop – making her a 'Sunshine Girl'.
The artwork throughout is incredible but I particularly love the way that the weather and landscapes have been drawn, it really grabs your attention.
Hodaka as a main character is very young, being only 16, which adds to the cute side of the story but also helps to make it more accessible. He's endearing in the fact that he's always trying to do what's best but there are a few times when he makes mistakes at the same time – it's very much so a coming-of-age story.
My only real qualm with the story is that not much happens in the first volume, but then I don't think I could mark it down for that too much because at the end of the day it is just an introduction. I'm also a bit more used to action-filled mangas at this point so I don't think it's fair for that reason too.
Overall, it's a very cute start to a story and I think I'll be watching the film next – if I end up loving that as much as Your Name then I'll definitely be picking up the rest of this series.

Have you read this manga yet, or want to?

If you enjoy my content please consider supporting me through any of the following:
♥ Ko-Fi — Bloglovin' — Facebook — Instagram — Twitter — Wishlist ♥