When I first started seeing posts on Chainsaw Man I was 100% perplexed on the idea. The cover looks so strange and gory but I really wanted to find out more about it.
I saw it available for request on NetGalley and jumped at the chance, the synopsis mentioning a devil-dog basically had me hooked and I'm so glad I did read it!
Read on for my full review of the first volume.
About the Manga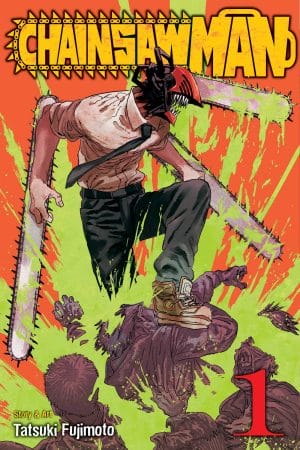 Title: Chainsaw Man
Volume: 1
Mangaka: Tatsuki Fujimoto
Publisher: VIZ Media
Release Date: 1st November 2020
Pages: 192
Format: e-ARC provided by the publisher through NetGalley (this in no way affects my review which is honest and unbiased) and I purchased the paperback myself
Rating: ★★★★
Purchase Links: Travelling Man
Synopsis
Broke young man + chainsaw dog demon = Chainsaw Man!
Denji was a small-time devil hunter just trying to survive in a harsh world. After being killed on a job, Denji is revived by his pet devil-dog Pochita and becomes something new and dangerous—Chainsaw Man!
Denji's a poor young man who'll do anything for money, even hunting down devils with his pet devil-dog Pochita. He's a simple man with simple dreams, drowning under a mountain of debt. But his sad life gets turned upside down one day when he's betrayed by someone he trusts. Now with the power of a devil inside him, Denji's become a whole new man—Chainsaw Man!
Review
Okay so hands down the reason I wanted to read this was 'chainsaw dog demon', who wouldn't want to see that? The first volume incorporates chapters 1 to 7 and it is a wild ride from start to finish.
First up, you will feel sorry for Denji, the main character, pretty much the entire way through so be prepared for that. He has so many debts due to his late father that he struggles to even be able to afford a slice of bread each day. I don't know how many times I said 'aww' in total but it was over 5 for definite. His devil-dog Pochita is seriously adorable too, just a round little devil dog with a chainsaw through it's body.
Pochita is basically the only real friend Denji has ever had, and this shows greatly through his inability to socialise. The very first chapter ends up with him being brutally attacked (in case you weren't aware, this series is super gory) to the extent he's hacked up but Pochita uses his devil powers to basically give him heart in exchange for the promise that he lives out his dreams.
But, dreams-wise he isn't after much. All he wants is a safe place to stay where he'll be fed and can relax and he gets that pretty much straight away but with a catch – he has to work as a devil hunter for the government. Not a bad trade off for a former devil hunter really!
He ends up with powers thanks to his chainsaw-devil-dog too – when fighting he can turn parts of himself into chainsaws and attack with them. It's very cool but it leads to him kind of being held captive by the organisation because of the weird situation of him being part devil.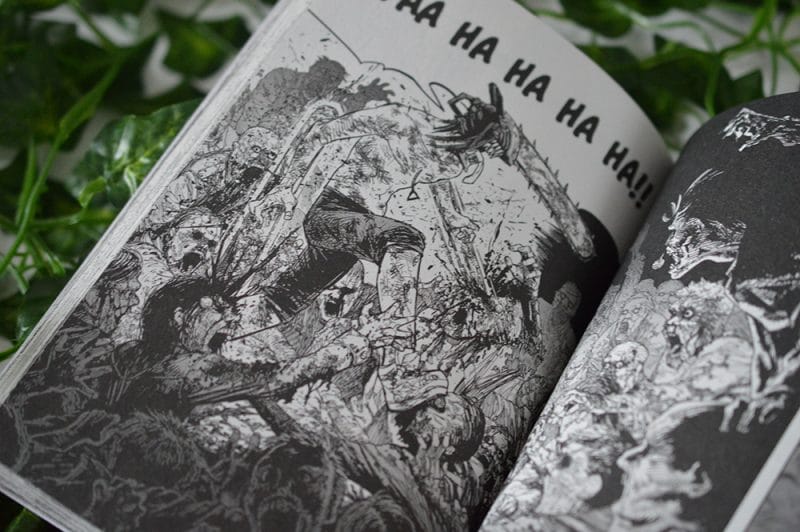 What I really enjoyed about the first volume though was the fact it made me go through a few emotions in what's really a short amount of time. I was scared for Denji, I felt sorry for him, and he also made me laugh on a few occasions with how ridiculous he can be (I can't spoilt his biggest dream but I can assure you, it'll have you chuckling when you read it).
In terms of other characters the only one who really stood out was Power, a devil (known as a fiend after they took the body of a human) who's female but pretty cunning. She tricks Denji into doing things and lies but I'm hoping in future volumes she might have some kind of redemption arc where she ends up being a good devil.
Overall, it's a solid first volume and it definitely made me want to read more! I don't think it's a series I'll collect physically though for now because I didn't love it like I loved the likes of Jujutsu Kaisen. But then everything can't be to everyone's exact taste anyway, if you love gore and weird things then you'll probably love Chainsaw Man in all honesty!

Have you read this manga yet, or want to?

If you enjoy my content please consider supporting me through any of the following:
♥ Ko-Fi — Bloglovin' — Facebook — Instagram — Twitter — Wishlist ♥