Okay so I used to put unboxing posts on here all the time. Really at one point they would be pretty much all I ever posted. After I started on a blogging break I got a few more boxes until January 2020 but then I stopped all… three… of my subscriptions. Basically I got too many for too long which ended up meaning I had no space for anything else.
Anyway, I miss them. I'm trying to get either FairyLoot or OwlCrate (but just one this time) because it was really nice to have something bookish each month and I also keep regretting missing out on some beautiful books.
One of these was the book from FairyLoot's September 2020, and when I saw it going for a decent price on eBay (only minus the tarot cards) I snapped it up and so I figured why not put an unboxing post up?
Check out all the items below.
The Book
This month's book was Fable by Adrienne Young and the biggest reason why I needed this box! I adored Young's Sky in the Deep so I'm looking forward to picking this up soon (and then reading Namesake, the second book, straight away because I have an e-ARC).
The character art included is from @nir4z and it's so pretty! The book itself is signed by the author on the inside and if you can't tell the sprayed edges are glittery which is pretty much my favourite thing on a book aesthetically!
Synopsis
For seventeen-year-old Fable, the daughter of the most powerful trader in the Narrows, the sea is the only home she has ever known. It's been four years since the night she watched her mother drown during an unforgiving storm. The next day her father abandoned her on a legendary island filled with thieves and little food. To survive she must keep to herself, learn to trust no one, and rely on the unique skills her mother taught her. The only thing that keeps her going is the goal of getting off the island, finding her father, and demanding her rightful place beside him and his crew. To do so Fable enlists the help of a young trader named West to get her off the island and across the Narrows to her father.
But her father's rivalries and the dangers of his trading enterprise have only multiplied since she last saw him, and Fable soon finds that West isn't who he seems. Together, they will have to survive more than the treacherous storms that haunt the Narrows if they're going to stay alive.
Welcome to a world made dangerous by the sea and by those who wish to profit from it. Where a young girl must find her place and her family while trying to survive in a world built for men. Fable takes you on a spectacular journey filled with romance, intrigue, and adventure.
Mug
Hi if you're new here I ADORED To Kill a Kingdom by Alexandra Christo so I full-on needed this mug. It's designed by @gabrielleragusi and features Lira and Elian on it.
Keychain
This 'Unfortunate Souls' keychain is of course inspired by Ursula! The design is by @loveyoumorestudio and it went straight onto my keys because it's just beautiful.
Pencil Case
Designed by Ink and Wonder, I really liked the Sea Witch and loved Sea Witch Rising by Sarah Henning so this is great for me. I'm not the biggest fan of the quote itself but it's still a great design overall!
Hair De-tangling Brush
I'll be the first to admit that I bleached/dyed my hair so many times in 2020-madness that I genuinely wouldn't be able to brush my hair without a de-tangler at this point… so yeah, this is a win for me. And it's got such a cute print on being illustrated by @taratjah.
Ombre Metal Straws
I have a lot of metal straws from when I was subscribed to boxes for a while, but I'll never say no to more! These have little cute beach-inspired phrases on them.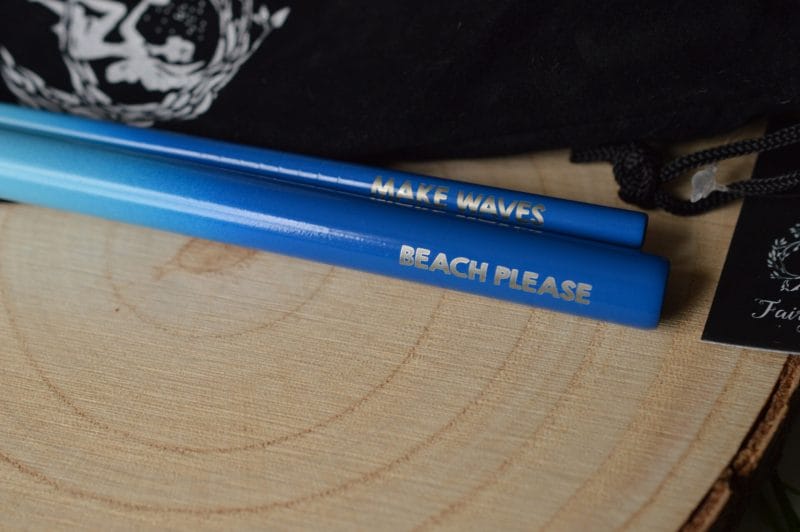 Postcard
I don't think a sea-themed box would be complete without a nod to Atlantis in all honesty. This postcard of course features the mythical city and is illustrated by @taratjah.

Overall
I'm seriously in love with how good this box was and from what I've seen then the following boxes were just as awesome! I'll be trying to subscribe but if not I guess eBay is my best place for now.

Do you subscribe to any book boxes?

If you enjoy my content please consider supporting me through any of the following:
♥ Ko-Fi — Bloglovin' — Facebook — Instagram — Twitter — Wishlist ♥