One thing which I have very rarely mentioned on here is my love for charm bracelets. I started collecting charms when I was… 14? With a Thomas Sabo charm bracelet and pretty much got hooked on it. For a couple of years Thomas Sabo was all I collected but then I found Pandora, and fell in love with their charms for a while.
It's been a good couple of years since I did collect any charms though, for a while I went back to focusing on Thomas Sabo with their essence collection (I didn't like the newer style of Pandora at the time), and I eventually had to sell a lot of my charms whilst I was studying for my Master's Degree.
But! This Christmas my Aunt bought me a December birthstone heart charm, and it basically reminded me about Pandora and got me hooked again. I've bought *some* new charms… (this is absolutely more than I should have bought) and my Mum actually didn't want her old bracelet anymore so gave me hers.
So, here's a little post about my bracelets and some of the charms I own that mean a lot to me. For future posts I might just write a post for each charm kind of like a review of it? But that's mostly for an excuse to take photos of these beautiful little things.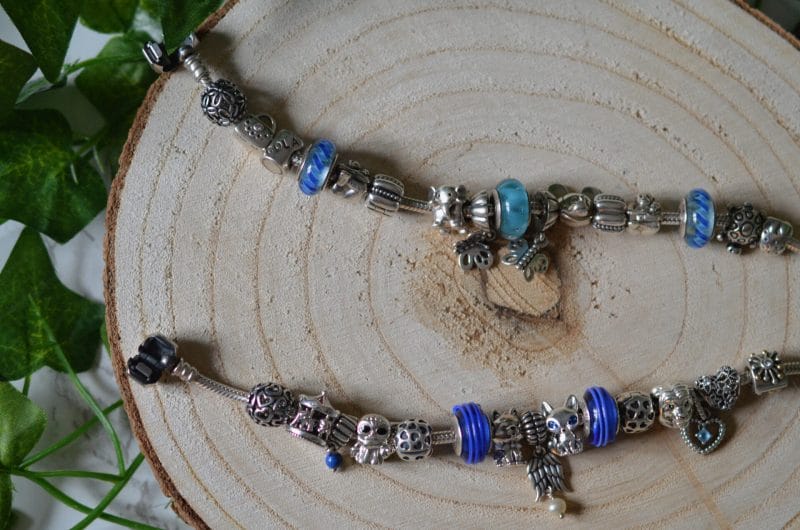 ---
First Bracelet
My first bracelet here mostly has charms off my Mum's bracelet, aside from the Murano glass charms (the pretty, coloured charms) and the Mickey.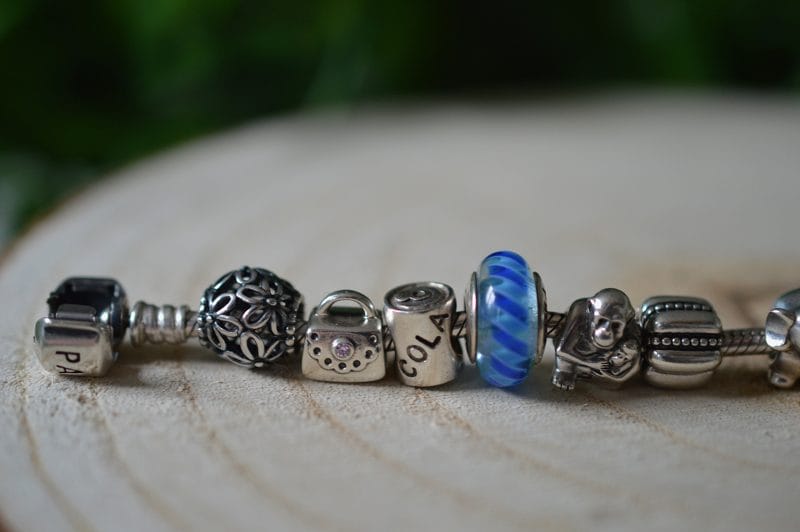 Openwork Flowers Charm
Openwork charms are basically just great, cheaper charms that are perfect for gap-filling on bracelets, and that's pretty much what this one is for on this bracelet. Normally I'd have a safety chain on first but… I got rid of all of mine. Having the openwork there though is a little better for the bracelet itself as less strain that way.
Handbag Purse Charm Pink CZ
My Mum has a serious addiction to buying handbags, so this actually works out as a pretty great charm to represent her on the bracelet!
Cola Charm
This is a seriously old charm now, but essentially if you don't know me in real life I drink around eight cans of Diet Coke every day. At this point, I need it to stay alive.
Murano Glass Charms
There's no particular reason for the Murano glass charms I buy, they're just great for adding colour to bracelets! Blue is my favourite colour, alongside purple, so that's why the one's I have are all blue.
Chimp Family Charm
At one point myself, my Mum, Nan and Aunt all had this charm. My Nan stopped wearing hers though and well, as mentioned my Mum gave me her bracelet. It's another pretty old charm but so cute with how it's holding the baby!
Crazy Clips
Clips are basically a must on bracelets to keep them from being under strain, and I just love the way that this clip looks in general.
Elephant Charm
Alongside handbags, elephants are another of my Mum's obsessions. So this ends up not only being one of the cutest charms but perfect again to represent her.
Best Friends Forever Butterfly Two-Part Charm
This might have been off my Mum's bracelet, but it's pretty apt because I'll count her and my Nan as two of my best friends. Butterflies count as a reminder of my Granddad too, because he had a frame full of these butterfly illustrations which I'm pretty sure he got from cigarette packets at one point… but I still have it to this day and it reminds me of him.
Mickey Charm
If you're a major fan of Pandora, you'll spot that this is actually the odd charm out. It's the only charm I have which isn't actually Pandora. It's a Chamilia bead I bought because at one point Pandora didn't have the relationship they have today with Disney. In all honesty I don't think I'd ever replace it with the current Pandora Mickey charm as I like how his ears are a bit bigger on the Chamilia charm.
Turtle and Strawberry Charm
I'm joining these two golden oldie charms up because they both represent my late tortoise, a Red-Footed Tortoise called Strawberry.
---
Second Bracelet
This bracelet is full of some of my favourite charms, representing some of the things I love the most.
Openwork Heart Charm
Another gap-filler, but with hearts! They just make for such cute additions.
Christmas Carousel Charm
So this is a charm I saw on sale and wanted it for a pretty strange reason, the top of it reminds me of a circus tent which in turn reminds me of the Caraval series by Stephanie Garber. In addition, there's a super cute penguin on it wearing a Santa hat and just, it's too cute. The penguin itself is a nice little reminder of the penguins you have to collect in Destiny 2 right now so it's doubling up on being a charm for two things I love!
December Birthstone Drop Charm
This charm is so old I can't even remember if I bought it for myself or if it was a present… but um, well it's my birthstone. I *think* it was a present off my Mum and Nan…
The Child Charm
This doesn't need much of an explanation, the Child is just adorable. I love everything about him – except that he eats frogs.
Heart Clips
Clips are basically a must on bracelets to keep them from being under strain, and since this is a bracelet full of things I love the heart clips work great!
Japanese Akita Inu Dog Charm
I'm desperate to visit Japan, so this adorable charm was an absolute must to manifest my hopes for going this. That tie around his neck is actually a bandana and on the back is the Japanese flag. I hope one day Pandora makes a Yorkie charm though to represent my fur baby.
Guardian Angel Wings Charm
This one's for my Granddad. We won this charm back in Pandora's Christmas Facebook competition in 2012, on my birthday.
Fox Charm
I love foxes, I love the colour blue, and this charm looks magical. I saw it on the site after my Aunt bought me the second December birthstone charm on this bracelet so on Boxing Day I went to go buy it along with the Simba with money off my Uncle and Aunt, Mum, and Nan for Christmas. My current read is also Among the Beasts and Briars by Ashley Poston and one of the main characters is a fox. (Since I love all of Poston's work, this read is perfect for me so far too). I love the detail on it too, even its tail is adorable!
Disney The Lion King Simba Charm
I saw this in the store when I went in for the fox and just couldn't resist. The Lion King was my absolute favourite growing up and I even had a Simba teddy which I still own today. I'm also really hoping that this year will be the year I finally get to see the musical with Jordan (I booked tickets for us both as part of his birthday present… but then COVID happened).
December Birthstone Heart Dangle Charm
This is the culprit charm from my Aunt that led to my addiction again! I loved how this was pretty similar to the old style of charms so it made me check out what was on the site.
Openwork Flower Heart Charm
I saw this when I went in for a different charm (the store didn't have it in stock though) and ended up getting it along with the Carousel charm above. As with other openwork charms it's more for the purpose of gap-filling but the cubic zirconias on it just make it look so pretty!
Two-tone Starburst Charm
I used to have a few two-tone charms, but this was the only one I kept because it's just so stunning. It reminds me of fireworks and I think I bought it in either Las Vegas or Orlando…
---
And there you have it, my current Pandora collection! I have some arriving this week so I guess maybe I'll do a mini haul post then. In terms of future charms I'd like (and haven't already caved buying) here are a few:
---
Do you have a Pandora bracelet?
What charms are on yours?

If you enjoy my content please consider supporting me through any of the following:
♥ Ko-Fi — Bloglovin' — Facebook — Instagram — Twitter — Wishlist ♥