As I have already stated, I missed out on a few books last year for various reasons. My aim for this year though is to get on top of my TBR and there are still a few releases this year I'm super excited for too!
This is just a quick post of the young adult books I'm most looking forward to reading that are due to be released in 2021, I'm going to keep it pretty simple by just having the title, author, release date and synopsis for each.
Lore by Alexandra Bracken (January 7th)
From the #1 New York Times best-selling author of The Darkest Minds comes a sweepingly ambitious, high-octane tale of power, destiny, love and redemption.
Every seven years, the Agon begins. As punishment for a past rebellion, nine Greek gods are forced to walk the earth as mortals, hunted by the descendants of ancient bloodlines, all eager to kill a god and seize their divine power and immortality.
Long ago, Lore Perseous fled that brutal world in the wake of her family's sadistic murder by a rival line, turning her back on the hunt's promises of eternal glory. For years she's pushed away any thought of revenge against the man–now a god–responsible for their deaths.
Yet as the next hunt dawns over New York City, two participants seek out her help: Castor, a childhood friend of Lore believed long dead, and a gravely wounded Athena, among the last of the original gods.
The goddess offers an alliance against their mutual enemy and, at last, a way for Lore to leave the Agon behind forever. But Lore's decision to bind her fate to Athena's and rejoin the hunt will come at a deadly cost–and still may not be enough to stop the rise of a new god with the power to bring humanity to its knees.
Amazon
| Book Depository | Waterstones
Reaper of Souls by Rena Barron (February 18th)
Before, Arrah was shamed by having no magic at all. Now, with demons on warpath, she is the only one in the world who has it.
Explosive fantasy set in a West-African world of magic and legend. Perfect for fans of Tomi Adeyemi and Sarah J Maas.
I AM POWER.
I AM MY ANCESTORS.
I DO NOT WALK ALONE.
After so many years yearning for the gift of magic, Arrah has the one thing she's always wanted – but it came at too steep a price. Now the last surviving witchdoctor, she's been left to pick up the shattered pieces of a family that betrayed her, a kingdom plunged into chaos, and a love that can never be.
While Arrah returns to the tribal lands to search for survivors of the demons' attack, her beloved Rudjek hunts down the remnants of the demon army – and uncovers a plot that would destroy what's left of their world.
The Demon King wants Arrah, and if she and Rudjek can't unravel his schemes, he will destroy everything, and everyone, standing in his way.
In this roaring sequel to KINGDOM OF SOULS, Rena Barron weaves a tale of mythology, love, whip-fast action and trademark twists that asks the question: can you ever leave your past, ancestors, behind?
Perfect for fans of Laini Taylor, Sabaa Tahir, and Tomi Adeyemi.
Amazon
| Book Depository | Waterstones
A Dark and Hollow Star by Ashley Shuttleworth (February 23rd)
The Cruel Prince meets City of Bones in this thrilling urban fantasy set in the magical underworld of Toronto that follows a queer cast of characters racing to stop a serial killer whose crimes could expose the hidden world of faeries to humans.
Choose your player.
The "ironborn" half-fae outcast of her royal fae family.
A tempestuous Fury, exiled to earth from the Immortal Realm and hellbent on revenge.
A dutiful fae prince, determined to earn his place on the throne.
The prince's brooding guardian, burdened with a terrible secret.
For centuries, the Eight Courts of Folk have lived among us, concealed by magic and bound by law to do no harm to humans. This arrangement has long kept peace in the Courts—until a series of gruesome and ritualistic murders rocks the city of Toronto and threatens to expose faeries to the human world.
Four queer teens, each who hold a key piece of the truth behind these murders, must form a tenuous alliance in their effort to track down the mysterious killer behind these crimes. If they fail, they risk the destruction of the faerie and human worlds alike. If that's not bad enough, there's a war brewing between the Mortal and Immortal Realms, and one of these teens is destined to tip the scales. The only question is: which way?
Wish them luck. They're going to need it.
Amazon
| Book Depository | Waterstones
City of Spells by Alexandra Christo (March 9th)
City of Spells, the follow-up to Alexandra Christo's gritty YA fantasy, Into the Crooked Place, finds the world on the brink of war and four unlikely allies facing sacrifices they had never imagined.
After the loss of Wesley and the horrifying reveal that Zekia is helping the Kingpin of her own free will, Tavia, Saxony, and Karam flee to Saxony's home to rebuild their rebellion. Meanwhile, trapped in the Kingpin's darkness, Wesley must fight against the deadly magic that invades his mind and find a way back to his friends before it's too late.
As the Kingpin's dark magic spreads and his army conquers Creije, these four unlikely friends have to decide just how far they'll go―and how much they are willing to sacrifice―to win.
Amazon
| Book Depository | Waterstones
Wings of Ebony by J. Elle (March 18th)
In this riveting, keenly emotional debut fantasy, a Black teen from Houston has her world upended when she learns about her godly ancestry–and with evil sinking its claws into humans and gods alike, she'll have to unearth the magic of her true identity to save both her worlds.
Perfect for fans of Angie Thomas, Tomi Adeyemi, and The Hunger Games.
"Make a way out of no way" is just the way of life for Rue. But when her mother is shot dead on her doorstep, life for her and her younger sister changes forever. Rue's taken from her neighborhood by the father she never knew, forced to leave her little sister behind, and whisked away to Ghizon—a hidden island of magic wielders.
Rue is the only half-god, half-human there, where leaders protect their magical powers at all costs and thrive on human suffering. Miserable and desperate to see her sister on the anniversary of their mother's death, Rue breaks Ghizon's sacred Do Not Leave Law and returns to Houston, only to discover that Black kids are being forced into crime and violence. And her sister, Tasha, is in danger of falling sway to the very forces that claimed their mother's life.
Worse still, evidence mounts that the evil plaguing East Row is the same one that lurks in Ghizon—an evil that will stop at nothing until it has stolen everything from her and everyone she loves. Rue must embrace her true identity and wield the full magnitude of her ancestors' power to save her neighborhood before the gods burn it to the ground.
Amazon
| Book Depository | Waterstones
Blade of Secrets by Tricia Levenseller (May 4th)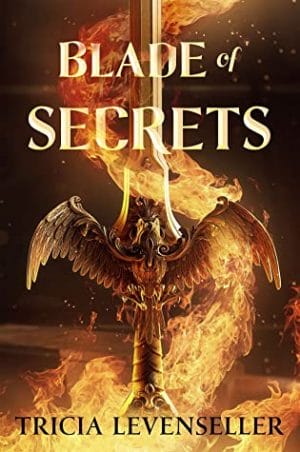 A teenage blacksmith with social anxiety accepts a commission from the wrong person and is forced to go on the run to protect the world from the most powerful magical sword she's ever made.
Eighteen-year-old Ziva prefers metal to people. She spends her days tucked away in her forge, safe from society and the anxiety it causes her, using her magical gift to craft unique weapons imbued with power.
Then Ziva receives a commission from a powerful warlord, and the result is a sword capable of stealing its victims' secrets. A sword that can cut far deeper than the length of its blade. A sword with the strength to topple kingdoms. When Ziva learns of the warlord's intentions to use the weapon to enslave all the world under her rule, she takes her sister and flees.
Joined by a distractingly handsome mercenary and a young scholar with extensive knowledge of the world's known magics, Ziva and her sister set out on a quest to keep the sword safe until they can find a worthy wielder or a way to destroy it entirely.
Amazon
| Book Depository
Realm Breaker by Victoria Aveyard (May 4th)
Irresistibly action-packed and full of lethal surprises, this stunning new fantasy series from Victoria Aveyard, #1 New York Times bestselling author of the Red Queen series, begins where hope is lost and asks: When the heroes have fallen, who will take up the sword?
A strange darkness grows in Allward.
Even Corayne an-Amarat can feel it, tucked away in her small town at the edge of the sea.
She soon discovers the truth: She is the last of an ancient lineage—and the last hope to save the world from destruction. But she won't be alone. Even as darkness falls, she is joined by a band of unlikely companions:
A squire, forced to choose between home and honor.
An immortal, avenging a broken promise.
An assassin, exiled and bloodthirsty.
An ancient sorceress, whose riddles hide an eerie foresight.
A forger with a secret past.
A bounty hunter with a score to settle.
Together they stand against a vicious opponent, invincible and determined to burn all kingdoms to ash, and an army unlike anything the realm has ever witnessed.
Amazon
| Book Depository | Waterstones
A Season of Sinister Dreams by Tracy Banghart (June 22nd)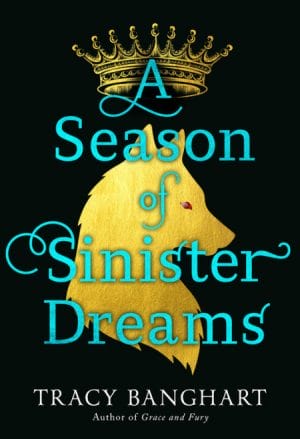 Furyborn meets A Curse So Dark and Lonely in this courtly feminist fantasy from Grace and Fury author Tracy Banghart.
Annalise may be cousin to the prince, but her past isn't what she claims, and she possesses a magic so powerful it takes all her strength to control it. Evra is a country girl, and has watched as each friend and family member came into their own magic, while hers remains dormant. But everything changes after Annalise loses control of herself and Evra begins experiencing the debilitating visions of a once-in-a-generation clairvoyant meant to serve the crown.
Thrown together at court, Evra and Annalise find that they have the same goal: to protect their kingdom from the powerful men who are slowly destroying it. But neither is quick to trust the other — Evra's visions suggest a threat to royal rule, and Annalise worries that her darkest secrets will be revealed. Their magic at odds, the young women circle each other, until the truth must come out.
Full of intrigue, romance, and shocking twists, this gorgeously immersive fantasy will keep readers spellbound until the very last page.
Amazon
| Book Depository
Six Crimson Cranes by Elizabeth Lim (July 6th)
Shiori, the only princess of Kiata, has a secret. Forbidden magic runs through her veins. Normally she conceals it well, but on the morning of her betrothal ceremony, Shiori loses control. At first, her mistake seems like a stroke of luck, forestalling the wedding she never wanted, but it also catches the attention of Raikama, her stepmother.
Raikama has dark magic of her own, and she banishes the young princess, turning her brothers into cranes, and warning Shiori that she must speak of it to no one: for with every word that escapes her lips, one of her brothers will die.
Peniless, voiceless, and alone, Shiori searches for her brothers, and, on her journey, uncovers a conspiracy to overtake the throne—a conspiracy more twisted and deceitful, more cunning and complex, than even Raikama's betrayal. Only Shiori can set the kingdom to rights, but to do so she must place her trust in the very boy she fought so hard not to marry. And she must embrace the magic she's been taught all her life to contain—no matter what it costs her.
Amazon
| Book Depository | Waterstones
The Girls Are Never Gone by Sarah Glenn Marsh (September 7th)
Once Upon a Broken Heart by Stephanie Garber (September 30th)
A magical new standalone novel from Number One 
Sunday Times
bestselling author Stephanie Garber.

The last two on this list may well be missing a cover for one and a full summary for the other, but they're auto-buy authors for me so I don't mind that at all – I'll be buying them regardless and I'll love them both regardless too!
The list was actually supposed to be a top ten too… but then I realised another was due to be released and it needed to go on here too!
And that's my top 11 YA books that I'm looking forward to this year!
Are any of these books on your list?