And here we have another OwlCrate unboxing! The theme for March 2021 was Of Witches & Wonder and it contained items inspired by A Discovery of Witches, The Year of the Witching and Practical Magic.
I loved this box so much, the items were perfect as far as I'm concerned and the book is just stunning too!
Check out all the items below.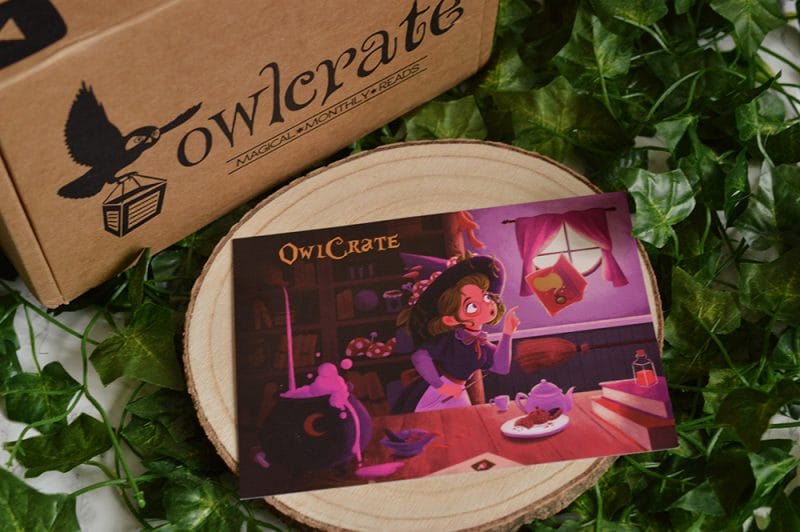 The Book
Sweet & Bitter Magic by Adrienne Tooley was this month's pick and I'm so glad it was because I've had my eye on it! This OwlCrate signed exclusive edition has a subtle change to the cover with silver writing and the backdrop made all the more intriguing with that moon, and gorgeous lilac sprayed edges!
The exclusive pin was designed by Icey Designs, who drew inspiration from the Coven's sigil and the black ribbon of the bond in the story.
Synopsis
In this charming debut fantasy perfect for fans of Sorcery of Thorns and Girls of Paper and Fire, a witch cursed to never love meets a girl hiding her own dangerous magic, and the two strike a dangerous bargain to save their queendom.
Tamsin is the most powerful witch of her generation. But after committing the worst magical sin, she's exiled by the ruling Coven and cursed with the inability to love. The only way she can get those feelings back—even for just a little while—is to steal love from others.
Wren is a source—a rare kind of person who is made of magic, despite being unable to use it herself. Sources are required to train with the Coven as soon as they discover their abilities, but Wren—the only caretaker to her ailing father—has spent her life hiding her secret.
When a magical plague ravages the queendom, Wren's father falls victim. To save him, Wren proposes a bargain: if Tamsin will help her catch the dark witch responsible for creating the plague, then Wren will give Tamsin her love for her father.
Of course, love bargains are a tricky thing, and these two have a long, perilous journey ahead of them—that is, if they don't kill each other first..
Sketchbook
The cover of this sketchbook features art from @saphiraas, and is a reimagining of The Magician card from tarot decks. It's beautiful artwork and although I probably didn't need another notebook or sketchbook I'm still glad to have it! (I may hoard them, it's just a personal issue).
Bookmark Holder
Inspired by A Discovery of Witches, this bookmark holder is designed by @AimeeMacIllustration. It's super lovely and butterflies are one of my favourite things ever, so it's a winner for me.
Tumbler Mug
This 'Springtime Tumbler Mug' is part of a new collectable drinkware series featuring artwork from Macarena Chomik (@mletteringlover). The plan is for OwlCrate to include a new item seasonally and I'm excited to see how it all comes together! Also this one is just so lovely. It features a quote from Sylvia Plath and there are three more to come!
Tea Bag Rest
A Practical Magic inspired tea bag rest… I don't drink tea or coffee so I'm classing this personally as another trinket dish, and I love it. It's from OwlCrate themselves and I could never dislike something so beautiful and with an added butterfly to the design! Honestly though, items like this are the reason I love OwlCrate boxes.
Roll-on Perfume
I have ONE issue with this… it leaked in my box. But, thankfully, I loved the smell and so I basically just got a huge whiff of it as I opened the box! It's blackberry, sage and cypress scented (which screams witch to me), inspired by The Year of the Witchling, and has been created by Fiction Bath Company.

Overall
For me, the book itself made this box worth the money. It's such a stunning copy and I'm excited to get round to it! I also loved the 'tea bag rest' and just generally the quality of everything is great. The only thing I'm not the keenest about is the bookmark holder… but that's more because I don't even know where 90% of bookmarks are – so I guess this was a necessary item for me in particular!

Next Month – Ruthless Rivals 🖤
From OwlCrate themselves:
'Our April book features two rival witches forming an alliance to take down a common enemy…but can they truly trust each other? This Jamaican-inspired fantasy is filled with so many twists and turns, gorgeous world-building and characters you can't help but root for. It's dark and magical, and is sure to be one of 2021's biggest hits!
We will be including a beautiful exclusive edition of this book which will have an exclusive cover, an exclusive reversible dust jacket (artist to be revealed soon), and an exclusive foil design on the hardcover case. The book will also be signed by the author!
Items included will be inspired by These Violent Delights, Where Dreams Descend, Nevernight, and Hamilton plus one item that isn't related to a fandom that we think you're absolutely going to love!'
Okay so fandoms first, I haven't read any of these books but I always love items themed on Nevernight regardless, and I'm pretty sure one day I will love that trilogy when I finally get round to it… Regarding Hamilton, I feel like the only person who didn't actually like it? I was just way too mad at how he treats his wife. But, if I end up disliking the item I'm sure it'll be super easy to find a friend that likes it! Also glad that there will be a non-fandom item, because I hate when it's all fandoms I don't know (although the books here are all ones I want to read).
Now, the book. I've only heard good things about it and so I'm definitely glad it'll be included. I'm excited to see OwlCrate's version, although I wish US publishers would be more willing to go with sprayed edges.

Do you subscribe to any book boxes?

If you enjoy my content please consider supporting me through any of the following:
♥ Ko-Fi — Bloglovin' — Facebook — Instagram — Twitter — Wishlist ♥
Like this Post? Pin It ♥