As soon as I found out Elizabeth Lim was releasing Six Crimson Cranes this year, I was excited for it. It featured in my post with my most anticipated releases of 2021 because I was so excited to read more of Elizabeth's beautiful writing and world-building, and I wasn't let down in the slightest.
If you're unfamiliar with Lim's past work, her last duology was The Blood of Stars duology (it was only released in the UK this year) and it's a dazzling story that starts off as a kind of loose Mulan retelling with lots of magic, demons and two main characters that you easily fall in love with. Six Crimson Cranes reads a little like a prequel as it's set in the same world (and it's referenced in Unravel the Dusk, The Blood of Stars #2, which is an adorable easter egg) but it's very much so a start to a strong duology and I adored it.
Before I write my whole review here though I'll stop, you can read on for that!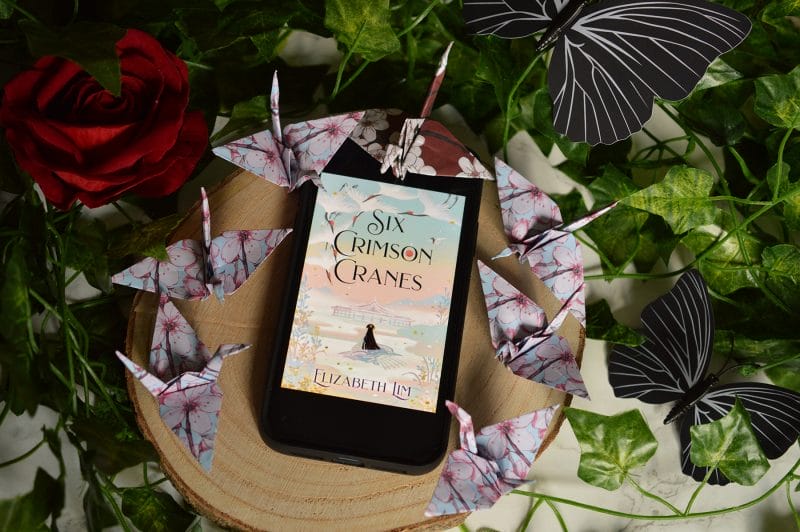 About the Book
Title: Six Crimson Cranes
Series: Six Crimson Cranes #1
Author: Elizabeth Lim
Publisher: Hodder & Stoughton (UK)
Release Date: June 8th 2021 (UK)
Pages: 464
Source: eARC provided by the publisher (this in no way affects my review which is honest and unbiased) and I also own/have bought the US and UK editions…
Rating: ★★★★★★★★★★
Synopsis
'Shiori, the only princess of Kiata, has a secret. Forbidden magic runs through her veins. Normally she conceals it well, but on the morning of her betrothal ceremony, Shiori loses control. At first, her mistake seems like a stroke of luck, forestalling the wedding she never wanted, but it also catches the attention of Raikama, her stepmother.
Raikama has dark magic of her own, and she banishes the young princess, turning her brothers into cranes, and warning Shiori that she must speak of it to no one: for with every word that escapes her lips, one of her brothers will die.
Penniless, voiceless, and alone, Shiori searches for her brothers, and, on her journey, uncovers a conspiracy to overtake the throne—a conspiracy more twisted and deceitful, more cunning and complex, than even Raikama's betrayal. Only Shiori can set the kingdom to rights, but to do so she must place her trust in the very boy she fought so hard not to marry. And she must embrace the magic she's been taught all her life to contain—no matter what it costs her.'

Review
First things first, when I was reading Unravel the Dusk and started to see Edan mentioning Shiori… I was already excited. I love how these two duologies are connected. It makes Six Crimson Cranes read a little like a prequel in a sense and considering I adored The Blood of Stars, I found that perfect. (Top tip, if you've yet to read that duology I recommend buying it alongside Six Crimson Cranes to fill the wait time before the second in the SCC duology!)
Anyhow, moving onto Six Crimson Cranes (which is simultaneously a perfect side story and can stand on its own to great effect), we're introduced to Shiori straight away as a Princess who wants to evade her betrothal, to the extent where she's ended up on a lake and come face-to-face with a dragon. In the story, dragons are similar to demons in that they can change their form to humans, but for the most part they're water-bound creatures. There's an indication that they will be far more important to the next part of the duology, but their introduction into the world was very intriguing and they were still an important part of the story, even if they weren't prominent in terms of appearance throughout.
"Find the light that makes your lantern shine."
Shiori is a Princess with a secret, she has magic. Unlike in Alandi (The Blood of Stars land), magic is forbidden in Kiata and so she hides it as well as she can. She doesn't understand why she can do things, and at the beginning the only real example is the creation of what becomes one of the most adorable characters ever – Kiki. Kiki is a crane but a paper crane who Shiori has somehow given life to. She can communicate with Shiori and she is the sassiest little thing! The story is full of their her little remarks but she also does her utmost to protect Shiori throughout, whilst the Princess counts her as her best friend. She's a super cute little addition and it really shows how magic isn't always evil.
Her stepmother Raikama, the Nameless Queen, though… she's a little more dangerous with her magic. Through Shiori's friendship with the dragon (who tries teaching her magic) she finds out her stepmother gives off a sense of magic and goes to investigate. Honestly, the biggest telltale sign to all should have been Raikama's affinity for having a garden filled to the brim with all types of snakes (although I'd love one of those of my own) but alas when Shiori sees proof her stepmother is filled with apparent rage. The Princess tries to tell her six brothers and that leads to the curse upon them. Her brothers are turned into the cranes and she's told that one brother will die for each word spoken, as both her and her brothers are sent to faraway, separate lands. Oh, and no one can recognise any of the royal children either.
Fear is just a game… you win by playing.
If you've read my review for Spin the Dawn, you'll know my favourite part was the budding relationship between Maia and Edan… Six Crimson Cranes has less emphasis overall on the romance side but it is still SO swoon-worthy. Essentially, his name is Takkan. He's a brave, sweet cinnamon roll who writes stories and poetry and creates art.
There's a return back to family doing everything they can in their power for loved ones. And from start-to-finish that's basically the main plot. Shiori does all she can to get her brothers back to their human forms, even though it puts her in incredible danger throughout. Vice versa, her brothers do the same for her – risking being hunted in their crane forms day after day. The character development for them all is clear to see as they go from being pampered to fighting for their survival, it forces them to all grow up quickly.
My curse was easy compared to theirs, and I would gladly take on any burden if it gave them relief.
We also have one character who you'll recognise from The Blood of Stars… and I spotted them from the first mention. In a sense, it kind of gives a little away but they were a fantastic character in the first duology so I'm excited to see more of their story!
Six Crimson Cranes is filled with songs also, with Shiori regularly singing them in her head to help herself feel better. It's a beautiful addition and makes a remarkable amount of sense to the story.
And that ending… I cried so much. I cried because it was beautiful and simultaneously because I didn't want it to end.
"Kites are meant to fly, some higher than others."
In short, I adored Six Crimson Cranes. I loved this so much I've ordered the UK edition (signed from Forbidden Planet), the US edition (which will be signed and personalised and I can't wait) and there may be a copy in a book box! Both of the covers are stunning but I definitely have a soft spot for Hodder's pastel vibes. I definitely can't wait for the next instalment either, I need to know the rest of Shiori's story!
Side note on the little cranes below… seven as a symbol of strength, with six to represent Shiori's brothers and a special one for the lovely Kiki!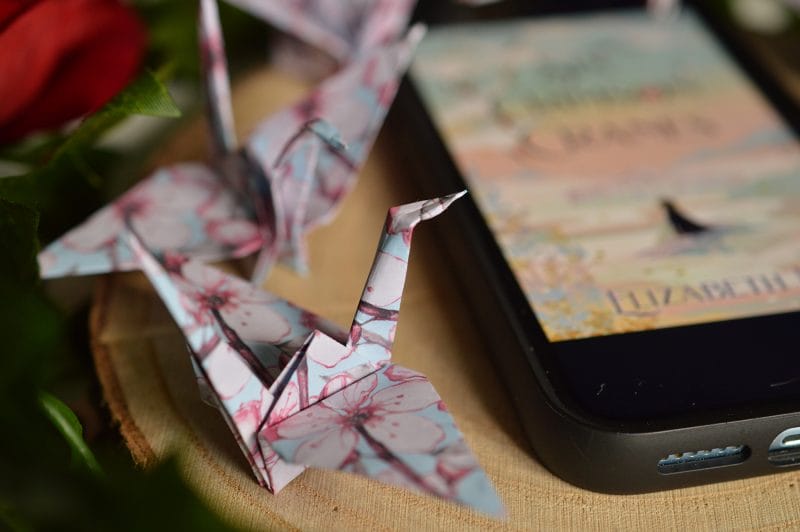 Have you read this?

If you enjoy my content please consider supporting me through any of the following:
♥ Ko-Fi — Bloglovin' — Facebook — Instagram — Twitter — Wishlist ♥
Like this Post? Pin It ♥