Today's post is my part of the blog tour for King of Battle and Blood by Scarlett St. Clair, run by Random Things Tours.
Forewarning, this is not a young adult book. It's very much so adult in terms of content so please do not read on if you're on this site for young adult recommendations, but please do read on if you're interested in a pretty smutty book involving a vampire king… which also has an excellent story to complement the romantic elements!
About the Book
Title: King of Battle and Blood
Series: Adrian X Isolde #1
Author: Scarlett St. Clair
Genre: Romance/Fantasy
Publisher: Bloom Books
Pages: 368
Source: Physical copy from the publisher (this in no way affects my review which is honest and unbiased)
Release Date: November 30th 2021
Rating: ★★★★☆
Synopsis
Their Union Is His Revenge.
Isolde de Lara considers her wedding day her death day. To end a years-long war, she is to marry vampire king, Adrian Aleksandr Vasiliev, and kill him. ⠀
But her assassination attempt is thwarted and Adrian threatens that if Isolde tries kill him again, he will raise her as the undead. Faced with the possibility of becoming the thing she hates most, Isolde seeks other ways to defy him and survive the brutal vampire court. ⠀
Except it isn't the court she fears most—it's Adrian. Despite their undeniable chemistry, she wonders why the king——fierce, savage, merciless—chose her as consort. ⠀
The answer will shatter her world.

Review
Okay well then… I guess I should begin my review with an admission, I've never read a book like this before. The romance I've read about has always been very vanilla and this was a very enjoyable diversion from that!
The story is told completely from Isolde's perspective, a princess who essentially is forced into a marriage with the vampire king, Adrian, to save her land from war. She's scared, and has been brought up with the teaching that vampires and magic are two very monstrous things, but that at least practicing magic is long gone.
I really loved Isolde's character, she's headstrong and has everything she needs in terms of training and personality to become a queen – though she was planning on being a queen over humans rather than vampires first. The issue she has there is that Adrian is hell-bent on conquering all of the land, and of course we're always taught that anyone conquering is doing so for the wrong reasons (which, let's be honest, they pretty much always are doing it for selfish reasons). So it just adds to her idea that he's a monster and she wants nothing to do with him but… her body has other ideas. Her body wants every bit of him and she gets that, at various points. In some very well done scenes!
I knew I'd love Adrian regardless though, from the first time he shows he respects her far more than a previous individual she shared a bed with. That man had grabbed her hard and bruised her accidentally, and you can tell Adrian is furious with him but he doesn't harm him because she asked. And asking is a recurring theme throughout in every circumstance of this book, tied in with consent. Vampires have long been linked to sexual things through fiction, which I suppose is down to the blood sharing element of it, but Scarlett makes sure that every instance is filled with consent. If Isolde says no at any point, things stop immediately with her and Adrian. Whereas on the other hand, the former partner requires constantly being told no, which is a clever way of showing that the vampires are far more humane than the majority of human characters.
Isolde thinks she knows everything about the vampires and Adrian from her training, but there's a line Adrian says that I adored: "History is just perspective. It changes depending on your side." Can more books please drill this message into us? It was also featured in a recent book I adored but just… the fact that we're taught things pretty much always from one side and not the other throughout our lives, I think it's an important lesson and something we as a society could do with remembering.
It's extremely important for Isolde's character growth also. She learns more and more throughout the story that all isn't what she's been led to believe about her history and this lends itself well to her development. Although she can (and will) look out for and protect herself, you see her opening up emotionally to those she struggled with at the start of the book and it's heartwarming to see.
And, finally, although our main character is definitely more of a heroine than anything else… she does have underhanded means of this at times that make her more of a morally grey character. She'll protect her people at any cost and there are times I probably should have been a bit like 'eww, gory' but instead… I just cheered.
I can't speak too much on the passionate scenes but I can say that the enemies-to-lovers romance between Adrian and Isolde was very well done. Things took time and they were believable, with a lot of jealous moments between the two of them. There's a bit of insta-love for Adrian but trust me, it makes sense. After all, Isolde is the only woman he's ever met with even the slightest chance of matching up to him…
If you can't tell from my review, I'm definitely picking up the next book to see what happens next! (And to see more of Adrian and Isolde together.)

Tour Schedule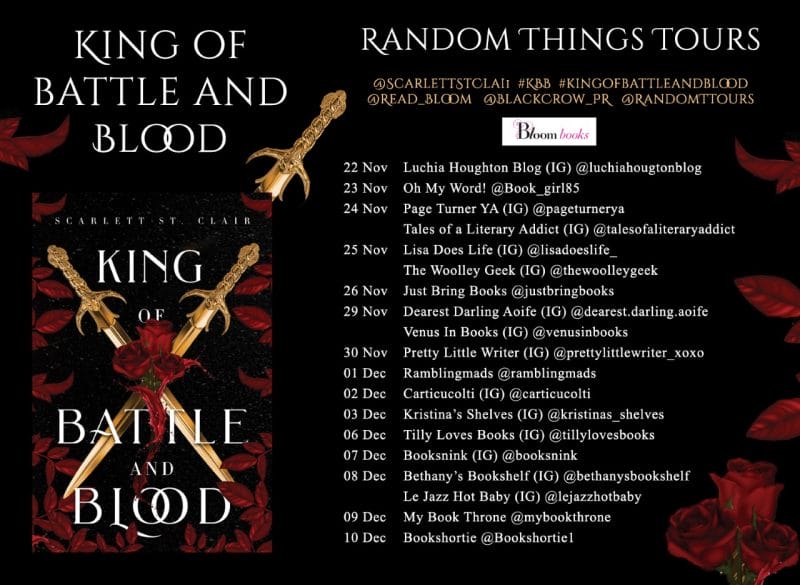 About the Author
Scarlett St Clair is the author of the Hades x Persephone saga, the Hades saga, King of Battle and Blood, and When Stars Come Out. A former librarian, she also has a master's degree in Library Science and Information Studies and a Bachelors in English Writing. She is obsessed with Greek Mythology, murder mysteries, and the afterlife. You can find pictures of her adorable dog Adelaide on her Instagram (@authorscarlettstclair) and updates about her books at www.authorscarlettstclair.com


If you enjoy my content please consider supporting me through any of the following:
♥ Ko-Fi — Bloglovin' — Facebook — Instagram — Twitter — Wishlist ♥