I found another favourite this year in Daughter of the Moon Goddess by Sue Lynn Tan. I expected I would based off the synopsis alone, but I still didn't know I'd love it this much.
This is a stunning debut, filled with beauty and mythical creatures and a fierce, strong female protagonist! This is a January 2022 release and honestly, I'd recommend getting your preorders in early, especially if you're in the UK as Waterstones has a stunning signed copy with green sprayed edges that looks absolutely gorgeous!
Full review below…
About the Book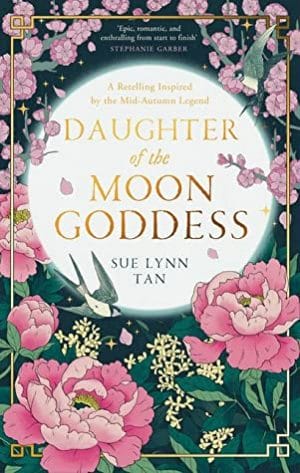 Title: Daughter of the Moon Goddess
Series: The Celestial Kingdom Duology #1
Author: Sue Lynn Tan
Publisher: HarperVoyager
Release Date: January 20th 2022
Pages: 400
Source: eARC from the publisher provided through NetGalley (this in no way affects my review which is honest and unbiased)
Rating: ★★★★★★★★★★
Synopsis
'A captivating debut fantasy inspired by the legend of Chang'e, the Chinese moon goddess, in which a young woman's quest to free her mother pits her against the most powerful immortal in the realm.
Growing up on the moon, Xingyin is accustomed to solitude, unaware that she is being hidden from the feared Celestial Emperor who exiled her mother for stealing his elixir of immortality. But when Xingyin's magic flares and her existence is discovered, she is forced to flee her home, leaving her mother behind.
Alone, powerless, and afraid, she makes her way to the Celestial Kingdom, a land of wonder and secrets. Disguising her identity, she seizes an opportunity to learn alongside the emperor's son, mastering archery and magic, even as passion flames between her and the prince.
To save her mother, Xingyin embarks on a perilous quest, confronting legendary creatures and vicious enemies across the earth and skies. But when treachery looms and forbidden magic threatens the kingdom, she must challenge the ruthless Celestial Emperor for her dream—striking a dangerous bargain in which she is torn between losing all she loves or plunging the realm into chaos.
Daughter of the Moon Goddess begins an enchanting, romantic duology which weaves ancient Chinese mythology into a sweeping adventure of immortals and magic—where love vies with honor, dreams are fraught with betrayal, and hope emerges triumphant.'
Content warnings:
Violence, blood, gore, alcohol consumption, death, separation, attempted assault (brief), kidnapping, bullying.

Review
First things first, I'd been wanting to read this book since I saw the gorgeous US cover announced (it would have been since the UK cover was announced, if that had been before but alas).
How could you not want to read a book that looks like that? Art by Kuri Huang for the US cover, and the equally gorgeous UK cover featured elsewhere in this review was illustrated by Jason Chuang. I'm also starting my review off with these because the actual story itself is just as beautiful as the covers.
So, Daughter of the Moon Goddess introduces us to Xingyin, the titular daughter of the Moon Goddess (Chang'E), who has been hidden away on the moon. I watched a talk where Sue Lynn Tan mentioned that she wanted to change the way that the tale of Chang'E is told, making it so that Chang'E is actually taking the elixir for a good cause (instead of the narrative of it being for selfish reasons) and really what could be better than for her to have taken it to save the life of her child? That begins the mother-daughter bond in this story, which absolutely will have you crying at how beautiful it is. It's clear that both Chang'E and Xingyin will take whatever risks that they can for each other and it will tug at the heartstrings of anyone who has a similar bond with their parental figure(s).
Chang'E has done well to hide her daughter (fearing punishment for both of them if the Celestial Emperor and Celestial Empress had found out about her), but one day Xingyin accidentally loses control of magic she didn't know she had, alerting the Celestials to something strange on the moon. Panicking, Chang'E and Ping'Er decide it's best to hide her with Ping'Er's family, though along the way soldiers attack and Xingyin instead ends up alone.
This first part (the story is split into three main parts) is focused on Xingyin learning to find her place in the Celestial Kingdom. Starting off as a servant, she ends up in a chance meeting with a peculiar man who ends up being Prince Liwei. There are cinnamon rolls and then there are super sweet cinnamon rolls who are the most adorable thing ever, Liwei is the latter. He needs a companion for his studies and Xingyin competes for the position. Studying with Liwei over years, they form a close friendship which is adorable to watch, and it ends up being a fantastic friends-to-lovers story full of depth. But… it doesn't last. His parents think that Xingyin is a commoner only (as she obviously hides her parentage from everyone around) so they make sure that no romance can stay by having Liwei become engaged to a Princess from another kingdom, to form a stronger alliance.
"The sun and the moon. A matched pair."
That's all I'll mention of that particular romance, to save any huge spoilers, but around that time I really did not like him for it but… well, read it to see what happens.
When training with the Prince, Xingyin discovers she's a very talented archer (just like her father, Houyi), which leads a General to offer her place in the army should she wish. Part two of the story is essentially her growing into a renowned, loved warrior… whilst getting a little close to a Captain called Wenzhi. I really liked him in part two, he was forever protecting Xingyin in battles against mythical creatures (and their appearance in DOTMG is another reason why I loved this story) and he was just so cute to her… Eventually, Xingyin proves herself to the extent that she can win any favour from the Emperor, but the Emperor is callous and sends her on a quest to release the dragons and take their pearls before he'll grant it. That's the basis of part three.
Now, dragons! I adore whenever a story has them in and I wholeheartedly appreciate it so much more when the dragons are revered, kind creatures. Big tick for DOTMG with that! They're protectors first and foremost and although we don't see too much of them, I fell in love with them a little as characters.
Throughout the story, Xingyin's character growth is incredibly easy to see. She begins as a timid girl, unsure of herself and what she can do, and at the end her actions and love for others build her into a fierce, confident woman who is only afraid of doing things that would go against her honour or harm her mother.
'If I had learned anything over these years, it was that no one won in a war, not even those who thought they did.'
If you're reading this review thinking the story sounds like it has a lot going on, it absolutely does. It's crazy how many things happen and how many worlds Sue Lynn Tan transports us to but it's all aided by fantastic world-building. And… if you love the idea of magical clothing then this has in too! Things such as cranes that dance around skirts, aided by a person's own magic, it just all sounded so beautiful. Even, the transportation! Celestials form clouds which they travel on and I'm seriously hoping we'll get some fan art of that because the vision in my head is gorgeous but I'd love to see it created by a talented artist!
But Xingyin is both a beauty and a fierce warrior. She knows how to protect herself and she's not afraid to do so (although she gets a lot more confident with this as the story goes on). Throughout the story she forms bonds of friendship easily, which leads the story to having a little element of found family, particularly with select fellow warriors like the adorable Shuxiao and General Jianyun.
The fact that such a mesmerising story is a debut is stunning, and I honestly can't wait to see where the sequel goes.
Thank you for reading!

If you enjoy my content please consider supporting me through any of the following:
♥ Ko-Fi — Bloglovin' — Facebook — Instagram — Twitter — Wishlist ♥