Top Ten Tuesday was created by The Broke and the Bookish in June of 2010 and was moved to That Artsy Reader Girl in January of 2018. It was born of a love of lists, a love of books, and a desire to bring bookish friends together.
This Week's Topic: Most Anticipated Books Releasing In the First Half of 2022
---
I haven't done a top 10 in forever, but one thing I'd love to do more often this year is blog (and catching up on comments and blog hopping is included in that).
I love the first topic of the year too! There are so many books I'm excited for, and a couple I'd love to shout more about! I'm hoping that narrowing it down to 10 will help me focus my TBR also…
My Top 10!
In order of publishing dates, my most anticipated for this first half is…
Daughter of the Moon Goddess by Sue Lynn Tan (January
 20th 2022)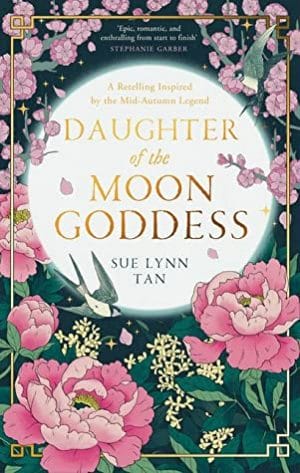 A captivating debut fantasy inspired by the legend of the Chinese moon goddess.
A young woman's quest to free her mother pits her against the most powerful immortal in the realm, setting her on a dangerous path where those she loves are not the only ones at risk…
Growing up on the moon, Xingyin is accustomed to solitude, unaware that she is being hidden from the powerful Celestial Emperor who exiled her mother for stealing his elixir of immortality. But when her magic flares and her existence is discovered, Xingyin is forced to flee her home, leaving her mother behind.
Alone, powerless, and afraid, she makes her way to the Celestial Kingdom, a land of wonder and secrets. Disguising her identity, she seizes an opportunity to train in the Crown Prince's service, learning to master archery and magic, despite the passion which flames between her and the emperor's son.
To save her mother, Xingyin embarks on a perilous quest, confronting legendary creatures and vicious enemies, across the earth and skies.
But when treachery looms and forbidden magic threatens the kingdom, she must challenge the ruthless Celestial Emperor for her dream —striking a dangerous bargain, where she is torn between losing all she loves or plunging the realm into chaos.
Daughter of the Moon Goddess begins an enchanting, romantic duology which weaves ancient Chinese mythology into a sweeping adventure of immortals and magic, of loss and sacrifice — where love vies with honour, dreams are fraught with betrayal, and hope emerges triumphant.
The Red Palace by June Hur (January 25th 2022)
Joseon (Korea), 1758. There are few options available to illegitimate daughters in the capital city, but through hard work and study, eighteen-year-old Hyeon has earned a position as a palace nurse. All she wants is to keep her head down, do a good job, and perhaps finally win her estranged father's approval.
But Hyeon is suddenly thrust into the dark and dangerous world of court politics when someone murders four women in a single night, and the prime suspect is Hyeon's closest friend and mentor. Determined to prove her beloved teacher's innocence, Hyeon launches her own secret investigation.
In her hunt for the truth, she encounters Eojin, a young police inspector also searching for the killer. When evidence begins to point to the Crown Prince himself as the murderer, Hyeon and Eojin must work together to search the darkest corners of the palace to uncover the deadly secrets behind the bloodshed.
June Hur, critically acclaimed author of The Silence of Bones and The Forest of Stolen Girls, returns with The Red Palace—a third evocative, atmospheric historical mystery perfect for fans of Courtney Summers and Kerri Maniscalco.
Castles in their Bones by Laura Sebastian (February 1st 2022)
Born to rule. Raised to deceive.
A new trilogy from the New York Times bestselling author of Ash Princess.
The plot: overthrow a kingdom. The goal: world domination. The plan: marriage.
Trained for from birth in espionage and seduction, the triplet princesses of Bessemia must travel to three distant lands to marry three princes and enact their Queen mother's plan to rule from sea to sea. But when they arrive, each sister discovers her task is not so simple, and their mother's motives may not be what they seem.
Only a Monster by Vanessa Len (February 17th 2022)
In every story there is a hero and a monster.
'Mind-bending, heart wrenching, and unputdownable!' Stephanie Garber, Sunday Times bestselling author of the Caraval series and Once Upon a Broken Heart
It should have been the perfect summer. Sent to stay with her late mother's eccentric family in London, sixteen-year-old Joan is determined to enjoy herself. She loves her nerdy job at the historic Holland House, and when her super cute co-worker Nick asks her on a date, it feels like everything is falling into place.
Then a Good Samaritan attempt gone wrong sends Joan spinning through time, and her life quickly begins to unravel.
Her family aren't just eccentric: they're monsters, with terrifying, hidden powers.And Nick isn't just a cute boy: he's a legendary monster slayer, who will do anything to bring them down.
As she battles Nick, Joan is forced to work with the beautiful and ruthless Aaron Oliver, heir to a monster family that hates her own. She'll have to embrace her own monstrousness if she is to save herself, and her family. Because in this story . . .
. . . she is not the hero.
The Girl Who Fell Beneath the Sea by Axie Oh (February 22nd 2022)
Deadly storms. An ancient curse. Will her sacrifice save them all?
For generations, deadly storms have ravaged Mina's homeland. Her people believe the Sea God, once their protector, now curse them with death and despair. To appease him, each year a maiden is thrown into the sea, in the hopes that one day the 'true bride' will be chosen and end the suffering.
Many believe Shim Cheong – Mina's brother's beloved – to be the legendary true bride. But on the night Cheong is sacrificed, Mina's brother follows her, even knowing that to interfere is a death sentence. To save her brother, Mina throws herself into the water in Cheong's stead.
Swept away to the Spirit Realm, a magical city of lesser gods and mythical beasts, Mina finds the Sea God, trapped in an enchanted sleep. With the help of a mysterious young man and a motley crew of demons, gods and spirits, Mina sets out to wake him and bring an end to the storms once and for all.
But she doesn't have much time: a human cannot live long in the land of the spirits. And there are those who would do anything to keep the Sea God from waking . . .
The Girl Who Fell Beneath the Sea is a magical feminist retelling of a classic Korean legend, perfect for fans of Uprooted and Miyazaki's Spirited Away.
'Clever, creative, and exquisitely written' Stephanie Garber, Sunday Times bestselling author of Caraval
'A beautiful, mesmerizing retelling' Elizabeth Lim, New York Times bestselling author of Six Crimson Cranes
The Justice of Kings by Richard Swan (February 24th 2022)
NO MAN IS ABOVE THE LAW
The Empire of the Wolf simmers with unrest. Rebels, heretics and powerful patricians all challenge the power of the imperial throne.
Only the Order of Justices stands in the way of chaos. Sir Konrad Vonvalt is the most feared Justice of all, upholding the law by way of his sharp mind, arcane powers and skill as a swordsman. In this he is aided by Helena Sedanka, his clerk and protege, orphaned by the wars that forged the empire.
When the pair investigate the murder of a provincial aristocrat, they unearth a conspiracy that stretches to the very top of imperial society. As the stakes rise and become ever more personal, Vonvalt must make a choice: will he abandon the laws he's sworn to uphold in order to protect the empire?
Introducing an unforgettable protagonist destined to become a fantasy icon, The Justice of Kings is an unmissable debut where action, intrigue and magic collide.
A Magic Steeped in Poison by Judy I. Lin (March 22nd 2022)
Judy I. Lin's sweeping debut A Magic Steeped in Poison, first in a duology, is sure to enchant fans of Adrienne Young and Leigh Bardugo.
I used to look at my hands with pride. Now all I can think is, "These are the hands that buried my mother."
For Ning, the only thing worse than losing her mother is knowing that it's her own fault. She was the one who unknowingly brewed the poison tea that killed her—the poison tea that now threatens to also take her sister, Shu.
When Ning hears of a competition to find the kingdom's greatest shennong-shi—masters of the ancient and magical art of tea-making—she travels to the imperial city to compete. The winner will receive a favor from the princess, which may be Ning's only chance to save her sister's life.
But between the backstabbing competitors, bloody court politics, and a mysterious (and handsome) boy with a shocking secret, Ning might actually be the one in more danger.
Wild and Wicked Things by Francesca May (March 31st 2022)
"Brimming with romance and gilded with danger, Wild and Wicked Things is a heady, lyrical gem of a book." —Hannah Whitten, New York Times bestselling author
In the aftermath of World War I, a naive woman is swept into a glittering world filled with dark magic, romance, and murder in this lush and decadent debut.
On Crow Island, people whisper, real magic lurks just below the surface.
Neither real magic nor faux magic interests Annie Mason. Not after it stole her future. She's only on the island to settle her late father's estate and, hopefully, reconnect with her long-absent best friend, Beatrice, who fled their dreary lives for a more glamorous one.
Yet Crow Island is brimming with temptation, and the biggest one may be her enigmatic new neighbor.
Mysterious and alluring, Emmeline Delacroix is a figure shadowed by rumors of witchcraft. And when Annie witnesses a confrontation between Bea and Emmeline at one of the island's extravagant parties, she is drawn into a glittering, haunted world. A world where the boundaries of wickedness are tested, and the cost of illicit magic might be death.
Hotel Magnifique by Emily J. Taylor (May 5th 2022)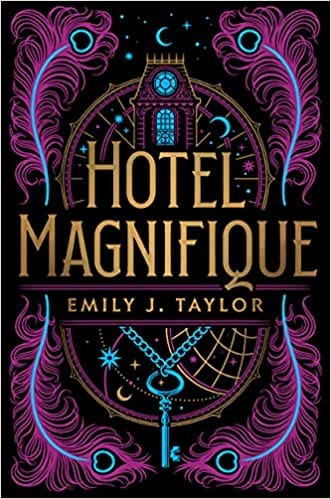 For fans of Caraval and The Night Circus, this decadent and darkly enchanting YA fantasy, set against the backdrop of a Belle Époque-inspired hotel, follows seventeen-year-old Jani as she uncovers the deeply disturbing secrets of the legendary Hotel Magnifique.
All her life, Jani has dreamed of Elsewhere. Just barely scraping by with her job at a tannery, she's resigned to a dreary life in the port town of Durc, caring for her younger sister Zosa. That is, until the Hotel Magnifique comes to town.
The hotel is legendary not only for its whimsical enchantments, but also for its ability to travel—appearing in a different destination every morning. While Jani and Zosa can't afford the exorbitant costs of a guest's stay, they can interview to join the staff, and are soon whisked away on the greatest adventure of their lives. But once inside, Jani quickly discovers their contracts are unbreakable and that beneath the marvelous glamour, the hotel is hiding dangerous secrets.
With the vexingly handsome doorman Bel as her only ally, Jani embarks on a mission to unravel the mystery of the magic at the heart of the hotel and free Zosa—and the other staff—from the cruelty of the ruthless maître d'hôtel. To succeed, she'll have to risk everything she loves, but failure would mean a fate far worse than never returning home.
The Final Strife by Saara El-Arifi (June 23rd 2022)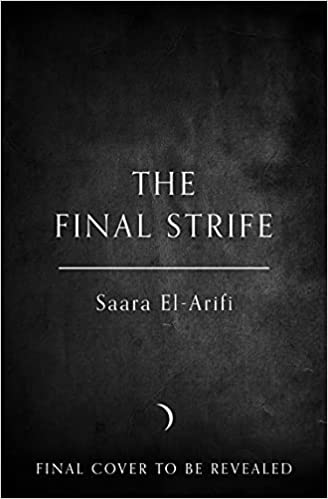 The Empire rules by blood
Red is the blood of the elite, of magic, of control.
Blue is the blood of the poor, of workers, of the resistance.
Clear is the blood of the servants, of the crushed, of the invisible.
Sylah dreams of days growing up in the resistance, being told she would spark a revolution that would free the Empire from the red-blooded Embers' tyranny. That spark was extinguished the day she watched her family murdered before her eyes.
Anoor has been told she's nothing, no one, a disappointment by the only person who matters: her mother, the most powerful ruler in the Empire, but when you've found the bottom, your only option is to rise.
Hassa moves through the world unseen by the Embers and blue-blooded Dusters. As a clear-blooded Ghosting she knows what it means to be invisible. But invisibility has its uses, it can hide the most dangerous of secrets, secrets that can reignite a revolution.
As the Empire begins The Aktibar, a set of trials designed to find the next ruling Wardens of the Empire, the stage is set for blood to flow, power to shift and cities to burn.

Thoughts
So, my top 10 listed above are definitely books I'm most looking forward to reading, but genuinely I'm so excited for so many more, we are definitely being treated this year! 💜
I skipped ahead a little in December and read three mentioned above, but I was very glad they were everything I was hoping for and I'm still anticipating them because I can't wait to see finished copies! Also very excited for others to read them.
Is it cheating if I list honourable mentions? I hope not because…
This Woven Kingdom by Tahereh Mafi (February 3rd 2022)
Gallant

by V.E. Schwab (March 1st

2022)
One for All by Lillie Lainoff (March 8th 2022)
The City of Dusk by Tara Sim (March 22nd 2022

)

Book of Night by Holly Black (May 3rd 2022

)
What's a book you're most looking forward to in this first half of the year?

If you enjoy my content please consider supporting me through any of the following:
♥ Ko-Fi — Bloglovin' — Facebook — Instagram — Twitter — Wishlist ♥